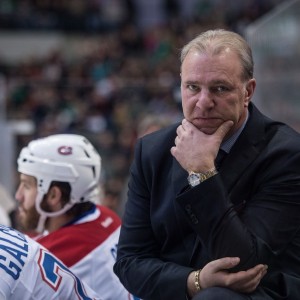 Montreal Canadiens head coach Michel Therrien is renowned for his love of grit on his top two lines. However, thanks to the team's projected depth, the bottom six likely won't suffer as a result like in years past.
Radulov Rounds out the Top Six
Under the relatively safe assumption that Alexander Radulov will find a home in the top six, there is really only one spot open on the top two lines. One has to believe Artturi Lehkonen has a decent chance to earn it based on his track record in the Swedish Hockey League.
In spite of Lehkonen's skill, one can definitely make an argument that there is a degree of uncertainty surrounding those top two lines, even if he does end up making the team out of training camp, following a presumably successful rookie camp.
The simple fact of the matter is the Habs enjoyed a merely mediocre offense last season on the supposed strength of those lines. Even if the two should theoretically help, adding in a couple of wild cards isn't exactly a guarantee of future success.
However, considering those additions push down several names on the depth chart, there could literally be upwards of 12 players vying for those remaining six spots. The internal competition can only be a good thing, even if several players are almost guaranteed jobs due to their contract status.
Shaw in the Middle Six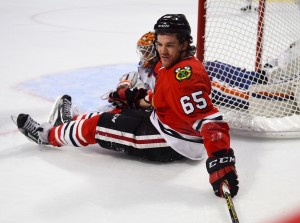 For example, no one expects a guy like Andrew Shaw to be patrolling the press box come October. However, having a player of his caliber serving a middle-six role definitely bodes well for the team's fortunes overall.
Meanwhile, upward pressure from the Saint John's IceCaps should come in the form of Michael McCarron, Jacob De La Rose, Charles Hudon and maybe Nikita Scherbak. The former two have already enjoyed prolonged stays in Habs uniforms, making their permanent promotions at least semi-realistic.
Hudon might be the most complete player of the bunch, even if his waiver ineligibility will likely work against him. However, there is hope, as Daniel Carr, who was on pace for 20 goals over an 82-game season last year, finds himself in much the same situation. Nevertheless, Carr is far from a long-shot to make the roster out of training camp due to his proverbial nose for the net (and admittedly the one-way contract he just signed).
Other players who could be house-shopping in Montreal with one-way contracts include Sven Andrighetto, who has definite offensive upside, and Phillip Danault, who impressed in a largely defensive role after being acquired from the Chicago Blackhawks last season. Both are eligible for waivers, so demoting them would mean potentially losing them altogether, which can't be an appetizing thought for general manager Marc Bergevin.
So, the Habs do need to do some juggling, as players like Brian Flynn, Torrey Mitchell and Paul Byron — traditional bottom-six forwards, who were fixtures on the team last season — haven't even been mentioned yet. Mitchell and Byron, who have contracts for the next two and three seasons respectively, should in theory factor into the team's medium-term plans.
One would think anyway.
The Bottom Lines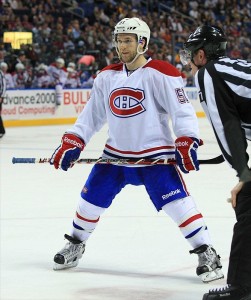 The bottom line is, in spite of whatever your opinion of David Desharnais is, especially in a pseudo-defensive role, it's never a bad thing to have a guy capable of putting up 50 points in a top-six capacity lining up as a potential 13th forward. Granted, that's unlikely to say the least, considering his deployment by Therrien in the past, but the point remains there is some serious skill here.
In all likelihood, like he did at the start of last year, Desharnais will probably center the team's third line. Shaw should figure in as his right-winger, while Carr could end up opposite him, helping to form a very capable, but offensive-minded checking line.
Mitchell and Danault are good bets to share fourth-line duties, centering Byron and ideally Andrighetto. Of course, the word "ideally" is used very loosely here. Andrighetto has the talent to be a top-six forward on many other teams and the ice time he would get on the fourth line can't possibly be good for his development at just 23 years of age.
So, the Habs are admittedly in between a rock and a hard place here. Do they risk losing him for nothing by trying to demote him? Or do they trade him, get futures in exchange and give his spot to one of the myriad of other forwards chomping at the bit? For a team that's in a position to go for it all now, it should be an easy answer: Ice the team that best gives you a chance to win. Andrighetto is far from a liability and a lineup that includes the projected bottom two lines immediately above could conceivably roll all four on a regular basis.
Barring injuries, which helped to derail them last year, the Habs will have a team capable of contending for the Stanley Cup. They very well may not, but if their journey to the promised land falls short, you can bet it won't be a lack of depth up front that does them in.