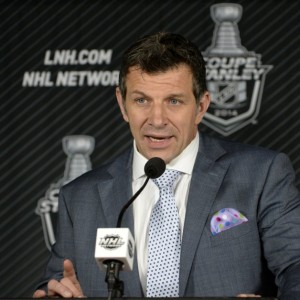 All signs point to the Montreal Canadiens being done making major moves this offseason, but they shouldn't be.
Granted, they've made enough big deals to last a decade… speaking in general manager Marc Bergevin time anyway. However, there are plenty of holes that still need to be filled.
Many might even argue the biggest hole is now on the first defensive pairing's right side following the P.K. Subban trade. But let's not kid ourselves. The Habs aren't going to trade away Shea Weber… at least not now after he's been talked down as much as he has in the mainstream media.
Who would want him for top dollar now?
Sarcasm aside (for now), here are some top assets the Habs actually may make available:
Draft Picks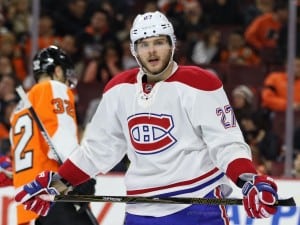 Because Montreal's de facto No. 1 defenseman is by many accounts exiting his prime, the Habs have no time to waste. Even if they traded for term to the tune of the next decade by acquiring Weber's contract, they have to go for it now.
That's in large part also because both Carey Price and Max Pacioretty will see their current contracts come to and end in two and three years respectively. Furthermore, Alex Galchenyuk is due for a big raise next offseason as a restricted free agent.
So, keeping the band together? They'll be hard-pressed to do it past this current season. As such, this regime has little to lose by trading away more of the team's future.
What has turned out to be one of the biggest trades in franchise history will likely only be deemed a success if they win at least one championship with Weber on board. Anything less and all eyes will be on the front office and Subban, as he presumably wins James Norris Memorial Trophy after Norris Trophy in Nashville.
So, Bergevin and company have really painted themselves into a corner and have to load up on developed talent to win one as a result. Trading away futures like draft picks is the most logical way to go about it. Of course, this is Bergevin we're talking about. Logic admittedly went out the window a long time ago.

While that's not easily explainable, what is clear is, with just over $1.4 million in projected cap space, something else will probably need to go the other way in order to get someone of any significance back.
Alexei Emelin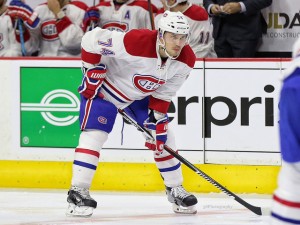 Defenseman Alexei Emelin is likeliest candidate to be shipped, in spite of his no-trade clause (which becomes limited this coming season for the balance of his deal). His $4.1 million cap hit just isn't worth what he brings to the table, even after a very good season possession-stats wise (0.6 SAT Rel%, at five-on-five, according to NHL.com).
As pleasant of a surprise as Emelin's performance was, there's no guarantee he would be able to replicate it. So, with his value at his highest, it would make sense to shed his deal at the earliest opportunity.
Sure, the Canadiens would be giving up their hits leader from last season (256), and physicality seems to be one of the main things Bergevin and head coach Michel Therrien are looking for in their new team. However, the Weber (169) and Andrew Shaw (148) acquisitions at least afford them some flexibility in that department. Emelin is expendable in other words. At least he should be, with Mark Barberio's emergence last season.
Look at it this way: The Habs absolutely need a left-handed, mobile defenseman to drive possession on the top pairing to play with Weber. That more so describes Barberio or Nathan Beaulieu than Emelin, and Andrei Markov is probably higher on the team's depth chart right now than the latter, even if only by reputation.
Do the Habs really want a third-pairing defenseman eating up $4.1 million in cap space? Dumb question, but, assuming not all the logic has hit the pavement outside Bergevin's Bell Centre office yet, they really shouldn't.
David Desharnais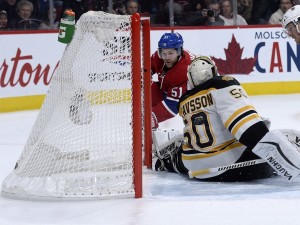 In all honesty, David Desharnais is probably staying put. That's a safe assumption based on his career under Therrien up to now. You can also consider him a near-lock for that third-line center spot at least to open the season, with Lars Eller now a Washington Capital.
That doesn't mean he belongs there, as his record defensively is less than adequate. Sure, there's always that top spot next to Max Pacioretty that always seems to be waiting for him should he ever struggle elsewhere in the lineup. That just makes it more imperative Bergevin takes away one of Therrien's favorite toys for the good of the team.
Getting his $3.5 million cap hit off the books would no doubt be gravy, even if it would be just for next year, with his deal expiring next summer.
Will it happen? Probably not. Should it? If this were any other team trading away any other player no one would so much as flinch, as teams trade away pending free agents all the time, especially to playoff-bound teams seeking depth scoring for the spring.
While the Habs should be one of those teams, they can help make it a certainty by putting Desharnais' cap space to better use as soon as possible.
Sven Andrighetto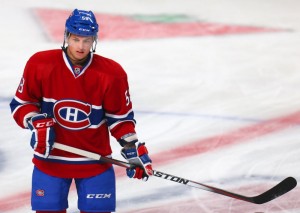 It's not that Sven Andrighetto became expendable once Alexander Radulov signed on. While both players generally line up as right-wingers, they can each move to the other side. So, it's more so a combination of that deal and Artturi Lehkonen signing his, following a record-breaking postseason with Frolunda in the Swedish Hockey League
There are of course no guarantees Lehkonen—or Martin Reway for that matter—will make the Habs, but the hype around them is such that one has to believe at least one will. While Andrighetto hasn't been a disappointment in his time with Montreal, he certainly hasn't overly impressed either, with the implication being Lehkonen might be able to do more given the same shot.
Sure, Andrighetto might be more valuable than a Stefan Matteau or Phillip Danault. However, not only does Andrighetto not have a French last name, but his superior skillset likely wouldn't allow him to thrive in the up-for-grabs positions those latter two would be competing for in the bottom six.
It all of course depends on how training camp shakes out, but, if Andrighetto doesn't outperform either, it might make sense for the Habs to trade the 23-year-old prospect away as part of a package for someone of greater value. No longer waiver-exempt and signed to a one-way deal anyway, sending him down just isn't an option. Getting something in exchange instead of losing him for nothing is.
Zach Fucale
There was a brief time when local-boy Zachary Fucale was deemed Carey Price's heir apparent. That lasted probably a half-season, from the time Fucale was drafted in 2013 to early 2014.
That's when Price led Canada to a gold medal in Sochi and transformed from an inconsistent goalie into one of the most highly regarded players at that position and the eventual league MVP in 2015. Remember, during that lockout-shortened 2012-13 season Price put together a mediocre campaign, complete with a pedestrian .905 save percentage.
In other words, he wasn't as sure of a thing as he is now, and that's saying a lot with an injury keeping him out of action most of last year. So, Fucale? Especially with Bergevin signing Charlie Lindgren last season and Al Montoya this summer? He's got an uphill battle just to stay in the American Hockey League.
That's just the nature of Montreal's underrated goaltending depth. They've got so much that they can stand to trade away a prospect once considered to be a blue-chipper. He may not be seen that way any longer, but he probably still holds some kind of value, especially as an automatic exemption from the upcoming expansion draft with two years or less of pro experience by the time it's projected to take place. That's worth something.
Now, let's not get crazy. Opposing teams likely wouldn't line up all the way around the corner just for Fucale, but he could end up being the tipping point in a major deal. A deal that ends up tipping this team over the edge.