Montreal Canadiens forward David Desharnais is not your typical third-line center. Granted, he's hardly ever been your typical anything.
David Desharnais and Goliath
Hailing from small-town Laurier-Station, Quebec, the 5-foot-7-inch, 170-pound forward has traveled an unlikely path to the NHL, going undrafted and eventually earning a contract with the Canadiens.
However, he started off his time in the organization with the Cincinnati Cyclones, ultimately defying the odds once again, capturing the ECHL's rookie of the year and most valuable player awards all at once, eventually getting promoted to the American Hockey League.
Now in his fifth NHL season, Desharnais has run the gamut of emotions, from the highs of a 60-point season (during which the team itself suffered through a horrible year), to the lows of a 19-game stretch during which he scored a single assist a few campaigns later.
He currently leads the team in preseason scoring with four points in three games, which would be strange enough to him. However, as alluded to earlier, he's also projected to center the team's third line, which is generally a team's strongest defensively. Now what's especially odd about this is Desharnais has traditionally been to defense what water is to oil, in that he's generally kept far away from his net.
Desharnais 44% Corsi, 100% offensive zone starts, 0 shot attempts tonight.

— Andrew Berkshire (@AndrewBerkshire) April 4, 2015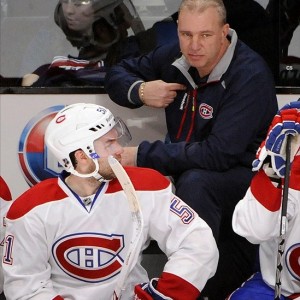 Needless to say, this move could backfire big time, that is unless this is all a (positive) sign head coach Michel Therrien is taking less and less of an old school, dump-and-chase approach to the game.
At this point, everyone knows of Montreal's possession woes. Thanks to favorable zone starts, though, Desharnais has generally been able to escape that black hole. As a third-line center, one would expect him, regardless of his skillset, to nevertheless see that trend effectively curbed.
I mean, as offensively inclined as Desharnais may be, it makes no sense for Therrien to save those defensive zone starts for the first and second lines, which are populated by even more offensively gifted forwards. You would want to give your star offensive forwards every opportunity to score, no?
So, it stands to reason, if this Desharnais-on-the-third-line experiment is going to work, Therrien is going to have to work hard in turn on minimizing the amount of faceoffs his team takes in the defensive zone overall.
It's no doubt a lofty goal, seeing as Carey Price became just the eighth goalie to win the Hart Memorial Trophy last year for a reason, but where there's a will on Therrien's part to protect Desharnais, there likely will be a way.
Unfair Criticism?
Now, Desharnais gets a lot of flak for a general lack of production. However, if one were to look at a few comparables, that negative point of view gets awfully distorted. Making $3.5 million, he scored 48 points last year, the same as Tampa Bay Lightning forward Valtteri Filppula ($5 million salary-cap hit) and Minnesota Wild captain Mikko Koivu ($6.75 million). He also had one more point than Anaheim Ducks forward Ryan Kesler, who just got signed to a six-year, $41.25 million deal.
So, for the money he's making, he's actually producing a fair amount … at least he would be were it not for the fact that he has traditionally been Max Pacioretty's primary center, playing over 800 minutes last year alone with Montreal's top scorer, based on data compiled by the University of New Brunswick's faculty of computer science.
Not a single one of the comparables listed above can be considered top-line centers. As a result, neither can Desharnais.
For the sake of comparison, consider that the Habs line with the most ice time last year (Alex Galchenyuk, Tomas Plekanec and Brendan Gallagher) played over 300 fewer minutes together. Sure, we're talking about a team coached by Therrien here and he likes lines the way most people like their baguette … fresh and easily broken up. But the point stands: Desharnais just does not produce enough for his preferential ice time.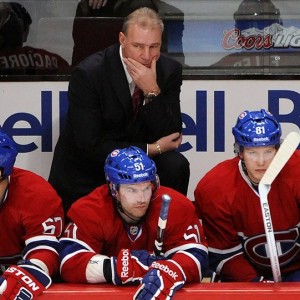 In that sense, perhaps diminished offensive responsibility will be just what the doctor ordered, assuming he doesn't come down with a rare case of LES—Lars Eller Syndrome—where some fans unreasonably expect him to produce at a point-per-game pace on the third line because he (Eller)  scored 13 points in 17 playoff games a blue moon ago.
Thankfully, looking at Desharnais' track record, that doesn't seem like it will be an issue. However, the Eller comparison is an interesting one with the Dane, in spite of his defensive prowess, looking at a promotion this year onto the second line with Alex Galchenyuk, the player whose move to center set this entire series of events into motion.
It will be even more intriguing to see how it all turns out. This is, in typical Desharnais fashion, uncharted territory after all. Thankfully, he's no stranger to finding his way.