Devils Prospects Have Golden Chance To Produce
The New Jersey Devils offseason can only be described as bland. At the draft they traded for Kyle Palmieri, which was a nice deal for the team to land the hometown boy. Otherwise they signed John Moore to a 3-year deal, which was also a nice move, but it's not something that will dramatically alter the path this season will most likely take.
There are so many open spots for forwards entering training camp. Patrik Elias won't be ready for the start of the season, so aside from Adam Henrique, Mike Cammalleri, Travis Zajac, and maybe Palmieri, that's two-three open spots in the top-six, let alone just making the roster as a third or fourth-liner.
Impact Prospects
Every single forward prospect on this list has a legitimate shot at having an impact for the Devils this season. New Jersey is just so thin at the forward position that as long as they make the team, new head coach John Hynes will give them as many chances as they need because in reality, he doesn't have much of a choice.
Defense and goaltending is a different story with Cory Schneider and Keith Kinkaid locking up the starting and backup roles. The defense might be a bit more open, but the Devils will look to retain most of the same players as last year in the hopes of them further improving this year.
Already Arrived
21 and Under Players as of September 15, 2015 in the NHL
Damon Severson
Drafted: 2012-60
2014-15 Team: Devils, NHL
D, R, 6'2, 205, 51-5-12 (-13)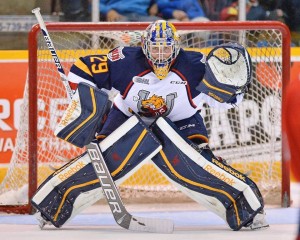 New Jersey Devils Next Ones: Top 10 Prospects Summer of 2015
The Next Ones Summer Prospect List includes the top 10 prospects along with 5 honorable mentions and any other 2015 draft choices not previously listed.
  Pavel Zacha
Drafted: 2015-6
2014-15 Team: Sarnia, OHL
LW/C, L, 6'3, 212, 37-16-18-34 (+5)
Zacha immediately jumps to the No.1 spot in the Devils prospect pool simply because the Devils haven't drafted in the top 10 since they took Adam Larsson 4th overall in 2011. Zacha is a truck of a player, but he has the finesse and speed of a player you wouldn't expect of someone his size. His point totals were decent last season with Sarnia, as it was his first season coming over to play in North America, but that also came with being suspended twice. There's no debate of whether Zacha will play in the NHL, it is however, a matter of when, and if he should develop another year in Junior is what the Devils need to decide on.
 Steve Santini
Drafted: 2013-42
2014-15 Team: Boston College, NCAA – H.East
D, R, 6'2, 207, 22-1-4-5 (-2)
With Damon Severson making the jump to the NHL last season, Steve Santini remains as the top defensive player in the Devils prospect pool. Santini is a guy who would benefit from having one more year playing at Boston College before he decides to make the leap to the NHL. Santini missed a chunk of last season with a wrist injury, which also kept him out of the WJC. Having another season to help hone his skills, plus having a chance to captain team USA at the WJC's would work wonders for his confidence going into training camp next season.
 John Quenneville
Drafted: 2014-30
2014-15 Team: Brandon, WHL
C/LW, L, 6'1, 205, 57-17-30-47 (+12)
Quenneville is a guy who the Devils are even lucky to have in the first place. They took him 30th overall in 2014 with the pick that got returned to them after it being originally taken away after the Ilya Kovalchuk contract circumvention. Quenneville is an interesting prospect for the Devils because of their need of a top playmaking center. Quenneville has the build of a Nicklas Backstrom type of player, who can really dish the puck around the ice. He just needs to build his consistency with scoring points, but there is a lot of upside in Quenneville's game moving forward.
Mackenzie Blackwood
Drafted: 2015-42
2014-15 Team: Barrie, OHL
G, L, 6'4, 216, 51-3.09-.906
Blackwood was the second goalie taken in the 2015 NHL draft, and the Devils got a really nice pick here if he pans out right. In today's NHL, it normally takes goalies longer to develop, so with taking Blackwood now, it makes it so Blackwood doesn't need to be rushed into the NHL, since the Devils are set in-goal with Schneider and Kinkaid. Blackwood has already been sent back to the OHL, but he can head back to Barrie with his head held high, and know that he has plenty of time to work on his game until he's ready to make the jump to the NHL.
Reid Boucher
Drafted: 2011-99
2014-15 Team: Albany, AHL
LW, L, 5'10, 190, 62-15-15-30 (-6)
Until Boucher turns into a steady NHL player, he will always be known as the player who broke Steven Stamkos' goal-scoring record with Sarnia. The hype was real when Boucher got a chance a couple of seasons ago, and impressed with this shootout goal in his first game.
Boucher is almost assured a roster spot with the Devils coming into training game, and even has a shot to play in the Devils top-six because of his potential scoring ability. He's always been known for his lightning quick release, which has a lot of mustard behind it, but he has to make it count when the games matter for him to be a part of the Devils future plans.
Stefan Matteau
Drafted: 2012-29
2014-15 Team: Albany, AHL
LW, L, 6'2, 216, 61-12-15-27 (+9)
Matteau has been given a lot of time to develop to that type of player that nobody else wants to play against, but has enough skill to contribute . Everyone is aware of what his dad did against the Devils in 1994, but this is a new era, and Matteau is exactly the type of young glue-guy this team has missed the past couple seasons. At best Matteau will be a second-third line player, kind of like a new Ryane Clowe. Matteau has talent for sure, but this is the year to show what the past three seasons of developing has done.
  Raman Hrabarenka
Undrafted
2014-15 Team: Albany, AHL
D, R, 6'2, 212, 47-9-18-27 (+0)
Hrabarenka is an interesting piece in the Devils system, as at 23 years old, he's not exactly on the young side, but he's also not a veteran. Hrabarenka had solid numbers with Albany last season, and he's got a nice build for a 23-year-old, but nobody really knows what the Devils plans are for him. He would fit right in with where the team is trying to go with their young defense, but it really comes down to how Hrabarenka does in training came, and whether Hynes will give him a chance once the regular season starts.
  Seth Helgeson
Drafted: 2011-205
2014-15 Team: Albany, AHL
D, L, 6'4, 214, 48-2-11-13 (+2)
Helgeson is a huge defensive defensemen, who played well in the short stint he had with New Jersey last season. Like Hrabarenka though, Helgeson is kind of in that same landscape of their being too many players for only so many open spots on the Devils defense. Even at the start there weren't many spots available, and Helgeson is on the lower end of the Devils defensive prospect list. There's always a chance Helgeson could get called up if Hynes feels his team is allowing too many goals, but for right now, Helgeson might be starting the season back with Albany.
9.  Joseph Blandisi
Drafted: 2012-162
2014-15 Team: Barrie, OHL
RW, R, 5'11, 182, 68-52-60-112 (+18)
Joseph Blandisi wasn't even on the Devils radar after he was taken late in the 2012 draft, but the 21-year-old winger tore it up in Juniors with Barrie by scoring 112 points in only 68 games. The Devils signed him to a 3-year entry-level deal back in January, and he's already impressed at the start of training camp. Blandisi is on the smaller side of your average player, but if he can put up points for the big club then nobody will be complaining, and neither will he.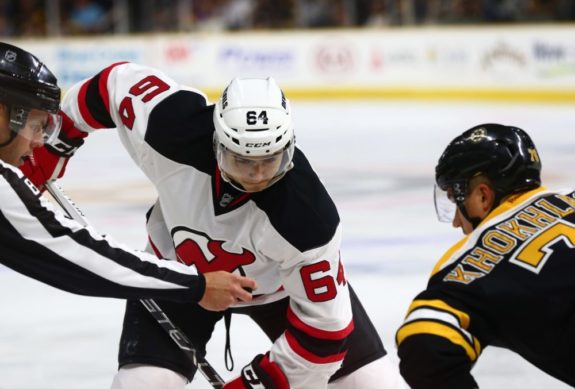 Connor Chatham
Drafted: 2014-71
2014-15 Team: Plymouth, OHL
RW, R, 6'2, 223, 48-17-20-37 (+1)
Connor Chatham was just sent back to juniors, but after only being drafted a year ago, there's still plenty of time to work on his game. He's another big body in the Devils prospect pool, and depending upon what happens with Stefan Matteau should dictate on what the Devils end up doing with Chatham. Him and Matteau match up in similar areas, but the Devils have many other young forwards vying for roster spots this year, giving Chatham more time to develop in junior for next season.
Five Honorable Mentions
HM – Miles Wood – (2013-100) – 14-15 – Nobles HS, HS MA, LW, L, 6'1, 185, 17-17-18-35
HM – Sergei Kalinin (Undrafted) – 14-15 – Omsk, KHL, RW, R, 63, 190, 58-12-13-25 (-3)
HM – Blake Pietela – (2011-129) – 14-15 – Michigan Tech, NCAA – WCHA, LW, L, 5'11, 201, 40-14-16-30 (+6)
HM – Marc-Andre Gragnani – (2005-87) – 14-15 – Bern, SUI 1 – NLA, D, L, 6'2, 210, 49-8-29-37 (+14)
HM Vojtech Mozik– (2011-Undrafted) – 14-15 – HC Plzen, CZE 1 – D, R, 6'2, 187, 51-10-19-29 (+2)
Other 2015 Draft Choices Not Listed Above
2015-67 – Blake Speers – 14-15 – Sault Ste. Marie, OHL, – RW, R, 5'11, 185, 57-23-43-66 (+25)
2015-97 – Colton White – 14-15 – Sault Ste. Marie, OHL, – D, L, 6'0, 181, 67-6-16-22 (+38)
Subscribe to our Devils stories to get email updates every time a new story is published.
Corey Spina lives in Wayne, New Jersey. He is a senior at Centenary College, and is majoring in Communications/Journalism. Corey is in his second season covering the New Jersey Devils for The Hockey Writers, he completed a sports journalism internship with TAPinto, and he is the Host/Producer of the Sports Buzz on WNTI.org.