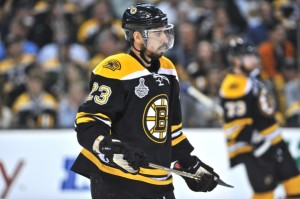 This has certainly been a busy off season for the Boston Bruins organization with the departures of Nathan Horton, Andrew Ference, Rich Peverley, Tyler Seguin, Anton Khudobin, and Jaromir Jagr. With the additions of Jarome Iginla and Loui Eriksson, the Bruins now have one of the most well rounded top two forward lines in the NHL heading in to next season along with a very experienced fourth line.
The 3rd line however continues to be a quandary for the organization. The 2012-13 campaign was a difficult season for this line, which saw Chris Kelly and Peverley struggle for any kind of  offensive or defensive consistency, while being paired with a slew of different players, such as Chris Bourque, Jay Pandolfo, Jordan Caron, Jagr, Seguin, and Daniel Paille. The Bruins will look to stabilize the third line in the 2013-14 season so it can better compliment the scoring of the top two lines.
According to the Boston Herald, general manager Peter Chiarelli states that Chris Kelly may not necessarily continue to play center and may move to left wing in favor of Soderberg taking over as the 3rd line center. Barring any major surprises, September's training camp will be a competition for multiple prospects and borderline players to earn there way on to the only spot still available on the team: the 3rd line right wing.
And just who are these players competing for that spot you ask?
Providence Bruins Forwards: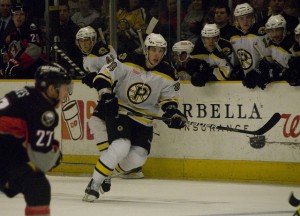 Jordan Caron, who recently took a significant cut in salary in his new contract has high expectations to show up in this year's training camp and make the third line after taking a step back the last couple of seasons. He made the team out of training camp in 2010  only to be sent down to Providence two months later and has since been moving back and forth between the AHL and NHL.
Most notably, Chris Bourque beat him to the third line slot last year after another disappointing training camp. He eventually was called up later in the season when Bourque was demoted, but he had little success. His new contract seems to have "this is your last chance to prove yourself" written all over it. Caron must improve his offensive finish which he did not improve on all that much last year in Providence. A consistent scoring touch would compliment his size and defensive awareness, making him a well rounded player.  Hopefully he can find his game this summer and be a force to be reckoned with this September.
The slightly younger and smaller Ryan Spooner has impressed the Bruins brass at previous training camps. He had an excellent first full season in Providence last year, leading the team's offense with 17 goals and 40 assists. He's an extremely creative play maker and was instrumental in leading Providence to the best record in the AHL.
Highlight Reel Rush by Spooner:
If Spooner continues to round out the defensive side of his game and shows up to camp a bit heavier, he could be a favorite to make the team. Oddly enough, that would place 3 natural centers on the 3rd line.
 Craig Cunningham, a former teammate of Milan Lucic with the Vancouver Giants, has a shot at making the big club due to the great finish he has shown in the offensive zone in his first two seasons in Providence, scoring 25 goals and 21 assists last year. He is dangerous in the offensive zone due to his gritty approach to the game that makes him seem bigger than his actual 5-10 180 pound frame.
The very small (5'9, 173 pounds) and undrafted Carter Camper is a long shot to make the team. He led Providence in scoring his rookie season with 48 points and last year was only behind Spooner accruing 47 points. He did however lead the team in goals scored during last year's playoffs and led the team's offensive production as whole along with Chris Bourque. The only way he can make the team is to improve his elusiveness and speed or else he will be buried by NHL sized opponents.
Camper to Cunningham Goal:
Although Jared Knight is indeed a very strong prospect, it is a long shot for him to reach Boston out of training camp after only playing 16 games with Providence last season due injuries.
New Depth Players Via Trade With The Dallas Stars:
Reilly Smith: https://thehockeywriters.com/reilly-smith-busting-the-balance-of-a-blockbuster-trade/
Matt Fraser: https://thehockeywriters.com/matt-fraser-more-than-just-a-prospect/
Both Smith and Fraser are widely overlooked forwards, whom the Bruins received in "Seguin-Eriksson" deal.
Smith has had an up and down start to his career, bouncing between the AHL and NHL with the Dallas Stars organization. This is due to his inconsistent offensive production despite great natural scoring abilities. After being demoted to the AHL last season, he settled himself and scored 14 goals and 21 assists in 45 games with the Texas Stars. What's more important though, is that many scouting reports focus on his rather one dimensional "offense only" style of play. Despite his excellent offensive upside, he will likely see time in Providence after training camp to hone his defending prowess within the Bruins defensive system, before getting a shot to play under Claude Julien in Boston.
Fraser is much more a prototypical Bruins player, in terms of his large 6'2, 204 lb frame and his physical approach to the game. He's had the better goal scoring numbers for the Texas Stars, scoring 37 goals (55 points) in 73 games in 2011-12 and scoring 33 goals (46 points) in 62 games in 2012-13. Many scouting reports focus on Fraser's lack of defensive awareness in his game, although not to the same extent as Smith. While Fraser, seems to fit the Bruins style physically speaking, he too will likely see time in Providence to round out his game.
OHL Prospect Anthony Camara
Previously seen as merely a depth hard-nosed forward, Camara jumped from a career high in scoring of 19 points in 2012 to scoring 36 goals and 24 assists (60 points) last season for the Barrie Colts. Obviously there is a significant difference between junior hockey and professional hockey, so a player of his caliber to make the jump straight to the NHL would truly be a long shot. If his sudden offensive development continues in to training camp and he combines it with his physical grinding style of play, he could be a huge surprise at training camp.
Daniel Paille Promotion
The last possible scenario for the 3rd line would be the promotion of Daniel Paille from the 4th line to the 3rd line, which he already did during the Stanley Cup Final following the Gregory Campbell injury. He fit in on the line very well and scored the game winning goal in game 2 of the final. It can easily be forgotten that he had a number of seasons with the Sabres where he put up 35 and 27 points. If he is routinely placed in a more offensively oriented role beyond the 4th line, he could possibly regain some of that offensive finish.
However, if Paille is promoted, that would likely leave all of the prospects discussed in this post so far in Providence, as the Bruins would not want to inhibit their development by giving them 4th line duty. Would that mean Providence Bruins tough guy Bobby Robins gets a potential shot at playing on Boston's fourth line alongside Shawn Thornton and Campbell? Possibly. It would be a gutsy move.
If I was forced to pick who is most likely to fill that final 3rd line slot now, I would pick Jordan Caron, but with Craig Cunningham getting a shot at stealing the job from Caron if he has a strong camp. Although Spooner had better offensive numbers than both of them last season, he would benefit from another year in Providence. Plus, placing 3 natural centers on one line might not be the best idea.
In any case, the Boston Bruins obviously have many options for filling the final available forward slot on the 3rd line. Having this many players battling over a single spot on the team will only raise the intensity of training camp to another level this September.
The NHL regular season schedule was released on Friday. Check out our partners at TiqIQ for the best deals on Boston Bruins tickets for all 2013-14 games.