We hockey fans routinely stop paying attention to the details of any trade when the words 'and prospects' appear. The July 4 blockbuster trade between Boston and Dallas may seem to be a Seguin/Peverly for Eriksson trade, but it features four such prospects. Three of them played for the Texas Stars. Last week I looked at 23 year old AHL scoring phenom Matt Fraser, now I'll look at the intriguing former Miami Redhawk Reilly Smith. At just 22, with an unblinking work ethic and plenty of talent to boot, he could end up throwing this trade way out of balance.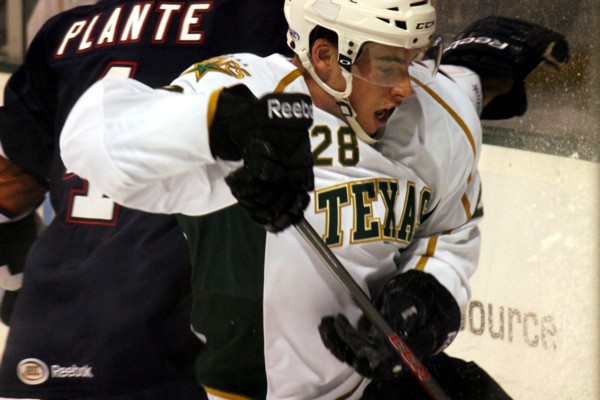 IN CEDAR PARK
Former Dallas GM Joe Nieuwendyk reserved some of his most effusive praise for two prospects: Alex Chiasson (#38 overall, 2009) and Reilly Smith (#69 overall, 2009). Both began the lockout in 2012 in Cedar Park playing for Texas in the AHL, and early on neither was making Joe look terribly good.
I wrote about Smith's struggles last November; notably, that despite getting top minutes nightly, he wasn't producing. His timing was off, and no matter how hard he hustled things just weren't going his way. His 36 goals for Miami the season prior were looking like a fluke. Through the first 16 games, this much-hyped prospect had 4 assists and four times as many unfortunate moments.
Not until a 27 November game in Rockford did he finally score his first professional goal. But that was all it took.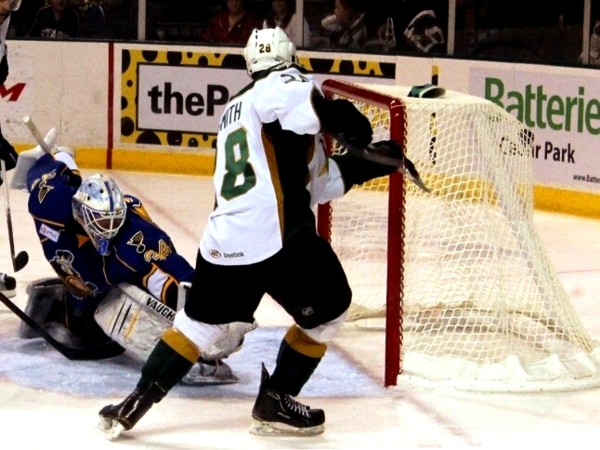 From then until his departure to Dallas in January, it was the Reilly Smith show. As went Reilly, so went the Stars.
Thus he was one of the beneficiaries of the lockout. It took him two years to adapt to the speed of the college game, but once he did he became an elite scorer. In 2012, he wasn't ready for the speed of the pro game, but he was able to adapt in Cedar Park. Put another way, he was able to not be very good and get better in a more understanding environment. One might argue that is one of the main purposes of the AHL.
Ultimately, from the date of his first pro goal Reilly played another 29 AHL regular season games, scoring 14-17-32 points in that frame. December's AHL Rookie of the Month had turned his game into one of speed, finesse and precision (no volume on the video):
IN DALLAS
Dallas fans already knew Reilly from his underwhelming three games at the end of the season prior, which cost Dallas a year of his ELC.
[See Josh Lile: The Eyebrow Raising Saga of Reilly Smith]
Yet, as he had done in the AHL in December, Reilly was showing sparks of offensive gifts at the NHL level, like this dangle in a late  January game against the Red Wings:
This prompted Smith to tweet,
Is that glove regulation or what? Why won't you just go home puck. Are you too good for your home!

— Reilly Smith (@reillysmith18) January 23, 2013
Unfortunately in Dallas he was only getting third and fourth line minutes on an average team, so not only was he sent back to Cedar Park once, his 3-6-9 points in 37 NHL games either disappointed Dallas fans or confirmed for them that Smith was more hype than substance, and that GM Joe had to go. Broader, more thoughtful views of his rookie season were offered by Defending Big D (DBD) contributor Ismael Hammoudi who examined Reilly's season from a Dallas perspective, and before that, DBD's editor Brandon Worley who compared the debut NHL seasons of Smith and Alex Chiasson with advanced statistics and actually found them slightly favoring Smith. This despite Chiasson's brief but torrid goal-scoring NHL debut.
Then July 4 arrived and Smith's development became a Boston matter, and fodder for future talking heads and bloggers to play 'what-if' with.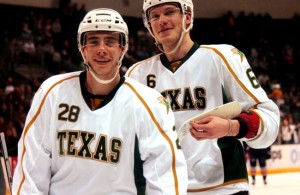 IN CEDAR PARK
Recently, Shawn Horcoff told the Dallas media:
The biggest thing the young guys need to realize is that the best players in the league are the hardest working players in the league.
Reilly Smith might be surprised at the lasting impression he left on some of the fans here. Even in the AHL you don't often see development unfold so rapidly. Guys don't often go from offensive liability to the most exciting player on the ice in two months' time. He arrived with high expectations and out of the gate he failed to deliver. He missed wide open nets, lost control of pucks with no one around him, missed tape-to-otherwise-tape Cody Eakin passes, and generally flunked his shifts. He did it in front of 5,000 people nightly, a tally that often included GM Joe.
Yet while his frustrated sighs were visible from any seat in the house, he didn't play frustrated. He just kept hitting the ice shift over shift, plugging away, playing his game and putting in the hard work. Gradually a dynamic offensive threat developed; a thrilling and creative puck handler with an endless reserve of hustle. Well before Horcoff's words, Reilly was in his way applying them.
We all know it's tough to fail, few of us know how tough it is to fail in front of so many, so often. Unlike a novelist, whose skills only seem to improve by leaps and bounds from one novel to the next (but whose notebooks overflow with their failures), Reilly's process of refinement was a public spectacle, one he endured with showcase professionalism.
Fans slam GM Joe for many of the moves he made, but rarely is there a criticism to be heard about the Hall of Famer's ability to stock the farm with high-end potential NHL talent. Reilly Smith is one of those players, and at just 22 he could be the guy who hockey historians say wound up so heavily tilting this blockbuster trade eastward.
Ross Bonander is a freelance health writer and book editor. He is the editor of 13 quotation collections– six of them hockey-related, including his most recent, Modern Hockey Quotations. His homepage is RossBonander.com.