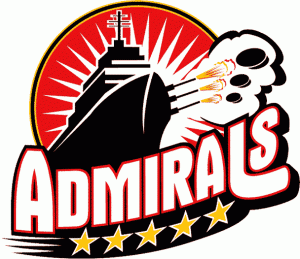 The Anaheim Ducks top affiliate, the Norfolk Admirals, return to the Norfolk Scope arena to play its first home game of the 2013-2014 season on Friday, October 11th.  Although the date has been saved, the foe has not. This will be the first look at the team since the Providence Bruins erased all playoff hopes for the Admirals on April 21st when the P-Bruins sunk the Admirals 4 to 3 in the last game of the season on the road.
Minor league hockey has this rapid following that's unexplainable. Watchful fans follow every roster move and research every incoming player upon their arrival. Anaheim has made some key moves this off-season that will excite fans and possibly have them scrambling for their favorite Admirals' jersey hanging in their closet after reading this article.
Perhaps the most notable change will be behind the bench as the Admirals say goodbye to Associate Coach Mike Haviland as he takes over one of the most historic and popular teams in the AHL, the Hershey Bears replacing Mark French. Haviland brings 12 seasons of coaching experience to Chocolate Town.
That meant there was a coaching void to fill in Norfolk. Anaheim named 2012-2013 ECHL Coach of the Year, Jarrod Skalde, to stand alongside Head Coach Trent Yawney and Assistant Coach Marty Wilford. Prior to joining Norfolk, Skalde stood tall behind the bench of the ECHL's Cincinnati Cyclones for three seasons. Under his guidance, 68 players were recalled by American League affiliates.
Anaheim inked Patrick Maroon to a two-year extension before the season's end. Maroon's new deal will be a first for him–a one-way two-year deal which means the goal crashing forward will receive equal salary no matter if in Norfolk or Anaheim. Besides his contract this was a seasons of firsts for Maroon as he netted his first two NHL goals. Those two goals came in 13 games which is a NHL record for Maroon.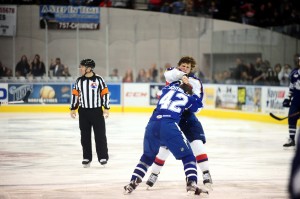 In addition to Maroon, Anaheim came to terms with Norfolk tough guy and fan favorite John Kurtz. The Ducks farmhand signed a one-year NHL contract on April 10th.  The Oakville, Ontario native played under American League contracts prior to becoming NHL property. Kurtz's deal is a two-way NHL contract.
Anaheim has already re-signed one of their AHL mainstay blue-liners Mat Clark. The 22-year-old competed in 71 games last season netting ten points. The stocky defensiveman was recalled by the Ducks to serve as a "black ace" during the brief playoff run the Ducks had last year.
In recent weeks, the Ducks have made a splash in the free agent market signing some AHL guys to round out some empty American League spots inking the fists of right-wing Zack Stortini and the  veteran leadership of defenseman Nolan Yonkman. Both were signed to one-year two-way deals.
Stortini will bring a massive wallop and a grind that will remind fans of former Admiral enforcer Eric Neilson. Last season with the Hamilton Bulldogs, Stortini recorded 241 penalty minutes in 73 games. The eighth year pro fought his way into 257 games with the Oilers and Predators.
Yonkman a true definition of a leader, flocks to the organization after spending the last five seasons in the AHL with a C on his jersey. The 32-year-old defenseman has appeared in over 600 AHL games with four teams. Nolan has seen time in the big leagues with Florida, Phoenix, and Washington. The 253-pound defenseman will remind fans of last year's captain D-man Nate Guenin who led by example. Both have a speak softly, but carry big stick mentality.
Neither leagues roster is close to being finalized, but hopefully this will shed some light on the secondary signings the Ducks have made thus far that could pay dividends to their top development team.
Follow Ted on Twitter @bauerhockeydude
Ted grew up in Virginia. Warren has a passion for the AHL and dishes out articles about the Norfolk Admirals and the AHL. Follow him on Twitter @bauerhockeydude