After spending five seasons in the Ottawa Senators' organization, Matt Carkner took his talents to Long Island last season after signing a three-year deal with the New York Islanders. While his season was cut short because of the lockout and a hip injury, Carkner was still able to adjust to the busy life in New York, something he was not used to having grown up in Winchester, Ontario, just outside of Ottawa.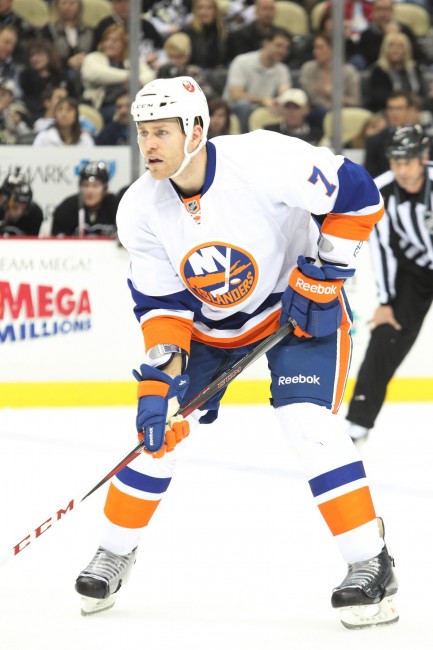 Getting Acquainted
"The adjustment was pretty big," said Carkner. "I was lucky to have been in Ottawa and got comfortable with my family in the area and having my kids in school there. After the challenges of finding schools and a place to live, everyone in Long Island made us feel right at home."
Carkner remembers how stressful things were especially with the lockout to begin the season. Yet he was one of the lucky few who had signed their deal before the collective bargaining agreement had expired, taking a huge weight off his shoulders. "The lockout was a stressful time for everyone and I could only have imagined how much more if you didn't have a contract. I knew a lot of guys in that situation. Just not knowing if we were going to lose a season or what, I was happy to have signed before."
The NHL regular season schedule was released on Friday. Check out our partners at TiqIQ for the best deals on New York Islanders tickets for all 2013-14 games.
Aside from his off ice challenges, Carkner knew there would be challenges when the season got underway. "It was a short season so we had to jump right in. I didn't know the team dynamic. I had seen what types of players the guys were, but I needed to get to know them. I started to get comfortable with the room and then, nine games in, I injured my hip flexor."
Hip Injury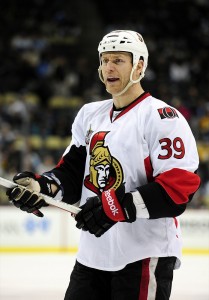 The injury definitely set Carkner back.  He recalls it happened in practice while doing a two-on-one drill. "I went down with one knee to the ice to block a shot or stop a pass. I think it was John Tavares who drove to the net and I felt something. I tried to do another skating drill and just felt something snap."
At first, the injury was diagnosed as a pulled groin and Carkner tried to work through it. But after seeing no progress after a week, he went for an MRI where doctors revealed it was actually a hip flexor. "It is a rare injury to get in hockey but I just have had some bad luck. It was equally frustrating that it was misdiagnosed."
The injury kept Carkner out from Feb. 5 to March 21. He missed six weeks and 20 games.
Drive For Playoffs
After he returned, Carkner said he got into a comfortable zone with the team and felt he meshed well with their system. "By the end of the year things were really great. It was hard for our coaching staff to really get to know me as a player after just nine games. But they were great, I actually played with Brent Thompson, our defensive coach, in the minors. He was the same sort of player as I am so I enjoyed working with him. Our other coaches Jack Capuano and Doug Weight were honest with us and pointed the team in the right direction."
Carkner returned just as the team was in a battle for a playoff spot. He and the rest of the team realized what they needed to do to change the recent results of the franchise. "We said to ourselves 'If we don't go on a run we are done and will be looking in from the outside.' The guys found a way to win. They were tired of losing in Long Island."
Carkner registered just a pair of assists and 46 penalty minutes for the team in 22 games, but shared in the celebration when the team clinched their playoff spot. "It was kind of a funny thing honestly," he said. "Everyone was celebrating and happy about it. I don't know if that hurt us in the playoffs, but it was still a great experience."
In their first round playoff series with the Pittsburgh Penguins, New York split the first two games before eventually losing in six games. Still, Carkner saw the series as a positive for the team. "Everyone did their job in the playoffs. There were a couple of close overtime games, but in the end, they (Pittsburgh) may have just out worked us."
Carkner added on assist in the playoff series.
Focusing On Next Season
Now Carkner is turning his attention to next season. He is doing a lot of off ice conditioning and skating in Ottawa as he gets back into game shape before training camp.
As for his hip, Carkner says that it has completely healed and he is hoping for no problems next season.
Carkner is wants to establish himself on the Islanders blue line by playing his physical, tough style while staying healthy. He acknowledges that the team has seen some big losses this offseason, primarily with Mark Streit moving to Philadelphia, but says that it will not change his role but rather give other players in the organization an opportunity. As for the team, he is optimistic that they can again aim for a playoff spot.
It appears as though Carkner has adjusted well to the organization. As the Islanders get set for the upcoming season, he will once again be looked at as a veteran presence, not only on the blue line, but in the entire room. His experience and ability to stay healthy will be key in the Isles earning another playoff appearance in 2014.