Remember Alexander Khokhlachev? In case you don't, he's an offensively-gifted second-round pick from 2011 who had a very successful tenure with the Providence Bruins but who was never given a fair shake at the NHL level. Because of this, he decided to leave the NHL and sign a contract in the KHL prior to the 2016-17 season.
It was clear that a falling out between the Russian forward and former-Bruins head coach Claude Julien was bound to happen and when it did, many didn't even bat an eye.
The lack of a reaction was likely due to the fact that the Boston Bruins hadn't necessarily lost Khokhlachev as his NHL rights would still be owned by Boston despite his decision to play overseas. His NHL performances have always been seen as disappointing given the potential he showed at the AHL level, however, and him leaving didn't hurt the Bruins in the long-run, especially given their deep prospect pool.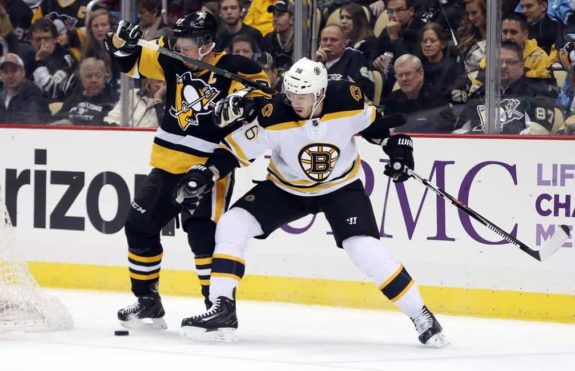 As mentioned by Elliotte Friedman in his latest "31 thoughts" column, the return of Khokhlachev to the Bruins organization in the future is a legitimate possibility following the 2017-18 season:
"Finally from overseas, it is possible Alexander Khokhlachev makes a return to Boston next season. This is his second season in the KHL, but he liked playing for Bruce Cassidy at AHL Providence. May happen."
This is interesting on multiple levels for the Bruins. For starters, the fallout between Khokhlachev and the Bruins wasn't pretty and it was drawn out over the course of his final season with Boston.
Khokhlachev's Exit From the Bruins Wasn't Pretty
Scoring 61 goals and 171 points in 197 games at the AHL level with Providence, including an impressive 23 goals and 68 points in 60 games in his final season in the AHL, Khokhlachev displayed dynamic offensive ability and consistency from season to season. Unfortunately, he failed to record a single point in nine NHL games spread across three seasons, leading to his extended stay in Providence.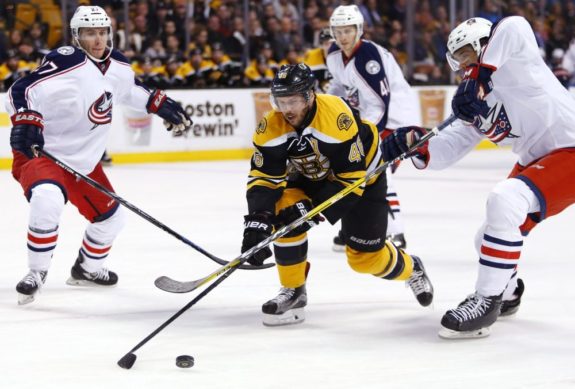 In Khokhlachev's defense, his opportunities weren't always the best when given a look in the NHL. Though he did get a look alongside David Krejci and Loui Eriksson for a couple of games while the veteran duo was white-hot, he wasn't able to capitalize on the opportunity. Outside of those games, however, Khokhlachev made it clear that he didn't think he got a long enough look in a situation where he could thrive.
"Well, I played two games and the third game I played two minutes. I don't think that's really a chance," Khokhlachev said. "I played fourth line — it doesn't matter what line I play — but I don't know if that's really a chance if you play two games."
Wanting a Fair Shot
As Khokhlachev's patience started running thing, he started speaking out more and made what likely remains the most prominent quote he would ever make as a member of the Bruins.
"This is my last year of contract. I'm 22 already. If they don't give me the chance to play, why am I here? I will not play in Providence all my life," Khokhlachev said following a practice at the TD Garden. "They told me just wait for your chance and I'm still waiting for that."
"I played in Providence two years and was the leading scorer for two years. I think I played good, and I'm not a young guy anymore, 22. I think I'm ready for the chance."
It's clear that Khokhlachev is a gifted offensive player who earned a legitimate shot at the NHL level while playing in Providence. The issue always seemed to be Julien and the system he ran – while there have been young players who have done well under the Bruins' former coach and who developed into stars, there are just as many young players who have struggled to adapt. Khokhlachev fell into the latter group, which begs the question – why would things be different now?
History Under Bruce Cassidy
Before Bruce Cassidy took over the reigns as the head coach of the Boston Bruins, he was running the show in Providence. This meant that he oversaw Khokhlachev from the day he joined the Bruins until the day he left. It also means that he was utilizing Khokhlachev the right way in his system given his production levels in the AHL.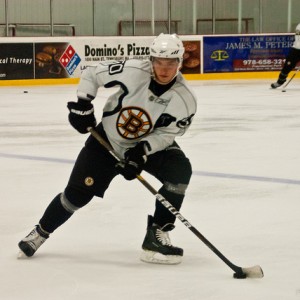 There's obviously a gap between NHL players and AHL players; a learning curve that doesn't just disappear overnight. Still, he did display clear talent in his brief NHL stints despite not finding the stat sheet. As Friedman mentioned in his piece, Khokhlachev liked playing for Cassidy in the AHL and a reunion could be in the mix with Julien out of the picture.
There's a lot to like about Khoklachev's game despite the defensive deficiencies. At 24 years old, Khokhlachev is now older and has had experience playing against men at the KHL level. Even if Khokhlachev does express interest in returning to Boston and working to claim a roster spot in 2018-19, though, there are no guarantees that he finds himself on the roster.
With a deep prospect pool and an abundance of centers, the Bruins might not need Khokhlachev moving forward. But a few variables could work out in his favor and should at least be considered.
Deeper Center Depth With Versatility
It's clear that the Bruins have tremendous depth at the center ice position. With Bergeron, Krejci, David Backes, Spooner, Riley Nash, Sean Kuraly, Danton Heinen, Anders Bjork and Jakob Forsbacka Karlsson all able to play the position and players like Ryan Donato, Trent Frederic and Jack Studnicka in the prospect pool, there doesn't appear to be much room for a player like Khokhlachev.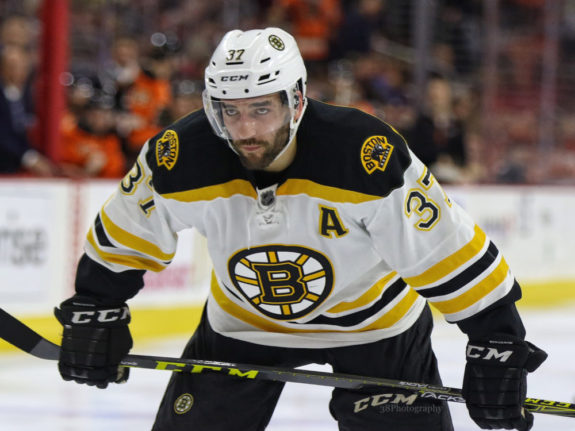 Consider this, though: Bergeron, Krejci and Backes are all on the wrong side of 30 years old with the latter two dealing with injuries as of late. While it doesn't seem likely that Bergeron is going anywhere anytime soon and the latter two players are unlikely to be moved anywhere either, they should be considered locks for the team moving forward. Finding their replacements now, however, isn't a bad idea. Taking into account the fact that Backes has played primarily on the wing in his time in Boston as well, he doesn't block Khokhlachev from earning a roster spot.
That same logic can apply to Kuraly, Heinen and Bjork who are all finding themselves playing on the wing at the NHL level – Nash has also shown that he's more than capable of playing on the wing as well. At the NHL level, that leaves only Ryan Spooner potentially blocking Khokhlachev from returning in what would almost definitely be a third-line role, not account for Forsbacka Karlsson who could definitely make the jump as early as this season, and Donato, who the Bruins shouldn't sign until the offseason anyway.
Why Would the Bruins Want Khokhlachev?
With Spooner playing on a one-year contract and rumors flying about his time in Boston coming to an end prior to this season, it wouldn't be surprising to see a Bruins roster without Spooner on it next season. This could make room for Khokhlachev who has high-end offensive ability and who could once again join the discussion as a potential top-six center of the future in Boston.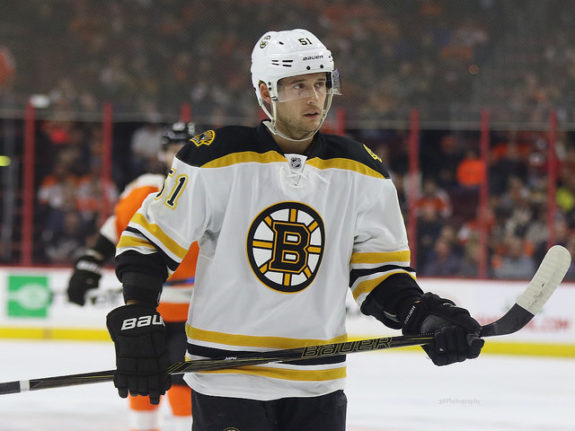 It's easy to say that based on his AHL numbers. It's also just as easy to shoot that logic down because his production came in the AHL and not against NHL talent. On top of this, Khokhlachev also fell out of favor with St. Petersburg SKA in the KHL in his first season, scoring only five goals and 10 points in 25 games while adding one assist in nine playoff games. Now with the Spartak in Moscow, Khokhlachev is finding his stride. With six goals and 18 points in 23 games already, it's clear that he's feeling comfortable and looking to take the next step in his career.
With his contract in the KHL ending this season, it would be asinine for the Bruins to not at least reach out to Khokhlachev's camp and see if a reunion is possible. If there truly is a mutual interest there and a willingness to learn together, Khokhlachev has the potential to be a very good NHL player. Whether he makes the effort and whether the Bruins give him a fair opportunity is yet to be seen – what is known, however, is that there is definitely potential for a reunion in the near future that could benefit both parties.
Brandon Share-Cohen has covered the NHL and various professional sports for seven years. Working with The Hockey Writers, Brandon works extensively on covering the Boston Bruins in addition to his role as the News Team Lead.