It was just a matter of time before the Kitchener Rangers started to enjoy the fruits of their recent trade. Wednesday morning in Erie, it came to fruition.
Kole Sherwood scored twice and added two assists to help the Kitchener Rangers defeat the Erie Otters 7-3. Sherwood entered the game with just one assist on the young season after the Flint Firebirds traded him to Kitchener thanks to their OA situation.
Sherwood was the best player on the ice for both teams.
Recapping Sherwood's Day
The Rangers entered the game with the Otters just one point ahead of them for fifth place in the Western Conference. Thanks to Sherwood's explosion, the Rangers distanced themselves and showed why they are a contender in a wide-open OHL.
His first goal as a Ranger was a beauty. He intercepted a Jordan Sambrook pass at his own blue line and turned it into a breakaway. After making a move to the backhand, Sherwood had an empty net to work with and made no mistake.
WATCH THIS: Welcome to @OHLRangers, @92KSherwood🚨@BlueJacketsNHL prospect scores a beauty for his 1st of the season with the new club 🔵🔴⚪️ pic.twitter.com/5I5ejT9umO

— OntarioHockeyLeague (@OHLHockey) November 1, 2017
Sherwood later scored his second of the game to ice it for the Rangers. His line with Adam Mascherin had their way all day with an Otters team that wasn't ready to play.
Why the Trade Happened
Offense has never been an issue for Sherwood. The hope for him is to see his defense improve. According to Sherwood, that was the message from the Blue Jackets to him as an area of focus. On Wednesday, he showed steady signs of this improvement. The play that led to his breakaway goal showed excellent awareness.
The Rangers loved what they saw out of Sherwood in his time with Flint. Head coach Jay McKee said after the game that they didn't like playing against him last season. McKee went further in describing what they liked about him to complete the trade.
"He's a big body with really good speed," McKee said. "He has great hands and a heavy shot. One of the things that really fueled us is when we did some analytics on him, we saw that I think the number was around 75% of his points from a year ago were even strength. That says he's not just a guy that racks up points on the power play but finds ways to score and setup guys at even strength."
Sherwood's linemate Mascherin was also excited about what Kole would bring to the table.
"He's a fast player. He's got a lot of tools under his belt," Mascherin said. "He's got an elite shot and decent playmaking abilities. You saw tonight with the two nice assists. He's a threat to score."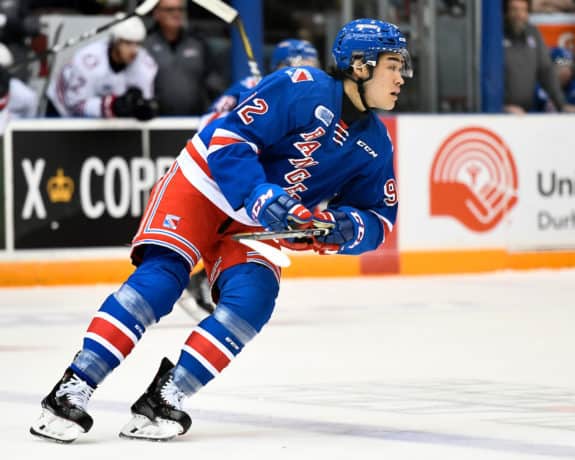 Sherwood Knows He Must Improve
Sherwood suffered an injury in Blue Jackets' training camp that kept him out for over a month. He then went to AHL Cleveland to start his season. Thanks to a numbers game with the Monsters, the Blue Jackets saw an opportunity to assign him to the OHL to play his overage season.
What was the message from the Blue Jackets to Sherwood?
"There's a lot of things that they wanted me to work on. Just all aspects of my game especially the d-zone. I think that I was a liability at the next level. So I really gotta work on that and prove myself," Sherwood said.
Besides intercepting that pass on his first goal, Sherwood made a great play on his second goal before scoring it. According to his coach, he tracked the puck in the neutral zone and lifted the stick of the Otters' player to create the chance.
Final Thoughts
This was the right move for Sherwood given the circumstances. He gets to play on a good team with a chance to chase a championship all while improving his overall game with a coach who was an NHL defenseman. He brings elite scoring to a team who scored over five goals in a game for the first time all season.
Sherwood should shine in Kitchener. Wednesday's school day game was a good start and maybe a sign of things to come.