With the Bruins sitting tied for second in the Atlantic Division, it's easy to give credit to the team's biggest names. Not that they don't deserve it, mind you. Brad Marchand is scoring at over a point-per-game pace, with David Pastrnak close behind. Charlie McAvoy has emerged as the defenseman of the future, while Tuukka Rask has shown just how good he can be with a capable defense in front of him.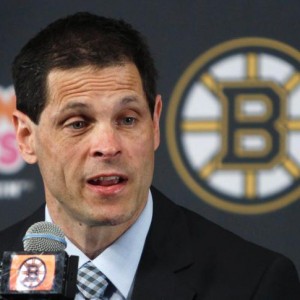 Once you get past those names, however, you get to the depth players, the real reason that the Bruins have been succeeding as of late. The bottom six forwards, bottom pair defensemen and backup goaltender often go overlooked on a winning team. That shouldn't be the case this season for the Bruins, as they're just as responsible as the big guns.
With 17 contracts expiring after the 2017-18 season (7 UFAs and 10 RFAs),general manager Don Sweeney will have his work cut out for him in the offseason. With the exception of Zdeno Chara, the rest of the expiring deals belong to the aforementioned role players.
Some of those players are inconsequential to the success of the big club. They're either AHL players or older players that don't fit in to the long-term plan.
Others, meanwhile, will have a big impact on the Bruins in the near future and should be priorities for extension. These are the players in their primes, playing at peak performance, who play an important role on the team. Here are four players that fall under this category and should definitely get new contracts this summer.
Center – Riley Nash
Nash established himself as a versatile forward in Carolina and that has carried over to his time in Boston. He's bounced around from the center to the wing and has played on three of the four lines during his tenure with the Bruins. That being said, no matter where he plays, he's been able to produce at a consistent clip and play smart a smart, two-way style.
Coach Bruce Cassidy has been able to vary Nash's playing time this season, depending on who's healthy and who's not. He played a season-high 22:03 in October when the Bruins visited Colorado. That same month, he played a season-low 9:01 against Columbus.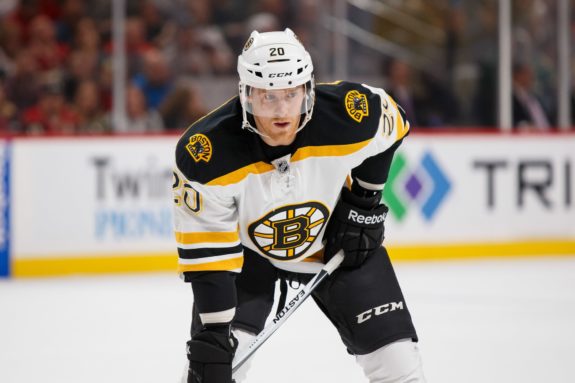 Riley Nash is the kind of player that turns a good team into a great team. A championship team is defined by their role players just as much as their superstars and the depth that the Bruins possess has shown to be a major strength. Nash, David Backes and Danton Heinen constitute the team's third line. That being said, they've also been the team's best line on a number of nights.
The best part about re-signing Nash is the price. He's making $900,000 this season and has never had a contract worth more than $1.15 million per season. With a very top-heavy cap situation, and a number of young players who will require extensions in coming seasons, retaining Nash is crucial.
Defenseman – Matt Grzelcyk
In just his second NHL season, Matt Grzelcyk has already become a mainstay on the Bruins' blue line. He's already anchoring the second power play unit, alongside fellow rookie Charlie McAvoy. Though he's on the third pair, he's been seeing an increase in ice-time and overall usage.
Not only that, the situations in which Grzelcyk is being deployed are also changing. As @bruins_stats pointed out on Twitter, he's being relied on more in his own zone:
https://twitter.com/bruins_stats/status/948624732357787649
There's a shift happening in the NHL and Grzelcyk is one of the many beneficiaries. The league is becoming smaller, faster and more offensive-minded. Puck-moving defensemen are at a premium and teams are willing to pay through the nose to get the best ones. A prime example of that phenomenon is Torey Krug, who despite being somewhat suspect in his own zone, is the Bruins' highest-paid defenseman.
Grzelcyk is hitting the league at just the right time and is helping the Bruins keep pace with some of the league's best offensive teams. He's everything Boston is looking for right now: a young, left-handed, puck-moving defenseman who can hold his own in the defensive zone.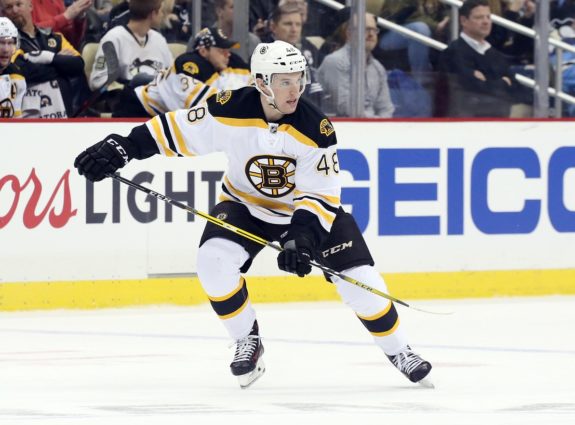 Since he's coming off of his entry-level deal, the Bruins won't need to break the bank in order to retain him. He's still a restricted free agent, meaning that a team would need the Bruins' permission in order to sign him. They should be able to agree to a deal worth around $1 million per year, which would help clear a number of ugly contracts before Grzelcyk's deal expires.
Goaltender – Anton Khudobin
For a year now it seems as if the most frustrating position on this Bruins team has been the backup goaltender. A few of the names that the team has rolled out behind Tuukka Rask evoke some rather unpleasant memories. Niklas Svedberg spent some time as the backup, as did Jonas Gustavsson. Before standing on his head with the Vegas Golden Knights, Malcolm Subban had a rather rocky start to his career in Beantown.
In his second stint with the B's, Anton Khudobin has finally put that controversy to bed. So far this season, he's gone 9-2-3, with a 2.37 goals against average and .925 save percentage. That includes a seven-game unbeaten streak that helped the Bruins stay afloat while Rask struggled immensely to begin the year.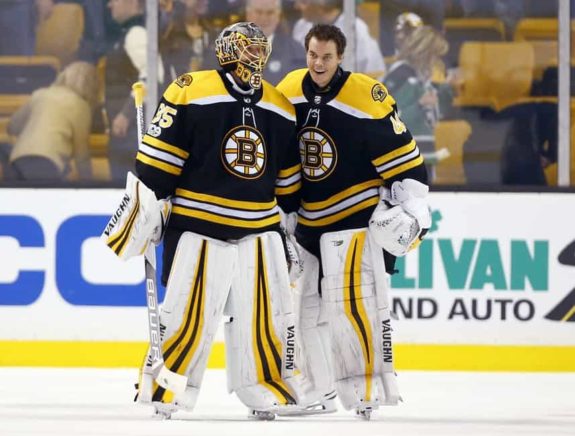 Since that point, he's still been the competent and reliable backup that the Bruins desperately need. Since the beginning of the 2012-13 season, Tuukka Rask has played in 319 games, the most in the NHL during that span. That is a trend that cannot continue if you expect Rask to continue to play at a high level. Instead, they've found a goalie with whom Bruce Cassidy can play with confidence and who can create a sense of competition with Rask.
It was crucial for the Bruins to acquire someone who could take the load off of Rask's shoulders and they've done so with Khudobin. He's currently making $1.2 million and shouldn't require a steep pay raise in order to retain him. In limited time, it's appeared that prospect Zane McIntyre isn't ready to fill the backup role yet. In the mean time, Khudobin has proven that he can hold down the fort behind Tuukka Rask.
Prospect – Austin Czarnik
Down in Providence, Austin Czarnik is putting on quite a show.
Playing with Kenny Agostino and Jordan Szwarz as the top line center, Czarnik has racked up 32 points in 29 games. His 23 assists are good for tops on the team, as well as seventh in the entire AHL. His line has combined to form one of the best in the AHL, as the three players have a combined 81 points.
Czarnik saw action in 49 games for the big club last season, recording 13 points. After a while, the rigors of life in the NHL, combined with an extremely strenuous preseason workout plan, began to take their toll on Czarnik. His performance trailed off and the Bruins sent him down to Providence, where he put up 23 points in 22 games.
He started the season with Boston, recording only one point in six games. It was at that point that the Bruins decided to return Czarnik to Providence to continue his development. So far, it looks as though this move is paying dividends.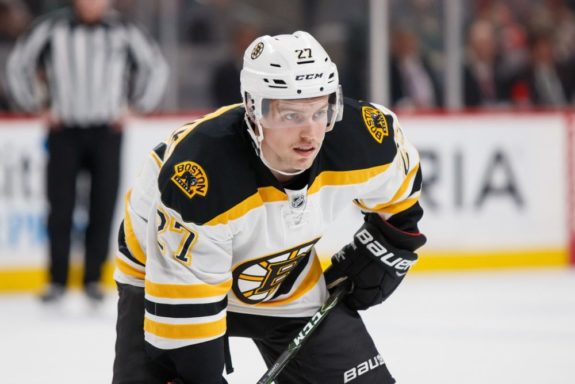 Though it's no guarantee, it appears as though Austin Czarnik will be able to help the Bruins in the future. Considering that he has yet to sustain himself in the NHL lineup, Czarnik will be a very cheap signing. He makes only $675,000, and will be a restricted free agent after this season. While he's undoubtedly a project, Czarnik's ceiling is high and has yet to be reached.
Dan Bahl is a writer for The Hockey Writers, covering the Boston Bruins. Dan is a recent graduate of Quinnipiac University, and currently serves as the Lead Analyst of Quinnipiac Women's Hockey on ESPN+. Dan has worked as the Head of Media Relations for the Valley Blue Sox, as well as a Media Relations Associate for the Hartford Yard Goats.