The upcoming campaign figures to be an interesting and crucial one for Boston Bruins forward Frank Vatrano. Set to embark on his third professional campaign, this is the season where "promise" must turn into consistent impact.
His goal-scoring prowess in the AHL is well documented, with 38 goals in his last 38 games for Providence. He has scored goals in bunches at the NHL level as well, though the hot streaks are often punctuated by prolonged droughts.
Moreover, his play away from the puck both defensively and offensively has illustrated inexperience and a need for improvement. His shot is lethal, but then again so was Matt Fraser's. An inability to contribute consistently and beyond the score sheet has Fraser plying his trade in Sweden. Should Vatrano wish to stick in the NHL he'll need to round out his game considerably in Year Three.
Contract Year
For Vatrano himself, the upcoming campaign has significant financial implications. With his entry-level contract set to expire at year's end, the restricted free agent to-be could stand to benefit greatly from a breakout campaign.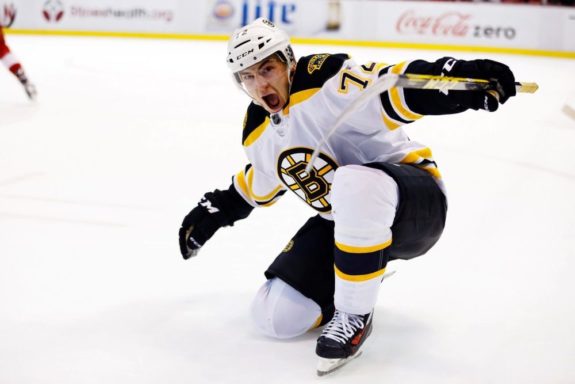 David Pastrnak's current contract negotiations perfectly exemplify what can be gained from big numbers in a contract year. Now, Vatrano is not Pastrnak. They have different styles, expectations, pedigrees and frankly, talent. But after one 70-point campaign, on the heels of 53 points in his first 97 NHL games, Pastrnak reportedly has a deal on the table for $42 million over seven years.
Vatrano does not have a 70-point campaign on his horizon. Regardless, the bar has been set quite high, and a breakthrough campaign could absolutely net him several million dollars per year on a bridge contract. Conversely, continued inconsistency would at best net him a one or two-year deal, with the dollars involved essentially amounting to an extended entry-level contract. Think of the two-year, $1.9 million extension Ryan Spooner received two years ago.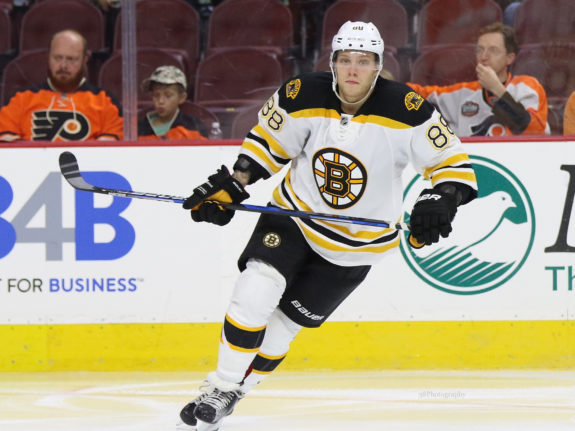 Worse yet, plateaued production could see him leapfrogged on the organizational depth chart.
The Heat Is On
Danton Heinen, Peter Cehlarik, Austin Czarnik and Jakob Forsbacka-Karlsson all debuted for Boston last season. Odds are that they'll be joined at some point this year by Anders Bjork, Jake DeBrusk and Kenny Agostino. Zachary Senyshyn, Jesse Gabrielle and Ryan Donato are on their way in the near future as well.
From both a quality and quantity standpoint, the pipeline of young forwards is chock-full. Furthermore, Matt Beleskey looks to rebound from last season, bringing the kind of grit and physicality we've seen frequently rewarded with playing time in Boston.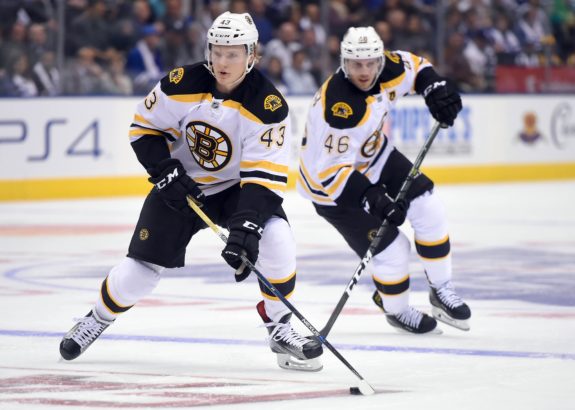 If Vatrano hopes to maintain a spot with his hometown Bruins he'll need to show that he's more than a streaky depth-scorer, and he needs to do so this season.
How Vatrano Can Improve
With the tone and tenor, the "must's" and "need's" of some of the analysis above, one might assume I consider Vatrano's tenure thus far to have been disappointing. I assure you that is not the case. In fact, considering that his 83-game NHL career thus far has come as a rookie and as a player returning from a broken foot, 18 goals in what amounts to virtually one full season is solid production.
The issue to this point has been consistency. Vatrano will never win a Selke Trophy, nor is he terribly likely to eclipse 30 goals in an NHL campaign. However, he can absolutely be a quality 20-25 goal scoring winger who's not a liability defensively.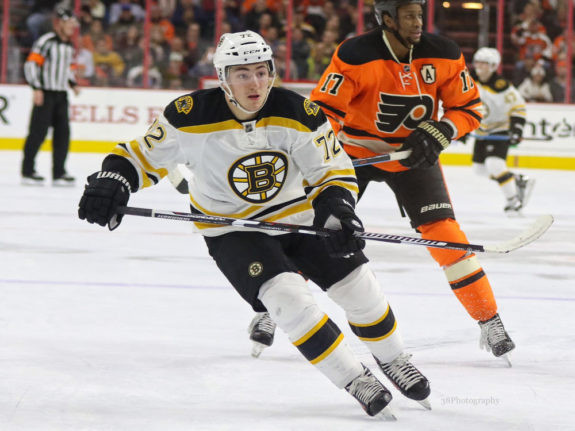 He has shown a dogged work ethic to this point, as evidenced by his ascent in spite of going undrafted. That, in conjunction with experience and a lack of broken bones, will hopefully enable him to avoid droughts like the one which capped his second campaign.
Where Does He Fit?
For the majority of his Bruins career, he's served as the team's third-line left wing. However, that may not be optimal deployment when considering the team's composition.
Ryan Spooner's struggles at five-on-five, like Vatrano's AHL domination, are well documented. As the team's third-line pivot, Spooner's struggles and the struggles of the line itself form somewhat of a "Chicken or the Egg" conundrum. Regardless of whether it's Spooner holding the line back or Spooner being handcuffed to underachieving linemates, the fact of the matter remains that the two have yielded more than they've created together thus far.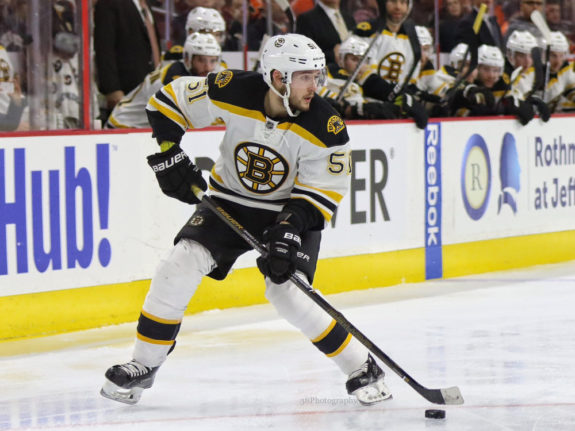 Perhaps additional reps plus the addition of David Backes to the right wing turns the line into a strength. However, that would leave two spots in the top six to be filled, ostensibly, by rookies.
Slotting Vatrano alongside Pastrnak and David Krejci looks potent on paper, and very well could be. Unfortunately, the line also looks vulnerable from a defensive standpoint, especially when considering they figure to play predominantly against an opposing top six.
The Remedy
Bruce Cassidy and the Bruins would be remiss if they didn't give the East Longmeadow native a first-line audition. Patrice Bergeron and Brad Marchand form one of the most dynamic duos in the league; perhaps THE most dynamic. The duo accounted for the two best shot attempt percentages in the league last year, dominating play. They own the puck, and when they don't have it, they typically get it back in short order. They even displayed that dominance internationally against the world's best.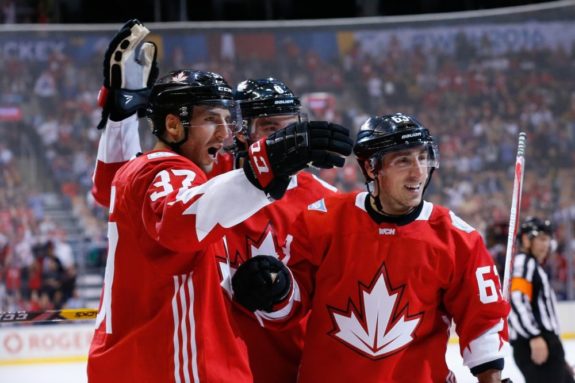 The two excel down low on the cycle, which also happens to be one of Vatrano's strengths. His low center of gravity and stocky frame (five-foot-nine, 200 pounds) make him difficult to separate from the puck.
Vatrano struggles defensively. Why not pair him with the guy who wins the Selke Trophy every year? He struggles away from the puck. Why not play him alongside two guys who ALWAYS have it?
He has difficulty finding open passing and shooting lanes. Why not play him with two guys who seem to put the puck wherever they want to?
Last season, the union led to one of Vatrano's best games as a Bruin. His two-goal effort versus Detroit on Jan. 18  quickly gave way to a demotion further down the lineup, which brought about another drought. Hopefully, the team decides to give the line another look during the consequence-free preseason.
Outlook for Frank Vatrano
Over two professional campaigns, Frank Vatrano has seen his fair share of ups and downs. He's been an AHL All-Star just months after concluding a 37-game college career. He dressed for 39 NHL games as a rookie despite going undrafted. There have been hat tricks and game-tying playoff goals.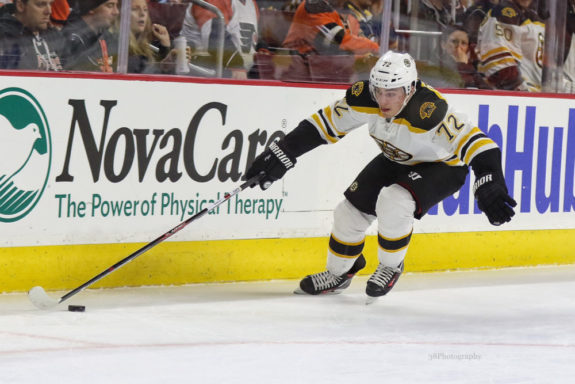 There have also been broken bones and disrupted seasons, prolonged scoring droughts and inefficiency away from the puck. He spent time in the coach's dog house in the midst of a now public strained relationship.
With Claude Julien elsewhere, and the trials and tribulations as well as a cumulative full-season under his belt, Vatrano appears poised to take a big step forward this season. With a new contract on the horizon and a bevy of prospects nipping at his heels, his professional and financial well-being depend on it.