The Boston Bruins have been struggling – that much is clear. One of their biggest problems has been a lack of consistency. Since their four-game winning streak early in October, the Bruins have been unable to string together more than two wins.
Most recently, the boys in black and gold were shut out by the Florida Panthers; a struggling team that is currently resting at the very bottom of the Atlantic Division. It is the biggest win of Florida's season to date, and undoubtedly is Boston's worst loss since falling to the Washington Capitals 7-0 on opening night.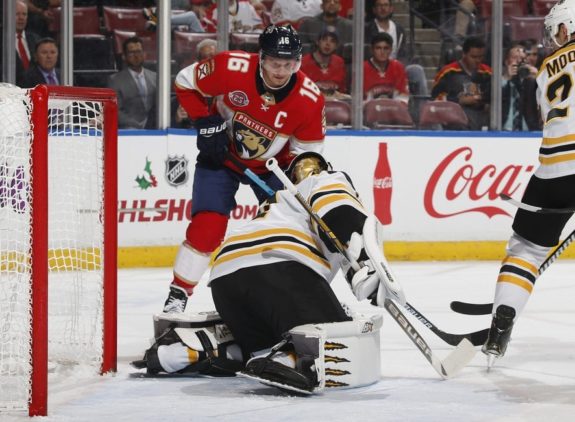 This team has been tough to watch in recent weeks – especially last night, as well as the lackluster third period on Saturday. The Bruins need to turn things around immediately as they continue one of the most important stretches of their 2018-19 campaign.
Injuries Shouldn't Be a Scapegoat
Yes, injuries play a role, but the Bruins have an even bigger problem than missing a handful of key players. Patrice Bergeron is Boston's best all-around player, but the rest of the offense must be able to pick up the slack if they want to be a playoff team. Bergeron is the only forward Boston is missing right now, and this team has enough skill up front to compensate for at least some of his missing production.
There are also the sizeable losses on the blue line; specifically Zdeno Chara, Charlie McAvoy, and Kevan Miller. This does take a toll, but the young players that have been called up – Jeremy Lauzon and Connor Clifton – have held their own and are capable of logging minutes on the third defensive pair. Yes, these injuries are a contributing factor in the struggles Boston has seen thus far, but it isn't the full story. Can you really say with confidence that once these players are healed that the Bruins will be a contender? No, not the way they have been playing, even when those players are in the lineup.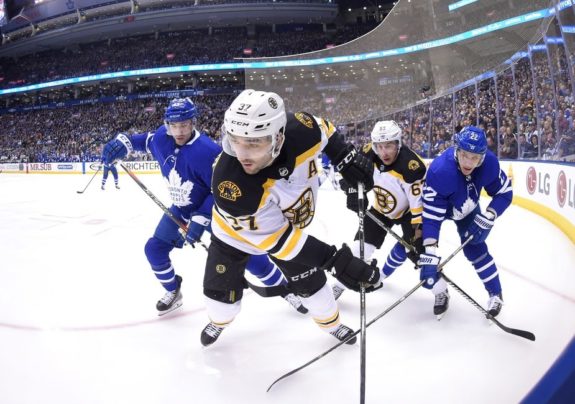 The Bruins have enough skill between Brad Marchand, David Pastrnak, David Krejci, and Torey Krug that they should be able to continue scoring without Bergeron. Shifting attention to the bottom-six, there is simply a lack of execution that has held this team back all season long. When the Bruins have outshot opponents this season, they are 5-3-3. If that doesn't indicate a lack of execution, I don't know what does. Sure, the defense is battered and bruised, but that doesn't account for Boston's lack of offense – a prime example being their embarrassing performance against Florida.
Bruins Searching For Their Identity
Boston's biggest problem is that they currently don't have an identity. They're a one-line team and they haven't been able to find a consistent path to victory. "Get the puck to Pastrnak" is a strategy that will quickly get thwarted – it already has been by some teams. The Bruins need to find that extra gear if they want to be in the NHL's second season come April.
I wasn't even a thought during the era, but the tale of the Big Bad Bruins is one I've been told many times. The league is evidently changing: speed and agility have become some of the biggest attributes teams look for on draft day. Fighting is slowly being phased out of the league whether you like it or not. But that's no excuse to pass up on playing physically. That doesn't mean you can't fire up your team with big hits, scrums when things get heated, and still drop the gloves in the defense of a teammate.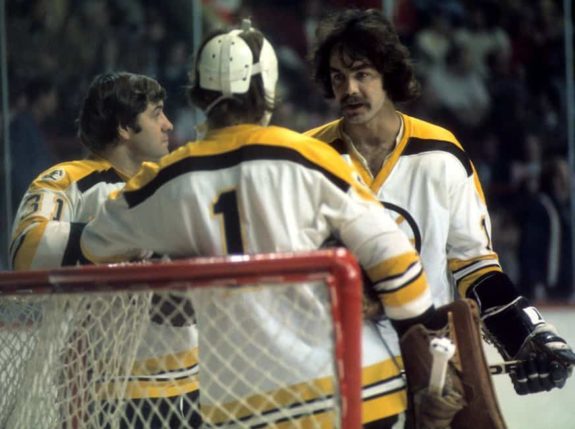 I'm not saying the Bruins need to go out and start a brawl on a nightly basis, nor should they add an enforcer. What they need to do is find a fire within and be more physical. Even the young, fast, and skilled skaters should take the body moving forward. This sort of play can gain the Bruins some momentum, create more space on the ice, and strengthen other facets of their game. Execution is a big problem, and adding some emotion to their game could give the team a confidence boost and potentially help solve that problem.
Physicality is just one identity the Bruins could explore. There are others, but it seems to be the most logical path for them to go at this juncture. The third and fourth lines – and arguably the second line too – haven't been scoring enough. If you're not getting pucks to the back of the net, you need to contribute in another fashion.
Bruce Cassidy should consider encouraging his players to throw more hits. We may never see the Big Bad Bruins again, but that doesn't mean Boston can't find a way to intimidate their opponents when given the chance.