It's rare for the Detroit Red Wings and St. Louis Blues to be involved in a trade these days. But according to TSN's Darren Dreger, the two teams may be soon discussing a deal centered around goaltender Jimmy Howard.
During last week's Insider Trading segment, Dreger noted that the Blues have been scouting Howard as of late and are in need of goaltending to turn their abysmal season around. So far, Jake Allen and Chad Johnson have not been reliable in net, while Howard has been Detroit's backbone.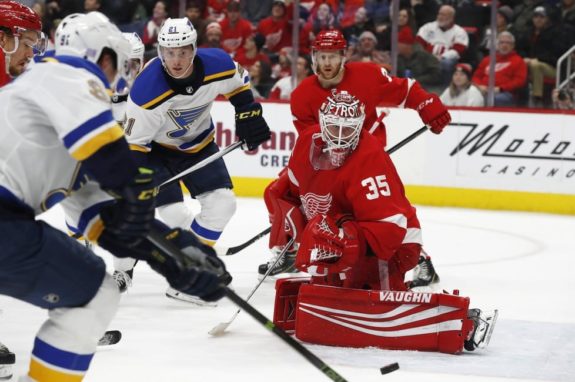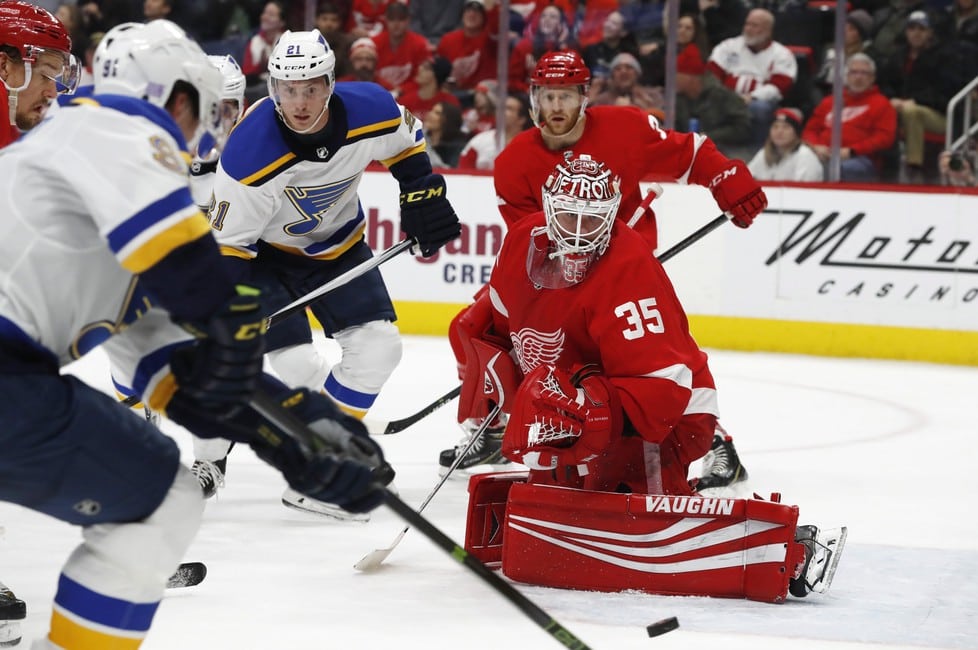 So if the Blues are serious about their interest in Howard, what kind of deal can be struck? Let's dive into the two teams' salary cap situation and find a reasonable trade sending Detroit's long-time goaltender to St. Louis.
Salary Cap Space
As of now, neither the Red Wings nor the Blues have a lot of cap flexibility. If the two teams are going to come together on a trade, the exchange of cap hits will be about equal.
Luckily for Detroit, they have the ability to retain part of Howard's salary to help facilitate the deal. If 50 percent of his cap hit is retained, Detroit and St. Louis would each have $2,645,833 on the books for the netminder. With less than $50,000 in cap space, the Blues could use the savings. They would also need to send some salary back to Detroit, but more on that later.
The Red Wings are right up against the salary cap upper limit as well, but do have about $3 million to work with, meaning they can take on more salary than half of Howard's contract. With more trades likely coming, they'll want to remain as flexible as possible, so giving up all of the cap space in a potential Howard trade would not be ideal.
Players, Picks & Prospects
Apart from the Blues sending over a roster player for cap reasons, the Red Wings would want a good prospect or draft pick for Howard's services. While discussing the two teams, Dreger noted that the Blues do not have a first round pick this year and top prospects Robert Thomas and Jordan Kyrou could be in play.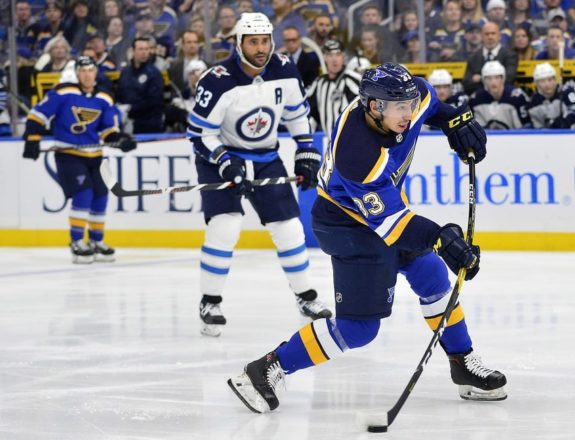 Additionally, MLive's Ansar Khan recently discussed Gustav Nyquist's future and noted that he's hearing the Red Wings would prefer to receive a prospect rather than a draft pick for their prized winger. Could the same be the case for Howard, given St. Louis' stockpile of solid prospects?
Thomas and Kyrou may be wishful thinking, though. The Hockey Writers colleague and St. Louis Blues journalist Stephen Ground noted that the two prospects were off the table in the Ryan O'Reilly trade negotiations. Why would one suddenly become available for a veteran netminder?
Red Wings-Blues Swap
Detroit trades Jimmy Howard to St. Louis for Chad Johnson, Ivan Barbashev, and a conditional 2020 third-round pick.
In this proposed deal, the Red Wings would get a pending unrestricted free agent goalie in Johnson, who can back up Jonathan Bernier. Additionally, Barbashev is a former second-round pick who plays center and has shown the ability to score at all levels, though he's still adapting to the speed of the NHL. He projects as a solid third-line player with some scoring upside.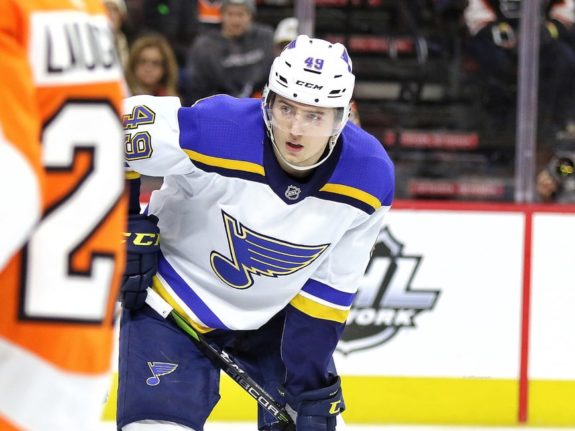 The conditional draft pick would head to Detroit if the Blues re-signed Howard following the trade. A similar condition was added to the Petr Mrazek trade last season in case the Flyers wanted to keep the goalie beyond that year.
A second-round pick could also replace Barbashev, but the Blues may not want to part with the selection if they won't be choosing a player in the first round of the 2019 NHL Draft. In addition, Detroit could still sign Howard in the offseason as a free agent. He likes it in Detroit and would remain (or re-assume his duties as) the starter heading into next season.
Should the Detroit Red Wings trade Jimmy Howard? Share your thoughts below.