In an unintended display of unity, all of New England developed their own heart palpitations upon hearing of Charlie McAvoy's abnormal heart rhythm and subsequent surgery. Folks frantically typed "ablation" into their search engines in much the same way they searched for "diverticulitis" just a few short months ago. At this rate, half of the region will be qualified for a residency at Mass General by April.
With thoughts of Normand Leveille, Reggie Lewis and Len Bias fresh in their minds, Boston fans were treated to some reassurance and solace upon learning that the condition and procedure is far less grim and invasive than it sounds, and that "Chuckie Bright Lights" should be able to return to the Bruins' blue line shortly after the All-Star Game.
In the interim, however, it leaves Boston in somewhat of a pickle.
The presumptive Calder Trophy candidate is an all-purpose, all-situations defender. Replacing his skillset while he rehabilitates is impossible. The Bruins must simply re-adopt the "next man up" philosophy which served them well earlier in the season – simplify their game plan as needed and utilize their depth at the position to weather the storm, maintain their mojo, and protect their position in the standings.
Mitigate Turnovers
Among the innumerable ways in which Charlie McAvoy makes the Bruins a better team is his ability to break the puck out of his own zone cleanly. Whether it's via a crisp, tape-to-tape pass, a safe, indirect clearance off the glass or by taking the space given to him and utilizing his smooth, assertive skating ability, pucks are seldom turned over in danger areas when "73" is on the ice.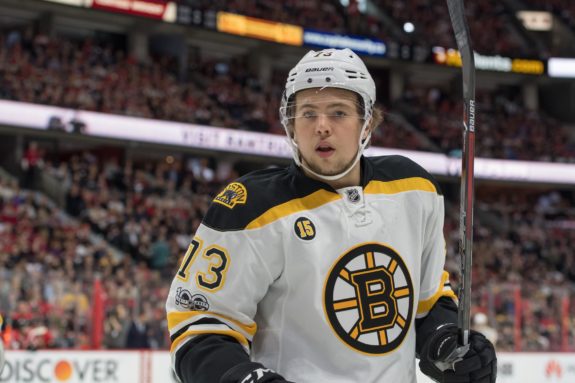 His presence was missed immediately, as the Bruins spent the vast majority of the first period of their Tuesday tilt versus New Jersey turning pucks over like it was 2015. Going back over the tape and rewatching that period I ran out of fingers when trying to count the forced/unforced turnovers committed by Bruins defensemen (and forwards, for that matter) in the frame. It was Boston's first 20 minutes of the season without their 20-year-old stud rearguard, and the results were downright ugly.
Were it not for some early-game heroics from Tuukka Rask, the Bruins could have easily found themselves down three goals heading into the first intermission.
When McAvoy is in the lineup, the Bruins feature an excellent puck mover on every defensive pair. Torey Krug has led the charge with Brandon Carlo or Adam McQuaid as his partner, while Matt Grzelcyk has done so alongside Kevan Miller. Take McAvoy out of the equation and suddenly things aren't quite so rosy.
Head coach Bruce Cassidy chose to reunite last season's shutdown pairing of Carlo and Zdeno Chara; a union that's likely to last while McAvoy remains shelved. Though the duo can excel in the role, their respective skill sets when paired together do leave something to be desired in the puck-moving department. There were several notable turnovers by the duo Tuesday night in addition to some real difficulty in starting the rush up ice.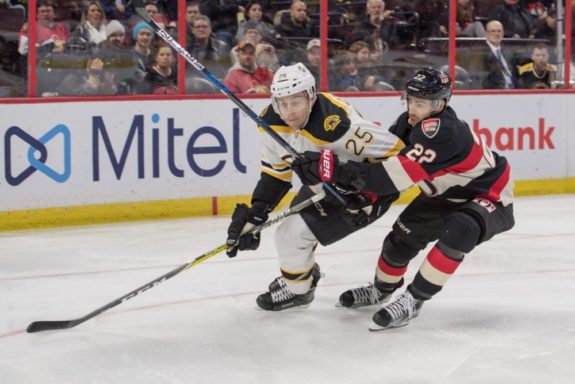 Bruins fans of late have frequently been treated to electrifying rushes generated by creative and aggressive transitional play from their defensemen. With two defensively-minded rearguards on the ice simultaneously, look for Boston's forwards to start coming down deeper into their own defensive zone to make themselves more readily available to receive safer outlet passes from the duo.
It may mitigate the team's effectiveness to put opponents on their heels, but the odds of a breakout turning completely negative would be significantly diminished; better safe than sorry.
Boston's transitional offense this season has been one of the most glaring and positive improvements from seasons past. Without McAvoy in the lineup, it figures to take a dip. Thursday's contest versus the Ottawa Senators and Guy Boucher's trap will be a stiff test and good challenge for Boston's back end.
Dip Into Desirable Defensive Depth
Along with the ascent of Matt Grzelcyk in conjunction with Adam McQuaid's extended stint on IR came the asinine (and perhaps predictable) hot takes that "Darth Quaider's" services were no longer needed in Boston. Because, clearly, no defenseman in Boston would ever get hurt again.
Less than one month after McQuaid received his clean bill of health, Boston finds itself minus its best all-around defender for roughly two weeks and anywhere between five to eight games.
Though there is truly no replacing McAvoy, the Bruins actually find themselves in decent position to absorb an injury of that magnitude. With more capable defensemen than spots in the lineup, I theorized a while back that dressing seven defensemen could be a possible solution to the "problem." Though my stroke of genius (personal opinion) has yet to come to fruition, it is indicative of the quality of Boston's depth at the position.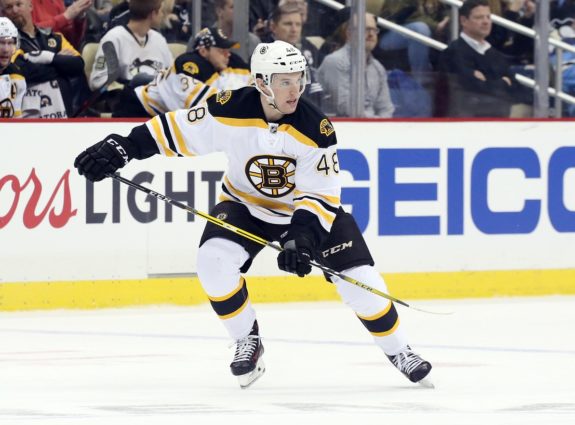 Moreover, the ice time that has gone around in the wake of Grzelcyk's arrival, Kevan Miller's recent illness and now McAvoy's heart condition can only serve to help the Bruins in the long run. Ensuring that as few defenders as possible (apologies to Paul Postma) spend prolonged stints in the press box will pay dividends once the postseason begins and Boston is forced to deal with the inevitable injuries to their back end.
How inevitable, you ask? In each of Boston's last three trips to the postseason, they've gone at least eight defensemen deep. Twice they've dressed their ninth defenseman, including during last year's six-game playoff run when Tommy Cross was called upon to play in Game 3 versus Ottawa. This wasn't an arduous, multi-series slog through the postseason. This was one six-game series, and Boston needed nine defensemen.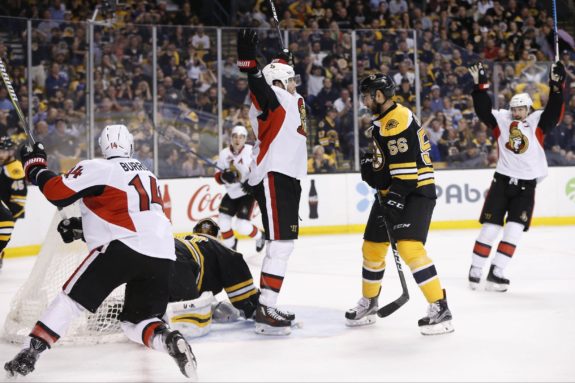 Having seven defensemen capable of doing more than holding down the fort is the bare minimum for any team with designs of a lengthy playoff run. Whether or not the Bruins feel comfortable entering the playoffs with Paul Postma as their eighth defenseman I cannot say. However, if nothing else, the loss of Charlie McAvoy and his 23 minutes of ice time per game will provide valuable reps to those on the cusp of being the odd-man out when the blue line is fully healthy.
Bruins Need to Score in Bushels
There's a part of me that feels like an overly-simplistic goon for even including this in the article. Why not just add "win games" while I'm at it?
Nonetheless, scoring in bushels is the best way for these Bruins to continue their winning ways with McAvoy sidelined, especially when taking into account Boston's upcoming opponents.
Of the six opponents Boston figures to tangle with sans McAvoy (erring on the side of a longer recovery), four are currently situated in the bottom half of the league in goals-against-average. Their next opponent (Ottawa) has the second-worst goals against average in the league. Only one team (St. Louis) has a GAA ranked in the NHL's top ten.
The Bruins currently have the league's fifth-best offense, averaging 3.26 goals-per-game. Over their incredible 17-game points streak, they've scored an astounding 67 goals, giving them nearly four goals per contest. Suffice to say, the opportunity to keep the points streak alive by simply throwing more firepower at the opposition than they can counter has presented itself.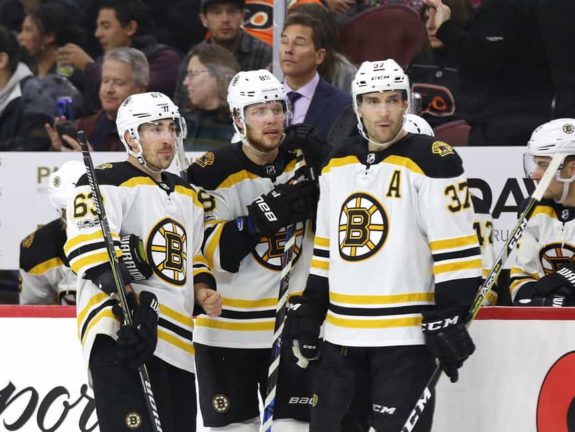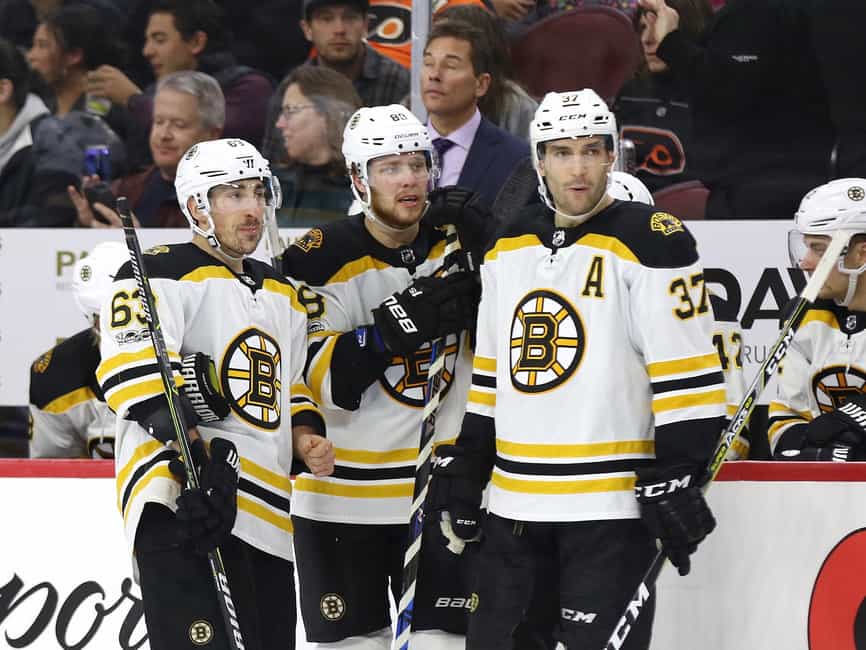 With Patrice Bergeron, Brad Marchand and David Pastrnak looking like men amongst boys lately, the odds of Boston being able to withstand the loss of McAvoy and continue piling up the points in his absence are greatly increased.
(Update: Brad Marchand has been suspended for five games by the NHL Department of Player Safety.) 
The loss of such a talent for any period of time is unfortunate, especially with the team on such an unbelievable streak. However, these Bruins have the depth and talent to not only absorb the loss, but to also possibly even be better for having endured it.
Most important of all, Charlie McAvoy is healthy, out of the hospital and resting comfortably.
The best wishes and hopes of an entire region are with you, Charlie. Get well soon.
Despite being New England's Son (hailing from the Great State of Connecticut), Joe currently resides in Los Angeles, California. One of his earliest memories is of the Bruins losing in the 1990 Stanley Cup Finals, setting up a lifetime of crushing disappointments. He feels genuine sadness for those without a passion to rival his unwavering love for the greatest game on earth.