The Boston Bruins are in a pickle with injuries right now, particularly with their goaltenders. Bruins goalie, Tuukka Rask, has been dealing with a leg injury since opening night, but that seems to have gotten better for the moment at least, and then on October 24 backup goaltender, Anton Khudobin, was hurt during practice, injuring his right hand or wrist. The Bruins put Khudobin on IR and officially listed it as an upper-body injury and he will be out of action for three weeks.
Providence Bruins goalie, Malcolm Subban, was called up to the big club on the same day Khudobin was injured. The Bruins drafted Subban in 2012 with the 24th pick in the first round. Prior to being called up, Subban had only appeared in one NHL game in his career, on February 20, 2015, against the St. Louis Blues. He gave up three goals on six shots in his debut.
Subban's Start vs The Wild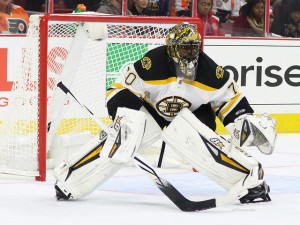 After Subban was called up on October 24, he was given the start the next night against the Minnesota Wild. His season debut ended up being eerily similar to his 1st NHL game. The Bruins goalie got through the first period without giving up a goal but the second period was a different story as Subban gave up three in the period before being pulled in favor of another young goaltender, Zane McIntyre. The first two goals Subban gave up were scored 12 seconds apart and the third goal came just a couple minutes later. The Bruins lost the game, 5-0.
The next night against the New York Rangers, McIntyre started and played through the whole game while the B's lost for the second night in a row, this time by a score of 5-2. On Saturday, Subban was sent back down to the P-Bruins.
Subban spent the rest of his professional career in the AHL, where he has played 99 games and has a 45-31-15 record. That record doesn't look too bad but it's not great and before being called to Boston he had posted an abysmal 0-3-1 record in Providence this season with a 4.50 goals against average and .846 save percentage. He had also been pulled from two of his four starts. Subban consistently gives up soft goals and has no confidence while in the net, and the team in front of him often looks uncomfortable during the games that he is between the pipes.
The 2012 NHL Draft
Back in 2012 when the Bruins drafted him in the first round, the pick seemed sort of suspicious. Goalies usually don't get chosen in the first round, unless if they have played out of this world in Junior or wherever they were playing before the draft.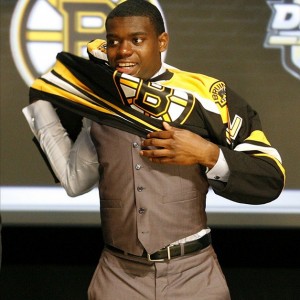 2012 was at the height of the most recent Bruins feud with the Montreal Canadiens and at the time Malcolm's older brother, defenseman P.K. Subban, was a top player on the Canadiens. P.K. would fuel the fire in the rivalry against the B's and was a pest each time the teams played each other.
Could the Bruins have drafted Malcolm so early because of this rivalry, for publicity or to stir the pot even more between the two teams? It seems likely right now, as M. Subban is a total bust and that once again, goalies do not get picked that high in the draft. In the third round of the 2012 draft much better goalies, Matt Murray, who already has a Stanley Cup under his belt was chosen by the Pittsburgh Penguins with pick 83, and the Anaheim Ducks chose Frederik Andersen with pick 87. Andersen has proven to be a legitimate goaltender and just signed a big money contract with the Toronto Maple Leafs this past offseason.
Trade Options
Rask looks like he will be back in net but is still probably not 100 percent healthy, and Khudobin will be out for another couple weeks. If the Bruins prefer not to make any moves for a backup, McIntyre will be with the B's for the time being. If Rask re-aggravates his injury or McIntyre goes down, Subban may have to come back up to Boston.
However, if Don Sweeney decides to make a move for another goalie for insurance, it has been reported that the Winnipeg Jets have taken notice of all the injured goaltenders around the league, and are offering any of their three goalies up for a trade. Their goalies, Connor Hellebuyck, Michael Hutchinson, and Ondrej Pavelec, have all been the starting goaltender for the Jets at different points over the past few years. Hellebuyck and Hutchinson would be a better choice than either Subban or McIntyre in net, and would even be a better choice than Khudobin. The B's currently have $3.114 million in cap space, so a trade could realistically happen, and maybe they could even get rid of Subban at the same time.
Subban's trade value is little to none right now, but some teams may have use for him as a backup AHL goaltender, or as a goalie for an ECHL team. The Bruins may not get rid of him for depth reasons, but it would be smart to cut ties with Subban sooner rather than later. There is no reason to keep him if he continues regressing and has no potential of being an NHL goalie.
I am Kyle Benson, I reside in Southern NH. I have been a hockey fan my whole life and my whole life I have known that I wanted to be a journalist, so it all fit together perfectly. I am a published sports journalist.
I am also a music lover, mostly rock and heavy metal.