On June 25, 2010 many in Boston believed the Bruins had selected a future superstar, a savior in the eyes of some, when they drafted Tyler Seguin second overall in the NHL Entry Draft. The young forward modeled his play after Steve Yzerman, and had just come off of a 106 point season in juniors.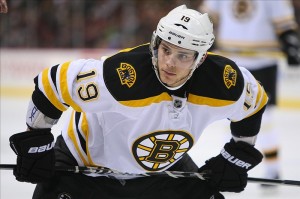 After an expectedly mediocre transition to the NHL his rookie season, Seguin put up 29 goals and 67 points in his sophomore year. In the final year of his entry-level contract, Seguin was on pace for 30 goals had the season held its usual 82 game schedule.
However, something was missing.
The overall compete level was just not there. While Seguin is a natural born competitor, at times he appeared disinterested in improving himself. Perfect example: his 18 points over 42 career playoff games, and two Stanley Cup runs.
His "party boy" attitude got old in the Boston locker room quite quickly as well. Just a week after a Stanley Cup loss to the Chicago Blackhawks, general manager Peter Chiarelli commented that Seguin needed to focus more on becoming a professional.
"He needs to focus all his mind and energy on hockey. He needs to be a better pro," Chiarelli said, "He's 21 and I expect big things from him. I wasn't satisfied with his year and he wasn't either. He's a helluva player and he'll be a helluva player…He's got to commit to being a professional and focusing on the game."
At the time these comments were written off as tough love by a GM looking to maximize the output on his young star. Fast forward to the eve of Free Agency, July 4th, and rumors began to quickly circulate that Seguin was on his way out of town.
The news was shocking, to say the least.
No matter how disappointed Boston management may have been in Seguin's 2013 offensive output, the assumed understanding of the situation was that Seguin's potential could not be denied. This was evident just twelve months ago when the Bruins invested in the young winger, signing him to a 6 year $34 million contract.
But one gets the sense Chiarelli, Cam Neely and the rest of the Boston brass demand a certain level of professionalism and commitment to the team identity of grit and toughness that Seguin had shown no signs of adopting.
Perhaps not so coincidentally, Seguin's former line mate Mark Recchi now resides as a consultant for the Dallas Stars. Along with Seguin, Boston reportedly sends defensive prospect Ryan Button, and gritty depth forward Rich Peverley to the Stars. Peverley is a bottom six forward being paid top-six money, and he was invisible on the ice far too many times throughout the 2013 regular season and playoffs.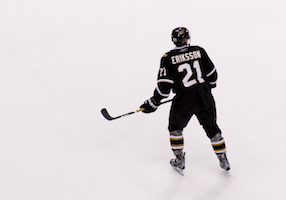 According to reports, coming back to Boston is Loui Eriksson, a 27-year old winger with 30+ goal potential. He's missed exactly four games since 2008, and served as alternate captain in Dallas. From a numbers standpoint, his $4.25 million cap hit through 2016 gives Boston the flexibility to pursue other players in free agency and load up for another run at the Cup in 2014.
While Eriksson is the headliner, it is believed that Boston has also acquired Joe Morrow, Reilly Smith and Matt Fraser.
And so ends the era of Tyler Seguin in Boston. Goodbye "Thank You Kessel!" chants, goodbye Seguinistas, and goodbye to a 21-year old who may truly find his game in a new culture such as Dallas.
Eriksson is an elite two-way forward whose style of play probably fits the Boston mold better than that of freewheeling Seguin. But the move is sure to send shockwaves through the NHL.
There will be those who are furious with the Bruins for "giving up" on such a highly touted young player. There will be those who will now crown the Toronto Maple Leafs victors of the infamous Kessel trade of 2009. Then there will be the rest of us, who will have to wait and see how this all plays out over the next few seasons before rushing to judgement.
Fresh off of a Stanley Cup Finals loss, and with a temporarily shrinking salary cap on the horizon, changes were most definitely expected to come to Causeway Street. Changes of this magnitude, however, caught everyone off guard.
—