One thing that will never make any sense is grading a professional sports draft right after its completion, especially in hockey where it can sometimes take three to four years for a player to make it to the NHL. Instead, we'll look at how the 2013 NHL Draft will impact the Sabres defensive lineup, with the team taking two large blue liners Nikita Zadorov and Rasmus Ristolainen in the first round and trading away Andrej Sekera for Jamie McBain and a second-round pick used to draft J.T. Compher.
Lets not forget that there could be more changes on the way as the free agency signing period has yet to begin and the possibility of more trades looms large over the franchise. Current players in the system include: Christian Ehrhoff, Tyler Myers, McBain, Mike Weber, Mark Pysyk, Zadorov, Ristolainen, Chad Ruhwedel, Brayden McNabb, Jake McCabe and Jerome Gauthier-Leduc. Lets consider Ehrhoff, Weber and Myers locks to crack the top six, while Zadorov will start the year in the OHL as he enters his second season with the London Knights and McCabe will finish out his eligibility at the University of Wisconsin.
McBain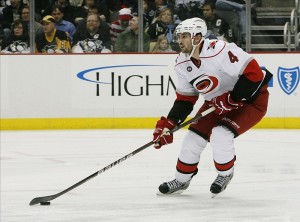 That then leaves three spots for six players. Lets start with the former Carolina Hurricane McBain. He was in his former  head coach, Kirk Muller's doghouse after coming to training camp out of shape. However, he has forged a bit of a relationship with Sabres head coach Ron Rolston from his time with the USA Hockey National Development Program. Coupling that with the fact that he has much more NHL experience than his  young competition in training camp makes it likely he'll make the active roster.
Gauthier-Leduc
Gauthier-Leduc will likely get a chance to display his skills in training camp, but he'll be a longshot. The French-Canadian spent four years in the QMJHL playing for the Rouyn-Noranda Huskies and Rimouski Oceanic before beginning his rookie campaign in the AHL last season. Most pundits would agree, Gauthier-Leduc is behind Pysyk and McNabb, who already have a bit of NHL experience, on the depth chart. With that being said, look for him to start the year in Rochester, chomping at the bit to get a mid-season call up.
McNabb
McNabb burst on to the scene with an impressive debut towards the end of the 2011-2012 season. However, he took a bit of a step back last year in Rochester and then sustained an injury right around the time he would have gotten a call up to the senior circuit. Because of this, he may come into camp behind the eight ball. This Summer will be important for the 6'5″ defenseman. He needs to use the remaining time this offseason to get himself in top physical form.
Pysyk
For now, we'll give Pysyk the inside track. He had the opportunity to play a significant portion of the lockout-shortened season due to injuries and the departures of Robyn Regehr and Jordan Leopold. In 19 games he managed to score a goal and add four assists, and overall, showed composure and played soundly considering it was his first taste of the NHL. Expect Pysyk to carry over this momentum into training camp and claim one of the final spots on the backend.
Ruhwedel
Ruhwedel was a part of a very unique circumstance last year.  He went from playing in the Frozen Four with UMass-Lowell to signing a pro contract with the Sabres and making his NHL debut. The California-born defenseman played a simple game, not trying to do too much and soaked up some valuable experience. He's still very wet behind the ears so he'd benefit best from spending some time on the farm team, meaning it'll be unlikely he'll make the opening day roster.
Ristolainen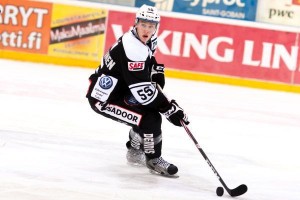 That brings us to eighth-overall pick Ristolainen. He seems to be in a similar situation to Mikhail Grigorenko last year, meaning that he'll have every opportunity to make the team. He's got two things the Sabres desperately need, size and a strong shot from the point. He should be able to add some grit into the lineup, while improving the team's power play, which was woeful last season. With that being said, as long as he comes in to the fall hungry, look for the Finn to secure one of the final roster spots.
This means that the starting six would be: Myers, Ehrhoff, Weber, McBain, Pysyk and Ristolanien, with McNabb possibly being part of the 23-man active roster. Throwing a wrench in this projection may be the fact that the Sabres go after a veteran defenseman in free agency; for example, Rob Scuderi or Joe Corvo. What do you think? Which defenseman would you like to see make the final roster?
As an American based in Amsterdam, Joe provides a unique hockey insight, bringing a global perspective to the game. Joe has several years of experience covering the game on both a domestic and international level, including being credentialed for multiple World and World Junior Championships.