No "Big Splash" for Craig MacTavish Yet, But Not For Lack of Trying
With all the talk of the Oilers and new GM Craig MacTavish wanted to do something big and make a significant move for the Oilers, there were a lot of disappointed people following June 30 and draft day.
None may be more disappointed than MacTavish himself as he was rumoured to be working like a man possessed trying to engineer a deal. He was said to have been hot after former Canucks goaltender Cory Schneider and offered a far better package than the New Jersey Devils, however with Mike Gillis unwilling to deal within the division, they were left keeping their No.7 overall pick.
MacTavish and the Oilers have also had their name attached to every other trade rumour flying over the past two weeks, but that's all they are at this point – just rumours.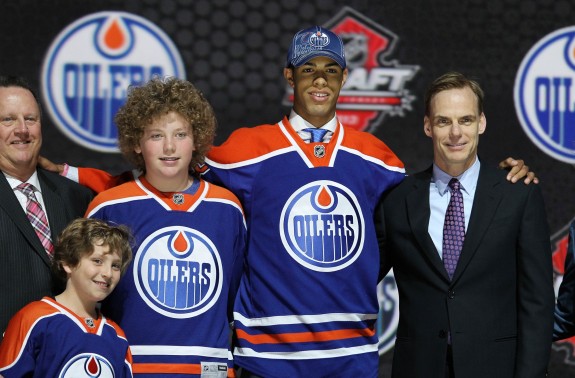 Following the failure to make any deal with their, with the moves they did make on June 30, they did anything but rock the boat. They took Sault Ste. Marie Greyhounds defenceman Darnell Nurse with their first pick at seven. A big, physical defender who can skate, he fills a need for the Oilers and none were surprised by the pick.
He projects eventually as a top pairing shutdown defenceman in the NHL, but he is at least a year if not two from being a contributor in the Oilers lineup.
"He really gives us an element I feel we're sorely lacking. He's the guy who will ride shotgun for a lot of first overall picks and our skilled players for a lot of years. The overall package was very difficult to pass up on and, as a manager making his first pick, I was really excited to be able to call his name."

– Craig MacTavish (Edmonton Journal)
MacTavish did do some dealing as he turned his six picks into ten. He dealt the 37th pick for three others to the Los Angeles Kings and the same with the 57th pick (that they got from the Kings) to the St. Louis Blues for three more picks. Adding the extra picks in the middle rounds gives the Oilers some more depth in their prospect system, but will be lucky if more than one of those picks turns out to be an NHLer.
The team had targeted Halifax Mooseheads goaltender Zach Fucale with their second pick, but when he went 36th to Montreal, MacTavish shook hands with Dean Lombardi and made the dealt with #37.
Lombardi and the Kings then took Baie-Comeau Drakkar foward Valentin Zykov with the pick, a player that had been a projected first rounder in many mock drafts. Time will tell whether the Oilers would have been better off to hold on to the pick or not.
The Oilers do have some intriguing prospects from the draft  including their second pick, #56 in Marc-Olivier Roy, who is an agitator from the QMJHL with some scoring punch.
Perhaps the two most interesting are the two third round picks they made in Russians Bogdan Yakimov (83) and Anton Slepyshev (88). Both fall under the "Russian factor" scrutiny, especially in the case of Slepyshev who is in his second draft after getting passed over last season.
He has the talent to go much earlier in the draft, but went undrafted in 2012 as he had made it clear he was staying in the KHL and not coming to North America. That may or may not have changed in 2013, but we'll see in a year when his KHL contract is up.
A superior puckhandler, he was the 1st overall pick in the 2011 KHL draft and could have an impact if he ever does leave the KHL.
Yakimov is a big physical centre who can play both ways. He's from the same hometown as Nail Yakupov, and if he does join the Oilers at some point, could be a steal at #83.
The Oilers remaining six picks are depth players that they are hoping they can find a diamond in the rough in, however the odds are against any of them playing a pro game.  The possible exception being the #94 pick in Jackson Houck who lead the Vancouver Giants in scoring this year.
Somewhat surprisingly the Oilers did not take a goaltender with any of their ten picks. Given his pursuit of Schneider and the apparent tenuous goaltending situation in Edmonton, and more importantly their lack of goaltending prospects, one would have thought a goaltender would have been on the Oilers shopping list on draft day.
MacTavish has vowed to make significant changes to the roster and he will now turn his attention to July 5th and beyond and free agency. He will no doubt look at bringing in some top level talent via that route, but with the lack of said talent in this year's free agent crop, it will still likely be a trade that will shake things up.
MacT has been stymied so far with any deals, but it appears it's not for lack of trying. Although that may be a good thing as it means he has not jumped at any ludicrous deals just for the sake of making one. He does however, know the heat is on.
https://twitter.com/Sun_Tychkowski/status/351515830846107648
The fact remains that the Oilers have some significant holes to fill on their roster, and even with some veritable firepower up front, a supporting cast and some big pieces are needed on the backend.
Craig MacTavish appears committed to turning the ship around and returning Edmonton to it's former glory, and Oiler fans continue to wait for the ball to drop and the big splash to be made.
Click for Oilers full draft recap
 ____________________________________________________
 Follow Carl on twitter @maloney3383 and Google+ for more articles.  
Email: carl.maloney@hotmail.com
Carl covers the Edmonton Oilers for THW as well as providing additional prospect coverage. Follow him on twitter @carlTHW, connect on Facebook or contact at carl.maloney@hotmail.com for questions, comments or if you're interested in him writing for you.