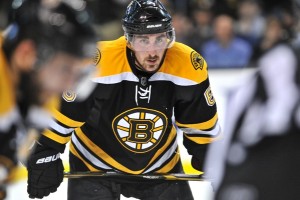 With Brad Marchand coming off of the 2013 regular season, where he lead the Boston Bruins in goals scored and overall points, there arguably can be very few criticisms made about his play going in to this season. On top of that, Marchand made some key plays during the playoffs, such as scoring the overtime game winner in game 1 against the New York Rangers and then making the key assist on the game winning goal in the game 3 overtime thriller against the Pittsburgh Penguins, prompting some to continue to laud his game.
There is no doubt that Marchand is playing very good hockey. He's complimented Patrice Bergeron with a very solid two way game on the 2nd line for the past few years accruing a very lofty +/- rating, but there are some things missing from his offensive game. Some of these missing intangibles make him very good rather than great. I found myself checking the Bruins team statistics near the end of last season and being quite surprised that Marchand was the leader in points. While he did lead the team offensively, he accrued a majority of these points in a reticent way. His 2013 post season numbers are more indicative of the current state of his offensive game.
The best way to assess Marchand's current game is to look at the various phases he's gone through as a player in Boston to see how his game has reached it's current state.
Brad Marchand's 2011 Playoff Highlights: 
The Brad Marchand seen above played with a competitive edge, with something to prove, in both how he played the body of his opponents and how he handled the puck in the offensive zone. He consistently stick handled around defenders in tight spaces and occasionally found the touch of a sniper. He was nearly a point per game player and often found himself being the emotional catalyst of the club, bringing a profound amount of energy to each shift. The same focused energy that propelled him to incredible offensive zone prowess, also led to him occasionally making questionable hits on opponents.
All of this changed following the much anticipated rematch between the Bruins and Vancouver Canucks in January 2012:
Upon return from this 5 game suspension, Marchand became a shadow of his former self. He shied away from big hits more often, just skated his lanes, and relied on making simple low risk offensive plays. Many around the game, including Boston Bruins commentator Jack Edwards, took note of this during the final weeks of the 2011-2012 regular season.
Marchand definitely took the edge off of his game to avoid going over the line again, especially due to his growing reputation around the NHL. With that though, he also took away from his offensive intensity, which once provided spark to the Bruins when they needed it, and created far more scoring opportunities.
Even stranger was Marchand's performance in the 2012 playoffs against the Washington Capitals in the first round. His lack of intensity deteriorated his game to relying on diving and embellishment to make up for the fact that he was not skating hard every shift, battling for loose pucks, and finding ways to create scoring chances in the attacking zone. This was certainly a low point for Marchand.
Marchand certainly redeemed himself with his solid performance in 2013. He cleaned out the blatant diving from his game, quietly produced some strong regular season offensive numbers, and was not mired in suspensions for dirty hits. He did not create a high number of scoring chances, but on the few chances he did have, he capitalized. At one point last season, he had 9 goals with only 20 shots.
Still, once the 2013 playoffs started and the intensity of the games picked up, Marchand did not raise his offensive game to match it. His offensive numbers dropped a bit and he was a bit inconsistent. So, this still leaves the question: "Does Brad Marchand have the capacity to reach another level of play?"  Better yet, "Can Brad Marchand rekindle the goal scoring magic of the 2011 Stanley Cup run?"
Marchand is still only 25 years old. This season will still only be his 4th full season in the NHL. So, Marchand has room for more maturity.
With maturity, Marchand should be able to better differentiate his physical intensity to his offensive puck decision intensity. Players are making thousands of split second decisions in every shift on the ice and it really takes a nuanced approach to know when to be completely aggressive and when to hold back a bit. Brad Marchand could not do this early in his career, so after multiple suspensions he calmed down his game. The 2013 season was the first step to remake his game. 2013-2014 will be Marchand's opportunity to further enhance his offensive game and reinvent himself as a hard-nosed, yet clean player. With the likely addition of Loui Eriksson to the 2nd line with Marchand and Bergeron, this will be the year Marchand can start reaching his full offensive potential.