The 2013 shortened season was another poor one for the Edmonton Oilers. Yet another season for Oiler fans to lament their position in the bottom of the league's standings.
There were certainly some positives, including the breakout of Taylor Hall as the team's best player, the arrival of Justin Schultz and Nail Yakupov and a career year from Sam Gagner.
Alas, the majority of the team in review was on the negative side. Some of it mildy disappointing to downright disastrous. There were players like Jordan Eberle and Jeff Petry, who didn't exactly take a step forward after excellent 2012-13 seasons, but they were far from disappointments and will look to take that step forward in 2013-14.
The majority of the roster, as a group, underachieved in 2013 to say the least. With new GM Craig MacTavish and coach Dallas Eakins, a new culture is expected to be instituted in Oil Country.
Here are five players that will play a significant role this season that the Oilers will need to step up and be better.
Devan Dubnyk
It's not that he had a bad season, in fact his numbers are respectable (2.57GAA, .920s%), very good considering he was backstopping a non-playoff team. That hasn't stopped his critics, however, nor did it stop MacTavish for publicly stating that he was looking to upgrade the position and had tried going after Cory Schneider on draft day.
Dubnyk has improved in each season in the league, and the Oilers will need him to continue that improvement in 2013-14 in order to make the team relevant in the race for playoff spots.
Ales Hemsky
The poster boy for inconsistency, Hemsky yet again was an enigma in 2013. Early in the season he was leading the team in goals and was their best player on most nights. That trend did not continue, however, and he was virtually invisible for the majority of the second half.
MacTavish has yet to find a taker for Hemsky, so he will remain with the club. With all the young talent he has fallen down the depth chart, although still possesses as much talent as any of them. Edmonton needs Hemsky to be better, either to help them win games or to raise his trade stock around the league.
Ryan Jones/Ryan Smyth
The Oilers need both or at least one of the Ryan's to be a factor on the team's third line. One of the elements the Oilers lack is some grit and sandpaper up front and one or both of these two are the most likely candidate to provide it.
Last season Smyth was a shell of his former self and spent most of the year on the fourth line and had just 2 goals in 47 games. At 37 he will want to prove he has some left in the tank and can still provide a valuable net front presence.
Jones may be the more likely player to have the desired impact. Another forward who had a down year, he also had just 2 goals and found himself a healthy scratch on some nights. A player who had 17 and 18 goals respectively in his previous two seasons, the Oilers hope he can get back to that level and be a force on their third line.
Ryan Nugent-Hopkins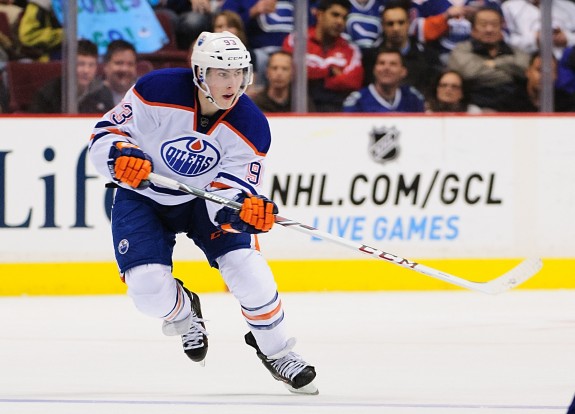 A lot of RNH's struggles in 2013 can be attributed to injuries and not playing 100% healthy. The fact is though, he only had 4 goals and 24 points in 40 games, nowhere near No.1 centre production.
For the Oilers to be a contender, they need Nugent-Hopkins to establish himself as a legitimate top line centre and provide the production to go with it. He did show improvement in other aspects of his game, including his defensive awareness, but it is offensive that the Oilers need from him.
3rd Line Centre
The Oilers are the deepest team at centre to begin with and last season the position as a whole was a disappointment. They do have the offensive pieces in place in Ryan Nugent-Hopkins and Sam Gagner to have a production #1 and #2 on the depth chart. Both of those players however, are somewhat one dimensional and lack in both the faceoff circle and the defensive end of the rink.
Shawn Horcoff, Eric Belanger, Anton Lander and Ryan Smyth at one time or another played the position and were all disappointing in one form or another. Horcoff was still the best of the group, but he was still inconsistent and provided very little secondary scoring with just 12 points.
Belanger and Smyth clearly looked like they had lost a step and were nonexistent offensively, while Lander looked simply overmatched.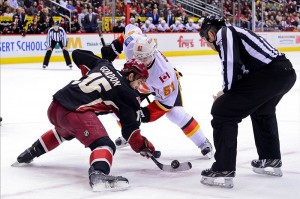 Enter Boyd Gordon. While he doesn't bring a lot more offense than Horcoff, he is essentially a younger version of the former captain with more upside. He is one of the best faceoff men in the NHL and one of the more adept centres in his own end and on the penalty kill. At 29 years old, the Oilers are hoping his best years are ahead of him and there will be some increase in his offensive game.
There is also still the option of someone outside the organization filling that role. The Oilers currently lack a legitimate fourth line option as well with Lander likely the top candidate. If MacTavish can work some magic and bring in another strong two way centre, Gordon could slot into the fourth line and the position would go from a weakness to potentially one of strength for the Edmonton Oilers.
Carl covers the Edmonton Oilers for THW as well as providing additional prospect coverage. Follow him on twitter @carlTHW, connect on Facebook or contact at carl.maloney@hotmail.com for questions, comments or if you're interested in him writing for you.