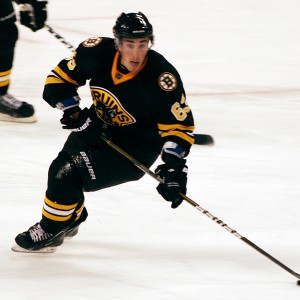 The Boston Bruins have some decisions to make this summer on which of their free agents to re-sign or let go, most notably Loui Eriksson and Torey Krug. However, there is an even more important contract that will be ending next summer — forward Brad Marchand's — and it's never too early to lock up one of your superstars to a long-term deal.
On June 3, Bruins GM Don Sweeney announced that while the Bruin's are talking to Krug, Eriksson, and other potential free agents, the team would like to address a Brad Marchand contract extension.
"We're going to look at Brad right away…early on here in the process once we get past that first wave in July," said Sweeney in an interview with CSN New England.
Marchand will earn $5 million next season before his deal ends in the summer. He is now a substantial goal scorer for the Bruins, something they need more of, and scores in clutch situations. All this combined with being a 'pest' and the 'little ball of hate'.
He contributed six game-winning goals last season, tied for the team lead with linemate Patrice Bergeron. Marchand also led the team in goals this past season, with a career-high 37 goals.
www.youtube.com/watch?v=ZQjItDwibbM
The Patrice Bergeron Factor
The Marchand-Bergeron combination is one of the best in the league. They always bring out the best in each other whenever they step on the ice. 
They aren't just a line combo though, they are also very close friends.
"There's obviously one special person that I have in my heart all the time, and I think it's pretty clear that's Bergy," Marchand said on the Valentines day episode of the Bruins insight show, 'Behind the B'.
Later in the episode, it shows the two exchanging gifts, Marchand giving Bergeron a handwritten Valentine's Day card, and 'Bergy' giving Marchand a heart-shaped box of chocolates.
It is obvious that the two have a tremendous amount of respect for each other and play their best when they're on the ice together. Marchand led the team in goals scored with 37 this year, and Bergeron was right behind in second, scoring 32 on the season. As long as they're together, they will be your top scorers.
Bergeron is under contract through the 2021-22 season so it would make sense for the guy he clicks with the best to be extended up until then at least.
What Should the Bruins Offer Marchand?
The best offer, for both the Bruins and Marchand, would be a 5-year, $37 million deal. This is similar to the 6-year, $43.5 million extension David Krejci got in the 2014 offseason, and would not break the bank for the Bruin's.
The Bruins have just over $22.5 million of cap space this summer, so it would make sense to take the initial $7 million cap hit while they can to lock up their superstar.