When general manager Steve Yzerman announced the Tampa Bay Lightning's third-round pick in 2014, no one expected much.
Knee deep at the center position as it was, there weren't many who predicted Brayden Point would be in the Lightning lineup at all for years. If he did manage to crack the lineup, nobody thought he'd find himself centering the top line or, as the case is now, become a staple on the second line.
In his draft year, Point shot up many mock draft boards – a lot of sites had him projected as a late first-round pick. Undersized for an NHL player at under six feet tall, though, many teams decided to pass on drafting him early.
That left Yzerman with a gem.
Already adept at finding small players that fit the Lightning's mold, Yzerman added Point to an organization that saw Martin St. Louis break franchise records every which way and Tyler Johnson go from undrafted and undersized to a playoff hero in 2015. Since then, another smaller player in Yanni Gourde has found a home in the Bolts organization.
Four years after being drafted 79th overall, Point is an NHL All-Star and is playing meaningful minutes against opposing teams' top lines in the 2018 Stanley Cup playoffs.
Brayden Point: Trial by Fire
Prior to the start of the 2016-17 season, both Yzerman and head coach Jon Cooper made it clear that Point had earned a longer look at the NHL level. During his 10-game 'trial period' that year, he was one of the best players on the ice for the Lightning in what was a subpar opening month-and-a-half.
Then, disaster struck. What looked to be a harmless hit along the boards in a game on Nov. 15 against the Detroit Red Wings resulted in a torn lateral meniscus, requiring surgery and essentially ending captain and top-line center Steven Stamkos' season.
While unfortunate for the team, that injury allowed Point to garner more minutes at his natural position of center. He struggled early with finding ways to get free from opponents' tight checking, which was a direct result of being placed alongside Nikita Kucherov on the top line.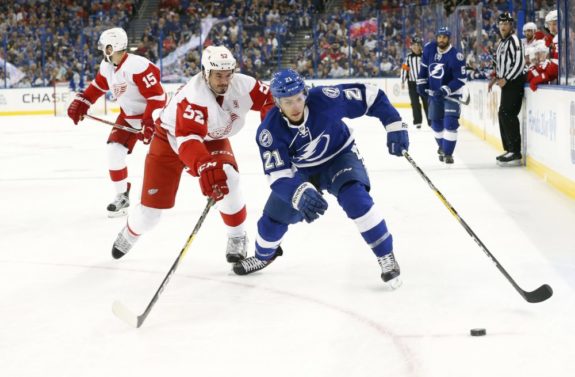 As the calendar got set to flip to 2017, Point and the Lightning were ready to turn the page on what had been a rocky 2016.
Both first had to endure a rough January, though, as it was announced that the then-20-year-old Point would miss four-to-six weeks with an upper-body injury sustained in a matchup with the Montreal Canadiens on Dec. 28.
Upon making his return, Point picked up where he left off prior to the injury. A large majority of his 18 goals and 40 points came in the final two months of the season, helping the Lightning make a late run toward a potential postseason berth.
Though the team ultimately fell one point short, the strong finish gave Point something to build off of entering his sophomore season.
Clutch Playoff Performer
A newbie to the NHL playoff scene, Point hasn't looked out of place too often. The kind of performance he's had compares favorably to that of St. Louis, an icon in Lightning history thanks in large part to his big-time moments. Who can forget his goal during double overtime of Game 6 in Calgary back in the 2004 Stanley Cup Final? Though most of Canada thinks the series should have never reached that point, there's no denying St. Louis' knack for scoring big goals in key moments.
Point is eerily similar in that regard, with eight points in eight career postseason games. His minus-three rating doesn't tell the whole story, as most of that came during Game 1 of Tampa's second-round series with the Boston Bruins – a series in which his line with Johnson and Ondrej Palat was given the unenviable task of stopping the Bruins top line of Brad Marchand, Patrice Bergeron and David Pastrnak.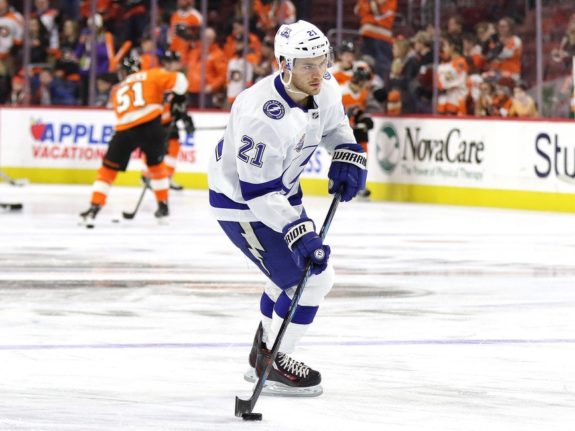 While Game 1 against the Bruins wasn't Point's best, he was quick to recognize the improvements that needed to be made in order to avoid another disastrous game.
Game 2 was a much different animal, with Point figuring in all of the scoring. His four points tied Stamkos and former captain Vincent Lecavalier's franchise record for points in a playoff game, as the Lightning notched a 4-2 win to even the series at one game apiece.
On Wednesday night, his line got the Lightning off to a fast start in a 4-1 victory, giving them a slim 2-1 lead in the series.
Point has been the driving force behind the Lightning's two wins, with four points while averaging nearly 20 minutes of ice time. He's also done a fairly good job of shutting down the Bruins' dangerous top line.
Based off of his first two NHL seasons, I think it's safe to say Point has everything it takes to be a future NHL star. Who knows? Maybe one day he'll find his No. 21 hanging from the Amalie Arena rafters alongside St. Louis and Lecavalier, among others. For now, his focus remains on trying to bring Lord Stanley back to Tampa Bay.