On Wednesday afternoon, the Minnesota Wild signed 22 year old and budding power forward, Charlie Coyle, to a 5-year contract extension. Coyle was set to be an RFA in the upcoming offseason. The contract is five years worth $16 million, for a cap hit of $3.2 million per year.
The contract is as so: 2015-16 – $1.9M. 2016-17 – $2.6M. 2017-18 – $3.5M. 2018-19 – $3.75M. 2019-20 – $4.25M.
Coyle put up 12 goals and 18 assists for 30 points in 70 games last year in his second NHL season. He was third on the Minnesota Wild in hits. He stepped it up in the playoffs, totalling 3 goals and 4 assists for 7 points in 13 games. So far this year, he has a goal and an assist in four games played, and a +3 rating. He has been playing on the third line with Haula and Niederreiter so far, but is expected to start on the second line with Koivu and Vanek this Thursday against the Arizona Coyotes.
The Minnesota Wild acquired Charlie Coyle, who was the 28th overall pick in 2010, from the San Jose Sharks, along with Devin Setoguchi and Zack Phillips, for Brent Burns and a second round pick in 2012.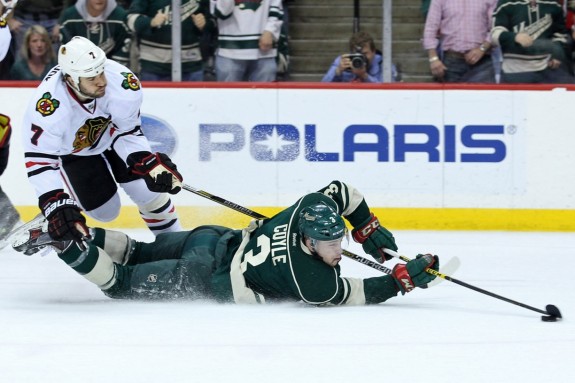 "We're very excited to get Charlie Coyle signed through the 2019-20 season," said Fletcher. "Charlie's size, overall skill set, and character give him a chance to emerge as a top power forward in the game and we're happy he will be doing that in the State of Hockey for years to come."
"I'm really excited to be part of this organization for the next five years, and I know my family is very happy — a lot of people to thank for this over all," Coyle said.
"There's a lot of young guys to go with the older vets that we have, and they've taken us under their wings," Coyle added. "It's nice to move forward with this group and see the guys like Brodin signing a few weeks ago and to know we have this group going forward, it's really exciting."