As if it wasn't shaky enough before the season started, the Dallas Stars are now two starting defensemen down after Patrik Nemeth was ruled out for the rest of the regular season on Monday.
Nemeth suffered a right arm laceration in the first minute of Saturday's game against the Philadelphia Flyers. R.J. Umberger was skating the puck out of his defensive zone when Nemeth pressed up to pressure the Flyers forward. They collided and fell in front of the Philadelphia bench. Umberger fell to the ice first, but his leg was elevated as he fell backward. Nemeth fell over Umberger, and his right arm landed on Umberger's left skate.
Nemeth's reaction said it all. It was almost instant. He fell to the ice in pain and took a quick look at his arm before he shook off his left glove so he can put pressure on his right arm, seemingly just under the wrist. He got up and immediately skated to the bench where he was met by trainers before they headed down the tunnel.
"When I say severe," Ruff said Monday, "that's probably an understatement."
Ruff continued that Nemeth's season is done, but he might be able to return around playoff time. Hopefully, he makes a full and speedy recovery. With Nemeth out and Sergei Gonchar recently starting to skate again in his recovery from a broken ankle, the Stars face a bit of a dilemma.
http://youtu.be/WxWZthoNZnI
Nemeth's Injury Opens Opportunities
The Stars are left with what may be a revolving door for the roles of the team's sixth and seventh defensemen. Alex Goligoski, Trevor Daley, Brenden Dillon and Jordie Benn round out the top four still. Currently, Kevin Connauton seems to be considered a main stay on the third pairing. Jamie Oleksiak was given the first shot at cracking the lineup, and he responded with a mixed bag performance against the Vancouver Canucks Tuesday night.
Oleksiak did show great improvement in one area of his game: physicality. Early on after being drafted, the hope was that the 6-foot-7, 250-pound defenseman would eventually develop a mean streak and use his size to his advantage. His play with the Texas Stars last season showed as much, especially in the post-season on the way to winning the Calder Cup championship.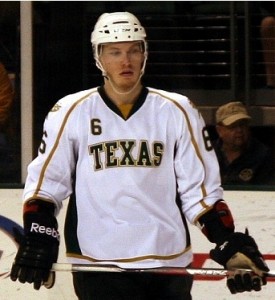 He continued to show confidence in his physical ability Tuesday night against the Canucks. He played stronger than his four registered hits indicate. He eliminated opponents both in front of and behind the net. He used his reach to close off passing lanes and poke pucks into the corners. He intercepted a few dangerous passes and pinched into the offensive efficiently. The knock on his performance was that he sometimes tried too hard to be physical and forgot about playing defense.
Oleksiak was on the ice for two of Vancouver's three goals. On the second goal, he did well to get in the net to support a sprawling Kari Lehtonen, but once he got up, he straightened up to block a shot rather than tie up or eliminate Zack Kassian, who was within arm's reach. On the third goal, Oleksiak decided to abandon the front of the net to attack the stuff attempt from Derek Dorsett leaving Jannik Hansen open in the slot. Erik Cole could have, and probably should have tied up Hansen, but it was Oleksiak's decision that quickly opened up the opportunity.
Prospect Jyrki Jokipakka was called up from the AHL earlier this week and was a healthy scratch against Vancouver. The 23-year-old was arguably the most impressive defensive prospect during training camp and the pre-season. He simply looked the most NHL-ready. Jokipakka displayed smart, mistake-free playmaking ability with smooth skating and good use of his 6-foot-3, 205-pound frame. It wouldn't be surprising to see the big Fin crack the lineup in the next handful of games.
Defensive Struggles Plague Stars
While Dallas' offense seems to be in good shape, the team in general is struggling defensively. The Stars have surrendered 20 goals through five games, good for fourth-most in the Western Conference. Opponents have combined for 206 shots in those five games, including 69 shots over the last two games. It's clear the Stars need some tightening up in their own zone, and long-term injuries to two starters definitely don't help.
The good news for the Stars is that they have a number of options in case Oleksiak and Jokipakka fail to impress. John Klingberg and Maxime Fortunus could eventually be called up or maybe even Julius Honka, but I think Cameron Gaunce would be a better option if it came down to another call-up.
The Stars have a couple of days between games to work on their defense before visiting the New Jersey Devils Friday night. Gonchar is making progress, but for now it is the kids' show. It is their chance to shine, and the pressure is on them to step up.
Awful news about Nemeth. He's been so impressive & never looked like a guy with only a handful of NHL games. Big loss for Stars.

— Josh Bogorad (@JoshBogorad) October 20, 2014
@shage05 I saw Jamie Oleksiak start to use his size to his advantage tonight. More of that, please. @J0RDANSALEH

— Goblin Jenkins (@JenkinsSports) October 22, 2014
The only saving grace for the Stars is that they have a boatload of blueline depth with Jamie Oleksiak, Jyrki Jokipakka and John Klingberg

— Derek Neumeier (@Derek_N_NHL) October 20, 2014