It's no secret every player faces some kind of obstacle in trying to succeed in the NHL. Whether it's living up to the hype, improving critical skills or the struggle to get stronger, players always have something to work on. But small players have a different kind of mountain to climb. They have to prove their smaller stature is up to the task of battling bigger players and they often have to have an outstanding skill to prove their worth in the NHL (i.e. Martin St. Louis and his playmaking). Small players have to defy the odds to make it and Brendan Gallagher has done just that.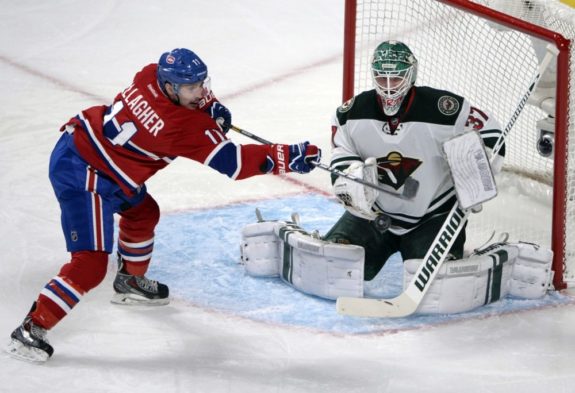 Don't fix what isn't broken
Gallagher is most famous for his work ethic and willingness to camp out in the opposing goalie's crease. At 5'9″ and 182 LBS (according to NHL.com), Gallagher has no qualms about going head-to-head with a guy like Zdeno Chara or any other player willing to send a few slashes and crosschecks his way. It is an effective style but also a taxing one. But to Gallagher's credit, he has played 132 out of 137 NHL games since the 2012-2013 season. For a player that takes a beating nightly, he almost always manages to find a way to bounce back. But it's not like he's a one trick pony who only scores garbage goals. He can snipe the puck as shown below in this game versus Edmonton.
[Related – from HabsAddict.com:  The Underrated Value of Manny Malhotra]
https://www.youtube.com/watch?v=3pdZlsL6_5o
What's really impressive about Gallagher is the fact he virtually plays the game the same way he did in junior. In his draft year, he put up 81 points in 72 games which included 41 goals. Those are pretty good numbers for a draft-eligible player and it more or less confirms the fact that Gallagher's size was the main reason he dropped to the fifth round of 2010 NHL draft before Montreal finally scooped him up at 147th overall. Fast forward four years later, Gallagher is seventh for career points in his draft class beaten out only by players drafted in the top 14 such as Taylor Hall (first overall), Tyler Seguin (second), Jeff Skinner (seventh), Cam Fowler (12th), Ryan Johansen (fourth) and Jaden Schwartz (14th).
An Emotional Leader
As leadership on the Montreal Canadiens has turned over to the younger players, Gallagher is evolving into a leader alongside fellow teammate and road roommate Alex Galchenyuk. While it is obvious Carey Price, Andrei Markov and Tomas Plekanec represent veteran leadership and the next captaincy looks to be between PK Subban and Max Pacioretty, Gallagher is showing himself to be an emotional leader on the Habs. While he is still considered to be a young player, Gallagher sets an example that any teammate could stand to replicate, namely work ethic and doing all the little things right. On a team that features the ultra competitive and in shape Subban, Gallagher is right there alongside him in that department. Gallagher doesn't possess the flash or skill set as Subban, but it doesn't stop him from trying to make a difference every shift.
He is a thorn in the side of his opponents as he stands there more often than not looking up at his taller opponents with that big smile of his, like the little brother who won't go away and despite the abuse, he always comes back for more. No doubt there are few coaches around the league who pull their hair out in trying to get players to go to the front of net and dirty areas wishing they had a Gallagher, who you don't even have to tell once where to go.
Not Just Another Small Player
Gallagher has evolved into a top six winger with the Habs, mostly taking reps on the top line with Pacioretty and David Desharnais. He is a responsible player defensively despite the growing pains of being a young player and chips in for his fair share of points. He may be small, gritty and in your face, but Gallagher is so much more than that. He is valued member of the Habs and a good example for anyone how hard work can take you far. And Gallagher is only just beginning.