An impressive comeback from a 2-0 deficit in Game 2 was all for naught for the Chicago Blackhawks on Saturday afternoon. Brent Seabrook's brutal hit on St. Louis' David Backes in the corner of Chicago's defensive zone earned him a five minute major and game misconduct with 4:51 remaining in the third period and the Blackhawks clinging to a one-goal lead. A game-tying power play goal by Vladimir Tarasenko and an overtime winner by unlikely hero Barret Jackman was the result.
Will the Brent Seabrook Hit Result in a Suspension?
Probably. The hit was high and late, although Backes did turn his head at a point where Seabrook no longer had a chance to slow up.
Seabrook has no disciplinary history with the NHL, which will earn him some leniency here. Some have speculated that the NHL will choose to be harsh due to the overly ornery turn that this series has taken; this is possible, but would be out of character for a league that has tended to sway on the side of under-punishment for missteps during the playoffs.
It would be a surprise to see Seabrook given anything more than two games, but with Brendan Shanahan's recent departure from the NHL's Department of Player Safety, it is admittedly difficult to put together anything more than a semi-educated guess.
Brent Seabrook Hit Exemplifies Team-Wide Problem
The Chicago Blackhawks' chief problem in this series has been their inexplicable desire to try to match St. Louis' phyical play (apparent weak point Michal Handzus has been much better than anticipated).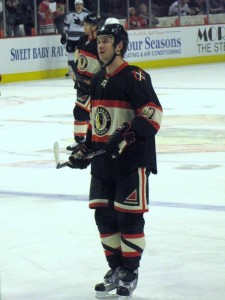 Chicago is not a heavy-hitting team and it never has been; indeed, the Blackhawks have been one of the least physically imposing teams in the NHL for the better part of the last decade. During recent victorious playoff series against the Los Angeles Kings and Boston Bruins — two teams just as hit-happy as the Blues of this year — the Blackhawks took their due punishment without going out of their way to dish it back. Put differently, Chicago never strayed from its puck possession game plan in past postseasons, and the results of doing so were ultimately positive.
During the first two games of the series against the Blues, however, the Blackhawks have completely lost themselves. Players are taking ridiculous, selfish penalties left and right and are attempting to match the Blues' hitting, grittiness, and overall physicality. This is an exercise doomed to fail from the beginning; Chicago simply does not have the personnel to play and win a series that way.
To lose focus on puck possession and tempo control is to lose focus on precisely what has made the team so wildly successful in past postseasons. St. Louis has outshot the Blackhawks in both games, and has had the better end of the advanced numbers as well. It is an exceptionally rare sight to see Chicago fall on the short end of the possession metrics for two consecutive tilts; this is what forsaking perspective in favor of mindless 'goonery' does to this team.
The Blackhawks' hopes of coming back in this playoff series hinge on the players' collective ability to refocus on what has made them champions in the past.
They certainly haven't been playing like champions thus far.
Follow Sean Sarcu on Twitter or add him to your network on Google.