It's not quite a subway series, rather a bridge and tunnel series. At every sports bar from Asbury Park to Astoria talk revolves around the Eastern Conference series final uniting fans in a friendly manner.  New York Rangers fans are talking Devils, and New Jersey Devils fans are talking Rangers. We're like family, kind of.  Monday night Madison Square Garden will come alive in a modern rematch of the 1994 East finals. The 1994 conference final was a seven-game war in which New York went on to win their first Stanley Cup in 54 years.
Atlantic Division rivals and neighbors, New York and New Jersey will bring charisma and character to this voracious competition. When series advance to the finals, teams lose their immature bouts and focus on skill, and this series is no exception. David Clarkson is one such player who has pulled the bully antics in the past, but has proven he can do more and has scored 46 points this season compared to his 18 last season. New York's Brian Boyle and Brandon Prust are two players who have punched plenty of faces, but now prefer punching goals in net. New York must remain speedy, sharp and avoid taking penalties. New York cannot afford to reward New Jersey with power play opportunities.
One of the best aspects of this series is goaltending. Both goalies enjoy this rivalry too. In net for New Jersey is seasoned veteran Marty Brodeur who is a Jersey legend. The 40-year-old goalie has not slowed down, so expect him to play his heart out. In the opposite net is Henrik Lundqvist, who has been nominated for several awards this year. Lundqvist was named a finalists for the Hart Trophy awarded to the most valuable player in the league, an honor that New Jersey's Martin Brodeur also received in 2006-07. Hold on tight; expect a goaltending duel to meet all duels. Lundqvist wants to add this win to his trophy case.
Henrik Lundqvist is a legend in the making, particularly this year, scoring his several nominations for carrying a heavy load for the Blueshirts. As a four-time Vezina finalist, Lundqvist ranked near the top of the league in wins and shutouts, plus a 1.97 goals-against average and a .930 save percentage leading the Rangers to the Eastern Conference regular season title for the first time since 1993-94. He was also named a finalist for the Ted Lindsey Award for the NHL's most outstanding player.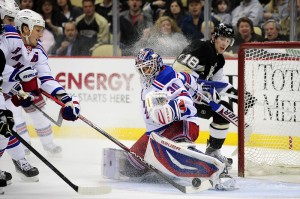 While goaltending matchups are key in series playoffs, the captains of both teams are the personality of the team's dynamic. Ryan Callahan represents New York's blue collar work ethic that escaped the Rangers in years past. The Rangers are there to get this thing done. Callahan runs a smooth system and serves as a role model for his players.
The Devils nailed down Zach Parise as captain this year in the hope that he would remain with the team and ultimately hoist the Stanley Cup in Newark. Parise is the matinee-idol player drawing in fans who appreciate his energy and commitment to New Jersey.
New York has beaten the Devils in four of their five previous playoff meetings this season. The Devils have momentum going into the series upstaging the Philadelphia Flyers in just five games and the players have had a few days of rest. The Rangers are pumped to face the series head on if they can stay the course capping the series sooner rather than later. Alex Ovechkin and the Caps series taxed the Rangers.
If battle lines are drawn, they are pure fun in the New York City area. New Jersey is a train ride away, a quick drive through the Holland Tunnel or over the George Washington Bridge. We're neighbors. Expect a spirited series with plenty of characters. Expect Devils GM Lou Lamoriello and Rangers coach John Tortorella to give the media some good material.
Heidi has been a Rangers fan since the Gretzky years. While focusing on The Blue Line and hockey's stalwart defenders, Heidi also connects with the human side of hockey. Follow her on Twitter, Facebook, or at her blog Don't Cross My Blue Line.