Anaheim Ducks head coach Bruce Boudreau knows how to win hockey games and build strong teams. The Ducks' management rewarded Boudreau with a two-year contract extension Wednesday, keeping him in Anaheim through the 2016-17 NHL season.
With career regular season stats of 312-143-62 (.663), including his Ducks' record of 111-55-22 (.649), it's easy to see why Boudreau was re-inked. Back-to-back Pacific Division titles didn't hurt either. However—and it's a big however—he's consistently suffered during the postseason throughout his nine-year NHL tenure. The reason might just come down to bad luck, or in the case of the 2009-2010 season, a goaltender who stood on his head (Jaroslav Halák, playing for the Montreal Canadiens against Boudreau's Washington Capitals).
The Ducks certainly came close to postseason glory last term when they took the eventual Stanley Cup winning L.A. Kings to a Game 7. That 6-2 final game loss illustrates a big problem for Boudreau—his teams struggle in the important games. Two lopsided Game 7 defeats during his Capitals days drives home that point.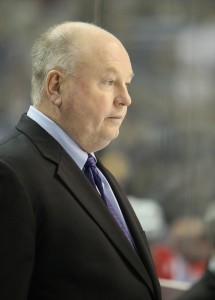 Ducks GM Bob Murray's recent comments on the subject were eerily reminiscent of former Capitals GM George McPhee's:
"I think Bruce knows, from last year's playoffs to this year's playoffs, we made some adjustments, and we were better," stated Murray in May. "But he needs to get better in the playoffs, as we all do."
What does 'Gabby' have up his sleeve for the upcoming NHL season, and can he break the playoff voodoo? On paper, the Ducks are favorites to repeat as Pacific Division champions and may well match last season's feat of attaining the best record in the Western Conference. A few key factors will decide if the Ducks mount a serious challenge for the Cup.
The New Additions
Bringing in Ryan Kesler from the Vancouver Canucks and Dany Heatley from the Minnesota Wild was good business. The team needed a solid center in the second line and they got that in Kesler. If he stays healthy throughout the season and beyond, the Ducks can improve on their Round 2 playoff exit.
Heatley is a right winger looking to reinvent himself after three vanilla seasons with the Wild. He'll likely see action on the first line alongside captain Ryan Getzlaf, and that kind of company will produce goals for Heatley. Scoring goals is one road to playoff success, but let's talk about the men between the Ducks' pipes.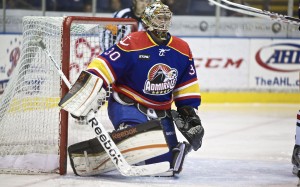 Goaltending is Make or Break
Let's take a look at the most recent Stanley Cup winning netminders: Jonathon Quick, Corey Crawford, Tim Thomas, Antti Niemi and Marc-Andre Fleury. Will we be adding second-year Frederik Andersen to that list? Maybe—but he'll need a spectacular season and postseason. The management gambled on making Andersen the #1 goalie despite his impressive 20-5-0 regular season record last year that saw him chalk up a .923 save percentage and a 2.29 GAA. The reason? His Boudreau-like muted record in the playoffs, which saw his save percentage drop to.899 while his GAA rose to 3.10. Backing up Andersen is 21-year-old John Gibson—a great prospect, but he is lacking in ice time and with a similar knack of under-performing in big playoff games.
One Hand on the Cup
Boudreau has been in this spot when he coached the Capitals—another division winning team with an outstanding offensive powerhouse, an adequate defense but inconsistency between the pipes. Take a look at how many goalies have ambled through DC since 2007-08 for context.
However, when you look at the Ducks' talent pool, you look at a coach who has crazy good stats and was the fastest coach to reach 300 wins in NHL history, you come to one conclusion. The Ducks have one hand on the Cup. If the other hand doesn't make it, and Anaheim goes out in the early rounds or (heaven forbid) doesn't even make the postseason party—well, Boudreau will be getting that déjà vu feeling all over again despite signing his extension.