The Boston Bruins made some news over the past couple weeks by locking up two important members of the team via long-term contract extensions: Patrice Bergeron signed for 8-years, $52 million, and Tuukka Rask agreed to an 8-year deal of his own, to the tune of $56 million. These extensions feed into an ongoing conversation about a Bruins core that has succeeded together and whose services GM Peter Chiarelli has been able to secure for the foreseeable future.
What's often forgotten is that many of those key players actually pre-date the current management, and that the seeds for the current Bruins core were planted a decade ago.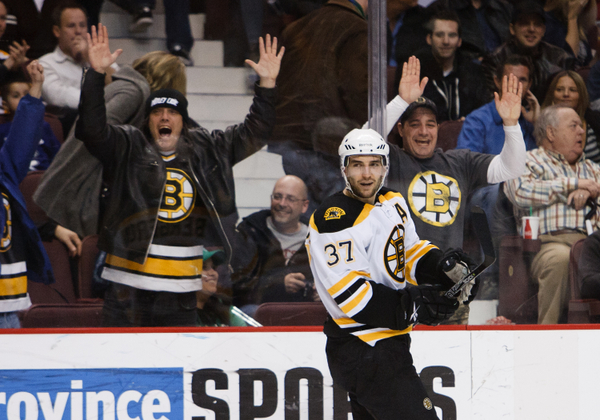 Three Drafts That Shaped The Bruins Core
The Mike O'Connell era in Boston might be best remembered for the big load up prior to the 2004 playoffs, the mismanagement of free agents after the wiped out season, and the legendarily poor return in the Joe Thornton trade.
BUT, he did manage to score on a couple draft picks that have combined to give the Bruins a nice little 1-2 down the middle.
2003 – 2nd round (45): Patrice Bergeron. Ranked 6th in points from that draft class, he would have been considered a steal even if the Bruins had picked him 21st overall instead of Mark Stuart.
2004 – 2nd round (63): David Krejci. Ranked 3rd in points behind only Alexander Ovechkin and Evgeni Malkin, Krejci was the Bruins first pick that year after having traded their 1st rounder to Washington for Sergei Gonchar.
O'Connell was fired in March of 2006 (but not before having also added Tim Thomas to the mix), leaving interim GM Jeff Gorton to hold down the fort for that draft while the Bruins waited for Chiarelli to be released by the Ottawa Senators.
To his credit, Gorton beefed up the Bruins core in a big way on draft day in Vancouver, as he was able to pull off all of the following:
Acquired Tuukka Rask from the Toronto Maple Leafs for Andrew Rayrcroft.
1st round (5): Phil Kessel. 2nd most points from that draft class, more on him in a moment.
2nd round (5o): Milan Lucic. 6th in points, prototypical Bruins power forward for a new generation.
3rd round (71): Brad Marchand. 16th in points, he's the super pest that any team would love to have.
This was a massive haul for the Bruins, setting the table for the big move that Chiarelli was able to make upon assuming his position as Boston's new GM during that summer.
Chiarelli's Mark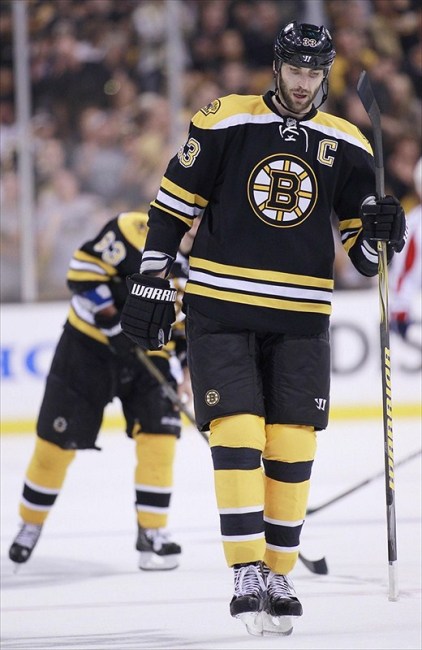 On top of the players mentioned above, the other two that fit into the Bruins core group at present would be Zdeno Chara and Loui Eriksson.
Chara was signed as a free agent by the Bruins just days after the '06 draft, making the transition to Boston from Ottawa along with Chiarelli. He wasn't the only big bear trapped that summer, as Marc Savard was also brought into the mix on July 1st of that year. (Savard could also be slotted into this core group were it not for ongoing concussion issues that have kept him off the ice for most of the past 3 years.) It can be argued that Chara is one of the best free agent signings of all time, and his presence in the Bruins lineup has greatly impact if not defined the team's success in recent years.
In 2009, Chiarelli took one potential core asset and flipped it for futures when he sent Phil Kessel to the Toronto Maple Leafs for (stop me if you've heard this before) draft picks that became Tyler Seguin, Dougie Hamilton and Jared Knight.
In truth, Seguin and Hamilton may have been the only core-type  players that Chiarelli had been able to add to the mix via the draft; in fact, up until very recently, that pair plus Jordan Caron and Malcolm Subban were the only Bruins 1st round picks that Chiarelli can be credited with since he took over in '06.
And while recent Bruins history shows that important players can and have been selected in later rounds, the likes of Ryan Spooner, Alexander Khokhlachev, Anthony Camara, and Linus Arnesson have a long way to go before they can be mentioned in any "core" conversation.
Hey, the same can be said of Hamilton at this point, and even more so about Subban.
Seguin was a bit closer to being in that conversation, but he's been shipped off to Dallas and a potential core building block for the future was dropped in favor of Loui Eriksson. The talented Swede immediately jumps to the fore in terms of key Bruin forwards, and, as such, now joins Chara as the two big pieces that Chiarelli has added to the Bruins core.
That's not to take anything away from what PC has accomplished as a general manager in Boston; he completely revamped the Bruins blue line, added a vital piece via trade in Nathan Horton, and complimented the core with several depth players along the way.
But those 3 or 4 players up front (depending on how highly you value Marchand) AND Tuukka Rask were brought in by the two men at the helm prior to the current regime.
And as much as O'Connell's time was marked by failure on the ice, he and his temporary replacement should be credited with bringing some pieces in that should help the Bruins remain competitive for the next several years.
The Bruins are fortunate to have been able to add these players to the mix over the past 10 years, and it will be interesting to see who will the core Bruins will be in 10 years from now.
Follow Ian on Twitter for more hockey updates and commentary.