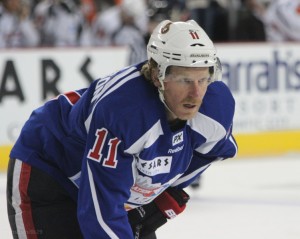 There's no way I can justify my salary level, but I'm learning to live with it — Drew Carey
Like intermittent popping kernels in a bag of popcorn that's just about done, signings during the NHL free agency period are winding down now. We've seen some big additions (Jarome Iginla to the Bruins, Nathan Horton to the Blue Jackets), some that barely get your heart started unless you're a fan of the teams in question (Ryan Clowe, Rob Scuderi) and a few that, perhaps in an understatement, have turned heads in amazement. Although not a signing, included in that category was Ilya Kovalchuk's stunning announcement on Thursday that he was retiring from the NHL. More on that later. That move, along with every other one executed this summer, had a dramatic impact on available cap space.
Last week, I discussed the available cap space teams in the West had at the time. This week, I'll turn my attention to the East. As with last week's piece, I'll cite the available cap space for each team in the newly-realigned Eastern Conference, along with what they appear to still need and my own special brand of low-brow commentary as well:
Boston Bruins: -$1.361 million
Yes, that's a minus sign in front of the number: the Bruins are over the 2013-14 salary cap of $64.3 million. Before we rat them out to whatever league police rap knuckles over to this sort of thing, let's remember that it's summertime, and it's allowed right now. Besides, it's an easily-solvable problem for a team with a terrific young core that should be together for years to come. As for needs, they've pretty much taken care of their losses on the right side after signing Jarome Iginla and acquiring Loui Ericksson. One might argue the Bruins could use another defenseman, but now we're just nit-picking. All in all, Boston is in fantastic shape to make another serious Cup run next year.
Buffalo Sabres: $11.142 million
Nearly the polar opposite of their new "Division C" rivals, the Sabres have gobs and gobs of cap space, and yet sadly enough, aren't anywhere near challenging for the Cup. Signing Bagnall and Sulzer will help bolster the back end, but the 23rd-ranked offense needs more as well. Alas, there are no major difference-makers likely to sign with Buffalo, which means this young squad (average age: 26.8 years) will need significant development from the kids — and fast — if they hope to be playing past March.
Carolina Hurricanes: $5.435 million
Man, have the Hurricanes blown the last four years. Blame it on global warming. Excessive methane emissions notwithstanding, the franchise has had its share of proud moments, culminating in a Stanley Cup championship in 2005-06. Nevertheless, the on-ice performance has been pretty disappointing the past four seasons, and although they've signed four players, they remain firmly within the same boat the Sabres are paddling: trying to stay out of a certain foul-smelling creek. The team needs help on both the left and right sides, as well as the defense, but there's not enough money or available players to patch things up in free agency. Also a relatively young team (27.7 years), they too will need the youngins to step up, y'all.
Columbus Blue Jackets: $2.016 million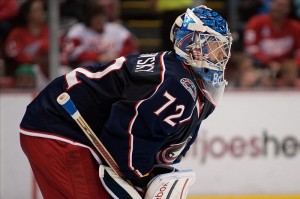 These aren't your crazy uncle's Blue Jackets anymore. Not only do they sport the reigning Vezina winner (Sergei Bobrovsky), but instead of skating Rick Nash and a bunch of nobodies, they now feature Marian Gaborik, Nathan Horton and a bunch of nobodies, thank you very much. Seriously, both ends of the ice look better than they have in years, and the franchise appears to be on the rise. They could still use help on the left and up the middle, but like the others, that will likely have to come from youth or trades. Let your crazy uncle enjoy his Jackets for a change.
Detroit Red Wings: $2.307 million
Cue the Darth Vadar music. Admittedly, I'm torn seeing the Red Wings head to the Eastern conference for the 2013-14 season: I can't decide if I'm elated, or merely overjoyed. The NHL's version of the New York Yankees, the Wings have very little remaining cap space, but after an offseason that saw them pick up Stephen Weiss and Daniel Alfredsson, they really don't need it. You just knew that Ken Holland wouldn't stand pat after yet another subpar playoff season, so he brought out the checkbook and waved it like a red cape in front of two big bulls. I'm just glad my Kings don't have to deal with all that bull quite so often this season.
Florida Panthers: $14.082 million
There are small countries worth less than the available cap space the Panthers have as of this writing. Having said that, they need help at center and on defense in the worst way, and due to the latter, the over/under for Markstrom's G.A.A. this season should be right at 3.00. That doesn't mean he's not a keeper, as he's huge (6'6″) and very athletic for a player his size. It's probable that the Panthers will develop young players this year, but if they can get enough senior citizen butts in the seats this year to justify the payroll, they appear primed to rise fairly quickly if they pick up a few more key additions. Ron Hainsey, anyone?
Montreal Canadiens: $3.387 million
The league's most decorated franchise (24 Cups) hasn't won one since 1992-93, and with their rise to prominence in 2012-13 after winning the Northeast division, the Habs certainly want to keep the good times rolling. What Montreal needed most of all this offseason was size — there are children in schoolyards all over Canada taller than Brian Gionta. Thus, they signed Ryan White (6'0″, 194 pounds) and Nick Tarnasky (6'2″, 224 pounds) and even drafted big players for the most part. Sure, Briere is a midget, but old habits die hard. The $3.3 million in cap space left is enough to pick up one or two more hulking mountain-men on skates. Does size matter? Oui.
New Jersey Devils: $10.604 million
Kovalchuk! When said quickly and the emphasis placed on the last syllable, it almost sounds like an explosion. That's true metaphorically as well, given that he entered (108 goals during his first three seasons with Atlanta) and exited (his sudden retirement at a still-young 30 years old) the NHL so abruptly. The blast wave was felt throughout the NHL, as he was still near-elite level despite not having surpassed 40 goals since 2008-09. Although the Devils have quickly been linked to having interest in former Red Wings forward Damien Brunner, it's nevertheless going to be tough to recover quickly from Kovalchuk's departure. Despite missing the playoffs last year, the club is only two seasons removed from appearing in the Stanley Cup finals, and the obvious elephant in the room is replacing the one who will be skating about 4,700 miles away for the next four years.
New York Islanders: $19.628 million
Hey, with all that room, the Islanders can buy and sell the Panthers' cap space. After a five-year drought, the Islanders made the post-season last year, though they lost in six games to the Penguins. The long, slow youth movement has finally started to pay off, and even after a few RFA re-signings, they have a ton of cap space that isn't going to be utilized. The right side could be further bolstered beyond the Cal Clutterbuck acquisition, and the defense and goaltending are simultaneously too old and too young, if you know what I mean. However, the team is on the right trajectory, and has about a billion dollars of available cap space left.
New York Rangers: $3.331 million
When you're smack-dab in the middle of the world's largest media market and see sister teams in other sports spending like Imelda Marcos at a Payless clearance sale, it's pretty hard not to keep up with the Joneses. Did you enjoy the string of mixed metaphors? In any event, the Rangers picked up Benoit Pouliot, Dominic Moore and Aaron Johnson in free agency, and despite being a little questionable at left wing, seem set for their quest for postseason success, with even a little bit of cap space to boot. Unfortunately, new head coach Alain Vigneault has been the poster child for lack thereof in recent seasons with Vancouver.
Ottawa Senators: $13.314 million
The Senators seemed to be succeeding at something that sounds great on paper, yet rarely works in real life: rebuilding on the fly. After failing to qualify for the postseason in 2010-11, they made the playoffs in each of the past two seasons, had a superstar center and were one of the NHL's younger teams. And then, poof!: bye-bye, Daniel Alfredsson. There have been a few other losses and some signings, but losing Mr. Senator will be a huge blow. Fortunately, Jason Spezza should be healthy this season, Craig Anderson remains one of the league's best goaltenders and perhaps most importantly, GM Bryan Murray pivoted nicely by picking up star forward Bobby Ryan from the Ducks to fill the void. No way the Sens use all that remaining cap space, but they should remain on course to continue their steady improvement even without Alfie.
Philadelphia Flyers: -$2.054 million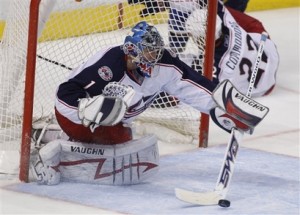 Another team with negative cap space, the Flyers took a mighty swing at solving their years-long goaltending woes when they inked Ilya Bryzgalov to a massive contract two years ago — and missed. It's hard to blame General Manager Paul Holmgren, as Mr. Universe was one statistically of the league's best before donning the orange and black. Now, fallen former Calder winner Steve Mason will battle it out with Ray Emery for #1 netminder duties, and the defense has been significantly augmented by both free agent signings (Gustafsson) and trades. The left side looks a tad light, but especially after the signing of Vinny Lecavalier, Philly appears poised for a rebound season. After all, they got rid of a headcase goaltender, didn't they? Oh, wait …
Pittsburgh Penguins: $.127 million
It's a good thing the Penguins are stacked, since there's barely enough cap space remaining to buy team owner Mario Lemieux that diamond-studded back-scratcher he's always wanted. Granted, that wasn't enough to get them past the Bruins in last season's playoffs, but you can bet Pittsburgh will use that as motivation for this upcoming season. Re-acquiring former Pen Rob Scuderi is probably the biggest pickup they made in free agency, with a contract that is arguably a year too long. The rich get richer, even if Lemieux has to forgo that back-scratcher for a little while longer.
Tampa Bay Lightning: $2.610 million
Despite still being a productive player, Vinny Lecavalier was bought out by the Lightning and signed with the aforementioned Flyers, a move sure to have put a secret smile on the face of the league's only "Teddy" since Purcell's ice time now is sure to go up. With Stamkos, St. Louis, Filppula, Malone, Purcell and others making big bucks, it had to be done, but as with all teams carrying numerous star players on the roster, depth is likely to be the biggest issue/need amidst the heat and humidity of Tampa Bay. The Lighting are electric at right wing and center, but a bit lower amperage at left wing and (potentially) goaltending. There isn't much money left to do anything about anything, and besides, droves of septuagenarians will be exiting after the first period to take advantage of the Denny's "early bird" specials anyway.
Toronto Maple Leafs: $9.721 million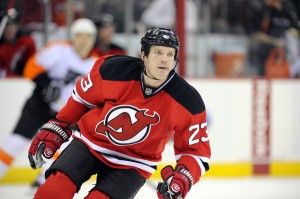 The long, long drought is finally over! Toronto captured the fifth seed last year before being ousted in a heartbreaking seven-game series against the Bruins. Nevertheless, newly emboldened, the Leafs spent money this summer like a drunken sailor on shore leave, especially after inking power forward David Clarkson to an eyebrow-raising 7-year, $5.25 million/year deal. Despite that high-profile signing, the real team needs (solved, with an asterisk) were on defense and in net, with nearly $10 million in available cap space left to spare. Arguably, James Reimer could still be the answer, but the Leafs weren't sure as to which question, so they acquired former Kings' backup Jonathan Bernier to duke it out with him in camp. After finally making the playoffs once again, somewhere Doug Gilmour is smiling.
Washington Capitals: $5.666 million
The Caps got back to their division-winning ways in 2012-13, capturing the Southeast with a 27-18-3 record. Alas, as with every playoff season since their loss to the Detroit Red Wings in the 1997-98 finals, they were bounced early, this time losing in the quarterfinals to the New York Rangers. Depth up the middle is a bit questionable, but when you've got Ovie, Backstrom, Johansson and Green firing away, who cares? With a modest $5.7 million of remaining cap space, Washington spent most of its free agency resources bolstering the defense this offseason, which ultimately may help make Ovechkin's gap-toothed smile grow all the wider.