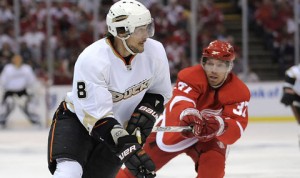 I'm the first to admit this whole salary thing is getting out of control. In the final analysis, it's still all about the work — Jim Carrey
The NHL's annual free agent feeding frenzy is in full swing, with some big and decent-sized names already switching venues for arguably indecent dollars. The list of notable signings includes Jarome Iginla (Boston, $6 million, one year), Michael Ryder (New Jersey, $3.5 million, two years), Stephen Weiss (Detroit, $4.9 million, five years), Matt Cullen (Nashville, $3.5 million, two years), David Clarkson (Toronto, $5.25 million, seven years), Tyler Bozak (Toronto, $4.2 million, five years), Rob Scuderi (Pittsburgh, $3.375 million, four years), Ryan Clowe (New Jersey, $4.85 million, five years), Nathan Horton (Columbus, $5.3 million, seven years) and Pascal Dupuis (Pittsburgh, $3.75 million, four years). Oh, there's more, but after all, that's what TSN's Sortable UFA Tracker is for.
As with every other summer, teams are jockeying for difference-makers at this point, players that can help them build or round out a winner and — crossing their fingers and toes — possibly even a team that can lift Lord Stanley's Cup. The difficulty many teams face is that courtesy of the new CBA enacted on January 12, 2013, the salary cap is going down, reducing to $64.3 million from last season's $70.2 million. Always an invaluable resource, each team will need to manage their available space more closely than ever, lest they lock themselves into the dreaded "salary cap hell" for years to come.
With all that said, the following is the available salary cap space for each NHL team as of this writing, along with what they appear to need and perhaps a pithy comment or two from yours truly:
Anaheim Ducks: $7.841 million
The Quacks won the Pacific Division last year and have an enviable one-two scoring punch, with cornerstone forwards Corey Perry and Ryan Getzlaf locked up forever. Young puck-moving defenseman Cam Fowler is signed almost as long, and goaltender Jonas Hiller will be in Anaheim for at least one more season. Whether or not the ageless Teemu Selanne comes back is probably something Vegas has a line on; regardless, top-six scoring isn't likely to be the team's Achilles Heel. However, Anaheim needs a left winger in the worst way, and frankly, a gaggle of secondary scoring in general. A couple of restricted free agents have yet to ink deals, which will cut into their available total.
Calgary Flames: $11.315 million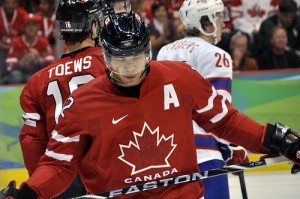 Calgary hasn't made the playoffs in four long years and worse still, waved bye-bye to long-time Captain and stalwart power forward Jarome Iginla at the trade deadline this past season. Alas, as with most rebuilding teams, they need help just about everywhere, but especially at right wing and on defense. They've got a few dollars available to spend, but it's going to take at least a couple more years to rise to relevancy unless a few of the plethora of rookies projected to make the club next year pan out quickly.
Chicago Blackhawks: $2.508 million
Once the poster child of "salary cap hell", the Blackhawks won't have much left after they re-sign Marcus Kruger and Drew LeBlanc. Anyone out there feel sorry for them? With Dave Bolland having been sent packing, they'll need a faster centerman manning the second line than skates-in-cement Michal Handzus. Other than that, though, they seem pretty well set for the next couple of years — at least. Frickin' Blackhawks.
Colorado Avalanche: $11.952 million
Sakic and Roy, together again, even if sitting on the other side of the desk. The Avs have a lot of good, young forwards (not to mention a few good, old ones), although Landeskog, O'Reilly and Stastny took small steps backward last year. No matter, it's not the offense that needs the most help, it's the defense. Fortunately, they've got a few bucks they can devote to that area, plus paying down the national debt.
Dallas Stars: $3.801 million
Another team with multiple missed playoffs in recent years, the Stars picked up young, top-line caliber center Tyler Seguin this offseason via a trade with the Bruins. That deal, along with the deadline-day trade of Jaromir Jagr, left them particularly thin at right wing. There's enough money here to add a couple of seasoned-not-saggy veterans over there.
Edmonton Oilers: $12.96 million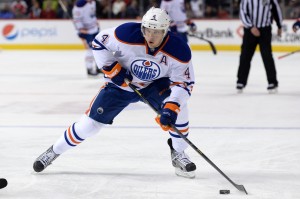 The Oilers are on the rise after seven long seasons of, well,
not
being on the rise. There are a ton of good, young players seasoning in Oil Country and — if they choose to use it — plenty of additional salary cap space. The money they paid Boyd Gordon seems a tad excessive, but he is one of the better penalty killers and faceoff men in the league. Edmonton could use another player or two on defense and more scoring depth, but the pieces are starting to come together.
Los Angeles Kings: $5.203 million
The Kings lost Rob Scuderi to the Penguins, but quickly filled the vacancy by signing Jeff Schultz to a bargain-basement one-year deal for $700,000. They haven't signed any other unrestricted free agents this offseason, but with just over $5 million of salary cap room, they don't have that much to spend, especially considering they still have five RFA's to re-sign. Fortunately, there are no glaring weaknesses. With Dustin Penner gone, left wing is the team's weakest area, but Matt Frattin will be given every chance to win a spot on the second line.
Minnesota Wild: $2.784 million
There isn't much salary cap space left in Minnesota, but hey, they could buy and sell Detroit's remaining figure. Like most teams with two $12 million players (actually, the Wild are the only team with that distinction), depth is the issue in the northern hinterlands. Matt Cooke was a good start, but they could use another player or two, particularly on the right side and on defense.
Nashville Predators: $7.097 million
The Preds are one of the more quietly successful regular-season franchises in the league in recent years, having notched 100 or more points in four out of seven seasons until last year's resounding thud. Predictably, David Poile didn't take the regression lightly and has been aggressive this off-season, signing Eric Nystrom, Matt Cullen, Matt Hendricks and Viktor Stalberg to deals. That takes care of some depth concerns, but man, they could really use a bona fide sniper. Alas, those kinds of players are in short supply.
Phoenix Coyotes: $7.583 million
Every dog has his day, and the Coyotes had theirs last week, as the Glendale City Council narrowly passed a new lease agreement that will result in keeping the franchise in the desert for up to fifteen more seasons. Now, Don Maloney can concentrate on improving the team, which needs offense in the worst way. Mike Ribeiro is a good start, but more work needs to be done. The salary cap availability of just over $7 million probably won't be fully utilized until the team's finances improve.
San Jose Sharks: $.218 million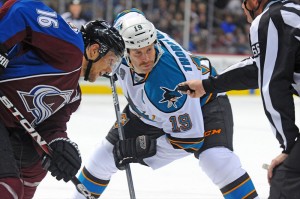 San Jose's available salary cap space makes cap-squeezed teams like Chicago, Columbus and Detroit look downright bloated by comparison. The roster is still quite talented, but aging rapidly (in the time it took you to read down this far, they've all aged about three minutes), and is overdue for a youth movement. They won't be players in free agency, but Doug Wilson will eventually be one in a significant roster churn.
St. Louis Blues: $7.85 million
The Blues are in pretty good shape, and if not for those pesky Kings, might have even made the finals in 2011-12. They've got pretty balanced scoring, a balanced defense and between Elliot and Halak, good balance in net. Notice the annoying over-usage of the word "balance"? That's because they need a crazy, unbalanced, win-at-all-costs guy on the ice to get to the next level. It doesn't have to be an offensive guy, just someone who will not allow the team to falter in the clutch.
Vancouver Canucks: $5.147 million
Speaking of faltering in the clutch. The Canucks have the pieces, they just haven't been able to close the deal. When you scan the roster, there isn't an area of obvious need, other than the same type of guy mentioned above in the St. Louis comment: a borderline demented, game-changing force whose very presence inspires the team to new heights. Easier said than done, right?
Winnipeg Jets: $19.717 million
Yowza! At first glance, that seems to be one serious amount of salary cap space, eh? However, they have a barge load of restrict free agents to contend with, so there's that. As for needs, they're pretty fair on the wings with the likes of Ladd, Kane, Wheeler and Frolik, and there are worse one-two punches up the middle than Bryan Little and Olli Jokinen. However, like most teams, they could use a sniper to improve their woeful power play, and the defense looks a little thin. Weird to see the Jets and the former Jets both in the same conference, courtesy of realignment.
Walter McLaughlin is a Los Angeles Kings correspondent for The Hockey Writers. He is an avid sports fan, having followed the Kings since living in L.A. in the mid-1970's, as well as suffering through Seattle sports teams' general futility. He has a Bachelor's degree in Finance and has worked in community banking for over 25 years, specializing in SBA loans. He is married and has two daughters.