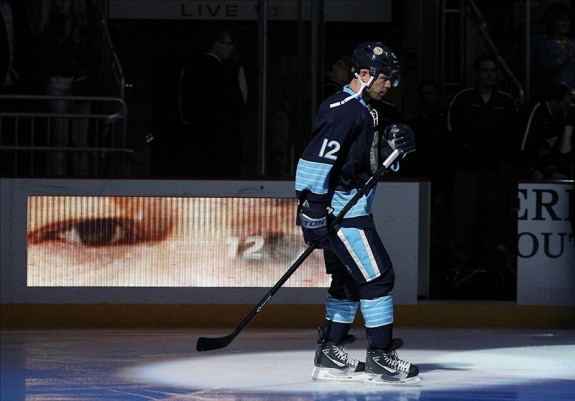 Jarome Iginla signed a one-year contract with the Boston Bruins on Friday, three months after he turned his back on the team for the Pittsburgh Penguins.
The deal contains a base salary of $1.8 million and easily reachable incentive bonuses of $4.2 million for a total cap hit of $6 million.  Iginla will likely slot in on the right wing alongside Milan Lucic and David Krejci.
The issue of right wing versus left wing was a never-ending debate during Iginla's short time in Pittsburgh.  The Penguins wanted Iginla on the left wing — his off wing — to take advantage of their center drive attack, but Iginla never looked comfortable after making the switch.
Iginla didn't look comfortable in many aspects on and off the ice with the Penguins.
Prior to the trade deadline, teams would have been lined up to hand Iginla a multi-year deal at good money to play for their team.  His performance with the Penguins left a bit to be desired.
Iginla still scored points, especially on the powerplay, but didn't dominate the corners like he used to during his prime in Calgary.  He didn't have the speed to keep up on a line with Sidney Crosby and that had to be a concern for any General Manager considering his services.
The Bruins more structured style of play should be a good fit for Iginla and he'll become a dangerous one-timer threat next to Zdeno Chara on the Boston powerplay.
This will also be a critical season for the 36 year old.  If he can utilize a full training camp to return to his old form, he should be able to cash in on a nice retirement contract next offseason.  But if he continues to fade, he risks becoming no more than a leadership guy and powerplay specialist.
In a conference call with reporters on Saturday, Iginla discussed his time with the Penguins, the switch to left wing, and how negotiations with the Bruins unfolded.
Below are edited excerpts from that conversation:
What was it specifically about the Bruins this time around that made you want to sign with them?
IGINLA: Well, I think it is still a lot of the similarities of why I wanted to go—when I was debating leaving Calgary to possibly go to them then. At the time, Pittsburgh was really—they were rolling. They are two great organizations and they were just on a real roll. At the time, leaving at the deadline, I believed it was a great chance to win. We did make the final four. It was a great experience, a great organization. We would have liked to gone further, ran into the Bruins.
But this time around it was looking at it and I wasn't sure if there was going to be an opportunity. I wasn't sure how Peter [Chiarelli] felt or the Bruins felt about possibly having me. I did ask my agent to explore it. I'm thrilled that it was a chance. The city is an amazing sports city. Like I said, I have friends who played there. They're a team that year in year out is extremely competitive. They are very hard to play against. They play a physical, aggressive style. I like that, and I also know from the guys on the team that they have a lot of respect for them. I'm thrilled to get the chance to join them and another opportunity to be a part of it. I'm happy it was able to work out and I know they're in a tough cap situation and they have a great core that is signed up for a long time and a fun team to watch.
When you signed with the Penguins, you talked about having the opportunity to play with Sidney [Crosby].  What about the opportunity to play with Patrice Bergeron?
IGINLA: Yeah, at the time with players you are always looking at what the personnel of the team is. The Bruins have a great team, great individuals. You see the—Patrice [Bergeron] his character and his motivation and playing through with his injuries and Campbell. They have a lot of grit and determination and that's—and so does Pitt. Playing with Sid was a huge thrill. I played with him at the Olympics, played on a line with him at the Olympics. There was some familiarity there, for sure. It was a great experience. I never played outside Calgary. I haven't been in the playoffs for quite a while. Even though it didn't end the way I had hoped, it was still an amazing experience and getting a chance to play with some great guys.
Can you speak to your experience of going from Calgary to Pittsburgh, which was a situation where they were bringing in guys who had been wearing letters on their sweaters (i.e. former captains)?
IGINLA: Yeah it was. It was a very good experience. You're trying to come in as a new player and fit into a team that's been very successful and Pittsburgh has been and Boston has been obviously. You're not trying to come in and create anything new. You're just trying to come in and play hard with the guys. When you get into the playoffs and stuff, you're trying to be under control and control the emotions and all that and as far as playing.
Boston has a core. They've been together a long time. They've been through so much already to—over the last five years and have had so much success. I look forward to coming in and learning. Just playing with them and playing hard and learning from them and having fun with them. The chance to come to Boston is partly about an opportunity to win, but also to enjoy it and for my family to enjoy it. Enjoy playing NHL and being on a contending team.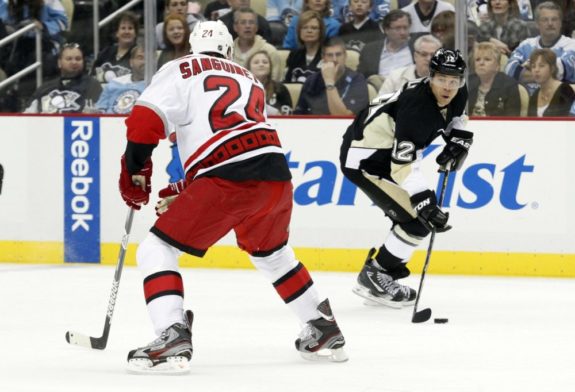 We saw you playing a lot of left side in Pittsburgh versus the right side.  What was it like to change positions there and are you looking forward to moving back to the right side?
IGINLA: Well, when I went to Pitt [Pittsburgh], they had an opening on the left side. I played some left earlier in my career. I was open to trying it and trying to be effective and help out on the left side. I probably do feel more comfortable on the right side. As far as going through that, left or right, I would think it's interchangeable, but I guess after a lot of years I probably do feel more comfortable. That's hard to say, but I do feel more comfortable on the right side. I don't think it's that much of a difference but I think there is a little bit of difference as far as just seeing the ice and how you're receiving the puck and stuff. It's something that I've played for a number of years and I never thought there would be differences I guess. I kind of felt a little bit different, but I was happy to try and would be happy again if that's what was asked.
Going back to the end of the season, was there any consideration on your part in staying in Pittsburgh and, over the last few days, were you talking to any other teams other than the Bruins?
IGINLA: Well at the end of the season, I could see Pittsburgh was pretty tied up against the cap and stuff. I didn't ask my agent to – over the last few days – call and see if we can do an incentive based deal or anything like that. I have a lot of respect for the organization. Like I said, it was an amazing experience. Got to be in the conference finals, a lot of great people there. But I didn't think I was going back or plan on it, as far as we were into this and see their signings and what they're doing.
As far as other teams, yeah. We talked to other teams. We talked to a number of other teams over the few days. But the best opportunity we thought – and it was important for my family and I – we want to be on a contender. And we're also very intrigued by Boston and, like I said, I've only heard wonderful things. I didn't know if the opportunity would still be there, but when I saw the moves and stuff, I thought why not try and just see if it's a possibility. And I was very happy and appreciative of another opportunity to first of all talk and see if we can find something. And I'm thrilled that we did, so I wasn't sure how that would be received and Peter and the organization were great. And I'm thrilled that they gave me another opportunity.
Do you think it's going to be easier making this transitions because you've got a full training camp, can go in weeks earlier, get a place, acclimate yourself, settle your family in, rather than being dropped in at the eleventh hour like you were in Pittsburgh at the deadline?
IGINLA: Yeah. Not to make any excuses, I think that things were going well until the last series. But I do think it will be a little easier of a transition, and it kind of feels like I've been through leaving before. Spending that many years in Calgary and stuff and never leaving, it was different. My family was at home. They came to visit a few times, but it was something that until you go through it, people can tell you, but until you actually experience it and feel it – you got to go through it. This time around I think we're going to try to get into Boston early and get settled and get the kids in school. It'll be nice to have them there and my wife and stuff. But it also will be nice to skate with the guys before training camp and have a training camp and just settle in.
A deadline and stuff when you're moving during the season for everyone to go through, is probably a little bit different than starting. So I'm hoping and believing it will be easier to deal with going to training camp and having to leave before.
Is it tough to leave your comfort zone like you did in March?
IGINLA: Yeah. It wasn't easy. You get so used to the way things are.. You know where everything is from the small things, like around the dressing room, to the playing style and all that and just your friends and your teammates. It's not easy leaving.
___________________________________