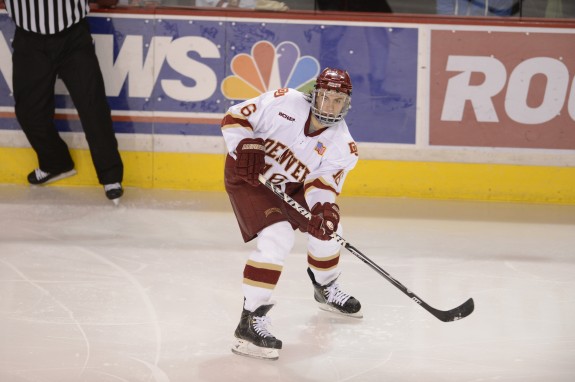 "My dad is from Detroit and played his entire life.  So right when I could walk he put me in skates.  Ever since then, that is what I have wanted to do on a daily basis."
That's how Zac Larraza's hockey story begins.  It has had its ebbs and flows, but Larraza is fortunate enough to be living a fairy tale of sorts.
You see, not many players get to play for their hometown team.  Born in Scottsdale, Arizona, Larraza grew up playing for the Junior Coyotes where he was a standout forward that caught the eye of scouts.  He then had to make the biggest decision of his life: whether or not to develop further with the U.S. National Development Program in Ann Arbor, Michigan.
Joining the NTDP ended up being one of the best moves he ever made.  However, it didn't come without its challenges.  After being a prolific scorer with the Junior Coyotes, Larraza was moved into a bottom-six role with Team USA.  Given his size, he was forced to work on his tenacity, grittiness, and defensive play, building him to a well-rounded forward.  His new role on the team really bolstered USA's lineup en route to winning a gold medal at the U18 World Junior Championships, the moment Larraza considers the best in his hockey career.
The USNTDP churns out talent every year and has been responsible for countless NHL draft picks.  Zac Larraza hoped to get drafted in the 2011 NHL Entry Draft.  He waited a full seven rounds before he was finally chosen by the Phoenix Coyotes with the 196th overall pick.
"It was unbelievable," Larraza recalls.  "I had to wait a little bit longer than expected, but everything turned out just fine.  Being selected by the hometown team was a dream come true for me."
The hard part was finished.  He'd been named an NHL draft pick.  Now it was time to begin his NCAA career with the Denver Pioneers, coached by the legendary George Gwozdecky, a man who had a profound influence on Zac and his decision to join Denver University.
"[Coach Gwozdecky] was a big part of me coming to Denver.  Knowing his legacy and the players he developed had a great deal to do with my choice.  Also, his assistant coach, Steve Miller, was a big part of my decision," said Larraza.
Larraza played much of the season on the bottom two lines, a spot he had become accustomed to in his NTDP days.  He wasn't able to display his offensive talents much, and took him until the WCHA semifinals before he scored his first collegiate goal – and what a dandy it was (
video here
):
"That one was a lot of fun.  I think it was top two or three of my career," Larraza recounts.
This past season, Larraza really turned up his two-way play and was relied on more heavily as the season progressed.  In all, he scored 12 goals and added nine assists to a stellar end to his sophomore season.
"Well, half-way through last year I was struggling and only had five points.  I went home for Christmas break and just took a week off and came back ready to go.  After that break I felt as if the game slowed down for me.  I was seeing the ice better and finally had some bounces going my way.  I'm hoping to improve on my sophomore season this upcoming year," said Larraza about his improvement.
But next year is going to be very different for Larraza and the entire  Pioneers team as they will be without George Gwozdecky, the man who coached Denver for 19 straight seasons and won back-to-back National Championships in 2004 and 2005.  After expecting a contract extension, Gwozdecky was let go by the team, much to the shock of many fans, players, and alumni.
"We heard it an hour before everyone started tweeting about it.  It was a huge shock to all of us," Larraza mentioned about first hearing the news.  "It happened on April Fools Day so we all thought it was a joke at first, but it turned out to be real.  [I was] mostly disappointed in the way they handled it."
When some players would possibly consider transfering to a different Division-I school, Larraza had no intention of doing so.  Playing underneath Gwozdecky's leadership, mind for the game, and will to win provoked Larraza into becoming a better player all-around player.
As for what Larraza will miss most about his former coach: "His passion for the game and he brought that to the table every night.  He demanded your best every time you stepped on the ice for a practice or a game."
While he was battling coming to grips with the reasons behind his coach's departure, the Phoenix Coyotes were fighting a battle of their own – whether or not they'd stay in Arizona or relocate to either Seattle or Quebec City in 2013.
The Phoenix Coyotes have fallen on hard times of late.  In each of the past six seasons, the Coyotes have been in the bottom three worst average attendances (twice as the worst attendance).  The team hasn't had strong fan support and has continually cost Phoenix, Glendale, and the entire state millions of dollars – of which, they have never recouped.  The forecast for the Coyotes was looking grim and the Yotes faithful were waiting to hear their eventual fate.  Zac Larraza waited with baited breath to see how the situation would unfold, knowing full well what the Phoenix Coyotes meant to him and his love for hockey.
"They mean a great deal," Larraza began.  "Without the presence of the Coyotes, I would not be hear interviewing with you.  They are the reason kids in Arizona want to play hockey.  When they moved to Phoenix in 1996, so many kids began to play hockey.  If they depart, I cannot start to describe how quickly you will see a decline in players in Arizona."
Larraza, and the rest of the Coyotes fans, need not fret.  The Glendale City Council passed a $225 million, 15-year deal with Renaissance Sports and Entertainment to keep the Coyotes in Arizona.  Under new ownership, and a team spearheaded by Don Maloney and head coach Dave Tippett, the Coyotes are looking to rebound.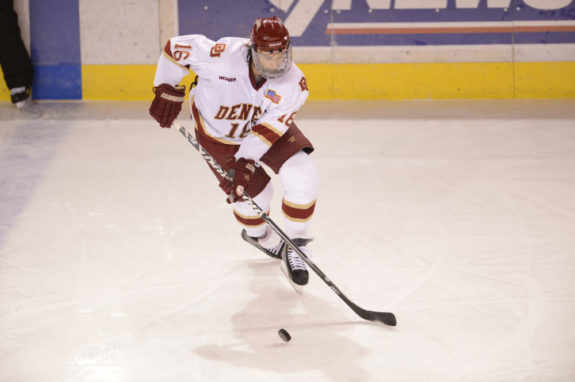 Zac said, "I was pretty excited to hear the news.  It's something that will help hockey here, and as you can already tell with the free agent signings (Mike Ribeiro), it's a place people want to play and hopefully the Coyotes can get some more guys now that they have set owners.  The fans are a big part of it.  It's crazy to see how many people support this team and love having them here."
What's done is done.  George Gwozdecky won't be returning to Denver, the Phoenix Coyotes are staying put, and Zac Larraza needs to focus on next season.
Larraza had this to say when asked what aspects of his game he needs to improve on most: "My play without the puck and the penalty kill.  Penalty killing is one of my favorite things to do and every team always needs great penalty killing to be successful.  But you always need to be improving all areas of your game."
The native Arizonian will carry more weight on his shoulders next year at Denver University, but will always have his main goal of playing for the Coyotes close to his chest.  There is time for Larraza to polish off his game for the NHL ranks, but this season could be very telling for his future.
"[I'm] still a couple years away [from the NHL], but I think this a big year for me to show everyone that I should be considered for a spot in the upcoming years," said Larraza about his NHL projections.
Larraza isn't flashy.  He's not a prolific goal scorer.  He isn't going to break NCAA scoring records.  But he is becoming one of the most prominent, reliable two-way forwards college hockey has to offer.  His game is simple, skilled, defensive, gritty, and solid all-around.  A hometown kid playing for his hometown team is a fairy tale for most hockey players, but Zac Larraza is becoming a key cog in the Phoenix Coyotes' future plans.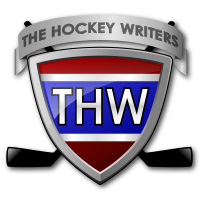 The archives of THW contain over 40,000 posts on all things hockey. We aim to share with you some of the gems we've published over the years.