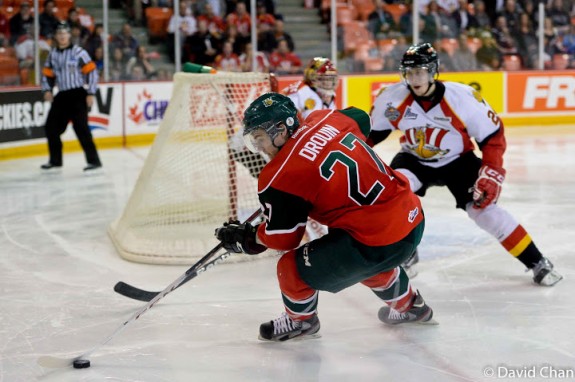 As a hockey writer, I have to start off by saying that my experience at the 2013 NHL Entry Draft in New Jersey was simply incredible. Fortunate enough to be sitting in the VIP section (thanks Ron Ryan!), I found there is nothing which compares being seated among kids hearing their names called by NHL teams, seeing the joy on the faces of young hockey players and their families as their lifelong dreams are realized.
That being said, my draft grades are not meant to criticize the players drafted. Every single player who was drafted this weekend has the talent and ability to one day make it as a productive player in the National Hockey League. My grades are for the front offices, grown adults whose job descriptions should include being lauded or criticized by schmucks like myself.
Concurrently, my grades are likely higher than in most columns of a similar ilk. The draft is about optimism, and most teams leave the draft feeling like winners. I am inclined to agree with those sentiments. Keeping in tune with the thematic of the future, I am separating my columns by the new NHL conference alignments, this time with the alliteratively entitled Conference C.
Boston Bruins
2nd Round: D Linus Arnesson (60)
3rd Round: LW Peter Cehlarik (90)
Late Round Sleeper? Ryan Fitzgerald (120)
Following their heartbreaking loss in the Stanley Cup, the Bruins were surrounded by rumors. Could they re-sign Horton? Were they trading Seguin? The one hockey item no one in New England seemed to be talking about was the draft, as the Bruins had no first rounder, no pick at all until 60th overall. Fortunately for them, GM Peter Chiarelli has proven to be an excellent judge of talent, building a perennial contender in Boston.
After the ballyhooed "Seguin to Calgary for the sixth overall pick" rumors dissipated with Calgary making their own sixth pick, the Bruins' faithful had to wait all the way until the 60th pick to hear their names called. Boston went with a safe pick in tabbing the Swedish rearguard Arnesson, a defensive specialist with excellent size and a strong chance of making it into the NHL as a mid-to-late-pairing steady back-line force.
In the third round, the B's rolled the dice on a bit more upside, taking the Slovak LW Cehlarik. One of ISS Scouting's big late-round sleepers, Cehlarik offers a package of very good but not elite size, skating, hands and two-way acumen. He seems an excellent bet to make it as a second-line scoring compliment, but if he does not develop as an offensive force he should still make it as a checking-liner.
One round later, the Bruins had to look no further than their own backyard, taking Boston-area native and Boston College recruit Fitzgerald. Though undersized, Fitzgerald has a great set of wheels and a terrific scoring touch with the upside to one day play on a Bruins' scoring line.
Bruins Grade: C+
Though the Bruins did a good job with what low picks they had, it was a very strong draft at the top. Though it is feasible that Arnesson, Cehlarik and Fitzgerald develop into fine NHL-ers, they cannot match the talent drafted by divisional rivals in the the top ten, such as Florida, Tampa Bay and Buffalo.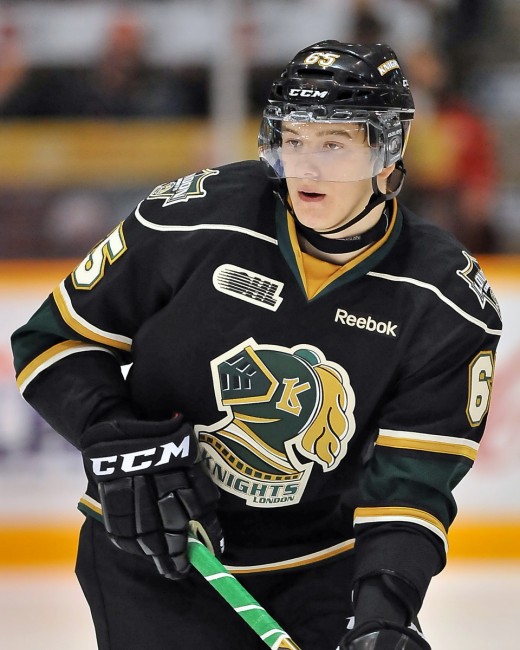 Buffalo Sabres
1st Round: D Rasmus Ristolainen (8)
1st Round: D Nikita Zadorov (16)
2nd Round: C/LW JT Compher (35)
2nd Round: C Conor Hurley (38)
2nd Round: C/RW Justin Bailey (52)
3rd Round: RW Nicholas Baptiste (69)
Late Round Sleeper? D Anthony Florentino (143)
The Sabres entered the 2013 draft at a clear crossroads. After missing the playoffs for the previous two seasons, the team traded roster fixtures Jason Pominville, Robyn Regehr and Andrej Sekera to stockpile picks for the 2013 NHL draft, largely considered the strongest class of talent available since way back in 2003. With needs at several positions in the organization, could GM Darcy Regier and his staff pull off the draft-day coup necessary for a quick rebuild in Buffalo?
With the eighth pick overall, they were immediately faced with a difficult decision — the limitless offensive potential of Valeri Nichushkin, or the NHL-ready two-way defense of Rasmus Ristolainen. The Sabres went with the highly regarded Finnish rearguard, often compared to Niklas Kronwall for his rare combination of ideal NHL size (6'3″, 210), stalwart physical defense and booming slap-shot from the point.
Picking again at 16th overall, the Sabres likely never envisioned Zadorov would still be on the board. a hulking physical presence (6'5″, 230) with terrific skating ability and a penchant for thunderous hits. Zadorov has also greatly improved his puck skills at the hockey factory known as the London Knights. Rated as high as 7th by McKeen's Scouting and 8th by the ISS, there are many who consider Zadorov the second-best defensive talent in the 2013 draft after the incomparable Seth Jones.
With the 35th pick, the Sabres unearthed yet another gem, this time at forward. J.T. Compher is a swiss-army knife: he can play center or wing, he excels in a scoring or shut-down role, he can play a skill game or a physical game. A potential two-way first liner in the Rick Tocchet school, Compher would have certainly gone much higher were it not for some concussion problems in recent years.
Three picks later, the Sabres stepped up to the podium again, this time selecting another high-upside American in pivot Conor Hurley. Hurley spent last year playing high school hockey in Edina, Minnesota, which may have slipped him under the first-round radar despite a tantalizing combination of size, speed and skill which make him a potential first-line center at the NHL level.
Only 18 picks later the Sabres were up yet again, taking a player with huge upside yet again. Justin Bailey has the prototypical power-forward frame and is an incredible athlete, the son of a former NFL linebacker. The Buffalo native dropped a bit in draft rankings last year due to a rash of injuries, but has James Van Riemsdyk-like upside as a future force in opposing creases.
After five high-ceiling picks in the first two rounds, the Sabres were not even close to done. Nick Baptiste is a second/third line grinder with great wheels and a good shot on the right wing. Anthony Florentino is one of the late-round steals of the draft — a big and physical d-man with decent speed and a terrific shot who would have gone much higher had he played in the CHL rather than at the little-known Selects Academy.
Sabres Grade: A+
Give me this hypothetical: in five years the Sabres make a long playoff run. They are back-boned by their impenetrable top defensive pairing of Ristolainen and Zadorov, buoyed by their solid second pairing of Jamie McBain and Anthony Florentino, sparked by their second scoring line of Hurley centering Compher and Baptiste. I would not find this at all difficult to fathom. While most teams draft players to add to their cores, the Buffalo Sabres literally drafted a core, coming out of a sterling 2013 draft with virtually half a future team. Simply put, one of the most complete drafts I have seen a team put together in a decade.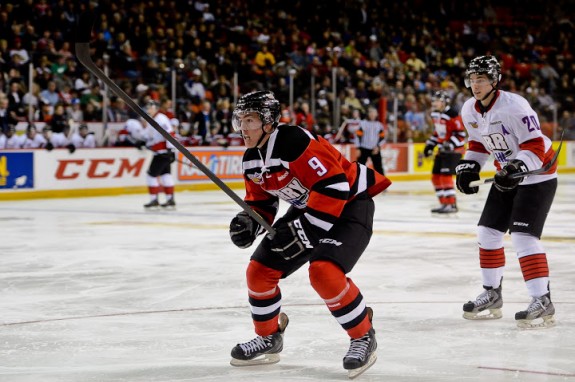 Detroit Red Wings
1st Round: RW Anthony Mantha (20)
2nd Round: RW Zach Nastasiuk (48)
2nd Round: LW Tyler Bertuzzi (58)
3rd Round: Mattias Janmark-Nylen (58)
Late Round Sleeper? All of them, it's the Red Wings
The Wings started with the 18th pick in the first round, but quickly made a terrific value trade, acquiring San Jose's 58th overall pick to move down just two spots in the first round. It is likely that at #20 overall they tabbed the player they wanted anyway in Mantha. The only 50-goal scorer in the CHL in the 2012-13 campaign, Mantha combines terrific size (6'4″, 190) with a lethal shot and terrific hands. He would be the prototypical power forward prospect, likely a player to go many picks higher, were it not for questions asked by a litany of scouts concerning his compete level and his inconsistent play without the puck.
Mantha's problems are the converse of Nastasiuk's strengths. A competitive player and one of the best defensive forwards available in the draft, Nastasiuk has no qualms with blocking shots or throwing his body around. With the offensive acumen to one day contribute on a second-line and shut-down defensive capabilities, Nastasiuk was a shrewd pick in the second.
With the pick acquired from San Jose, Detroit surprised many by taking Bertuzzi, the nephew of current Red Wing Todd Bertuzzi. A fast, physical forward, he seems a good bet as an NHL role player but may be lacking in the offensive game to warrant a second-round selection. In the third round, the Wings selected Swedish over-ager Janmark-Nylen, another player who seems more suited to a future depth role.
Red Wings Grade: C+
It is difficult to criticize an organization which has drafted players like Pavel Datsyuk, Henrik Zetterberg and Jimmy Howard in the mid-to-late rounds, but it is difficult to conceive of a world where Bertuzzi wouldn't be available in the late third round and Janmark-Nylen available in the fifth. Though I am quite high on Nastasiuk's NHL potential, the wild card which will make or break this draft is clearly Anthony Mantha, While many believe his often lackadaisical play will make him the bust of the 2013 draft, he was the only player in the CHL to net 50 goals this past season, and that is saying quite a lot. If he realizes his potential, Mantha will make this draft grade a whole lot higher a few years down the road.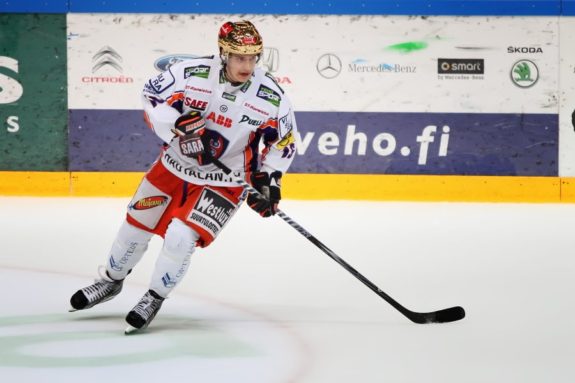 Florida Panthers
1st Round: C Aleksander Barkov (2)
2nd Round: D Ian McCoshen (31)
Late Round Sleeper? D Mike Downing (97)
If nothing else, the Florida Panthers screwed up more mock drafts than any team in NHL history with their shocking selection of Sasha Barkov with Seth Jones still on the board at the second overall pick. Upon closer inspection, however, there was a great deal of logic in the pick.
Loaded with top prospects at every position in their organization except center, the Panthers coveted Nate MacKinnon. When Colorado selected the Halifax dynamo first overall, Florida was left with something of a quandary. A dominant, two-way #1 center is one of the rarest commodities in the NHL, and Barkov certainly fits that bill. Playing as the youngest player in the Finnish Elite League last season, he was not boy among men who played like a man among boys. A sublime scorer with prototype size (6'3″, 210) and an advanced defensive acumen, Barkov can stake an argument as the best teenager in the history of Finnish hockey. Barkov is polished, incredibly talented, and could step in as the Panthers' top center as soon as next season.
With the first pick in the second round, Florida struck jackpot again. McCoshen is the complete package — a huge, smooth-skating d-man with the smarts and toughness to play a shutdown role and a great deal of offensive upside. It is of my opinion that McCoshen is superior to more than one defenseman who went in the first round, as he has the potential to be a similar franchise core player in the vein of Brent Seabrook.
Though the Panthers had no third-rounder, they made a few shrewd late-round selections, notably Mike Downing. One of the ISS' top sleepers, Downing improved a great deal over the past season in the USHL to rocket up the rankings and has the size and tool-box to one day develop into a top-four rearguard at the NHL level.
Panthers Grade: A
Though time will tell if Florida made a mistake passing on Seth Jones, Sasha Barkov immediately becomes their most talented forward since the days of Pavel Bure. McCoshen has top-pairing upside on the blueline, and Downing and Matt Buckles both have the potential to be late-round steals. A draft in which a team acquires a franchise forward and a blue-chip blueliner must be considered a success regardless of whom they passed up to select them.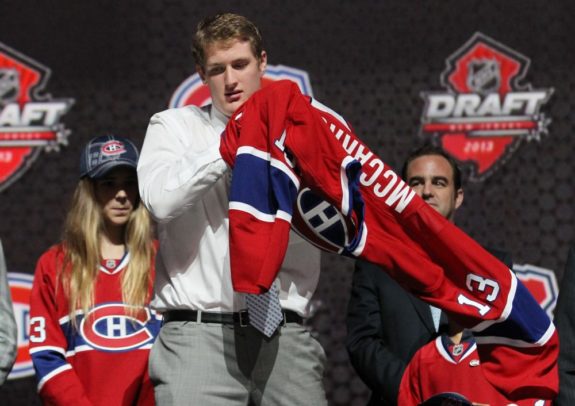 Montreal Canadiens
1st Round: RW Michael McCarron (25)
2nd Round: LW Jacob De La Rose (34)
2nd Round: G Zach Fucale (36)
2nd Round: LW Artturi Lehkonen (55)
3rd Round: LW Connor Crisp (71)
3rd Round: RW Sven Andrighetto (86)
The Canadiens have drafted and developed players quite well in recent years, so they had to be excited to have such a cache of early-round picks in the stocked 2013 draft. Worried about the size discrepancy between them and their arch-rivals in Boston, the Canadiens acted quickly to remedy that, taking man-mountain Mike McCarron (6'5″, 230) in the first round. A power forward who improved his game dramatically over the past season with the U.S. Development Team, McCarron has the potential to be a downright intimidating power forward with crease-crashing skill in the mold of Milan Lucic.
The Habs spent the second round lassoing in a trio of high-upside lottery tickets. With De La Rose at #34, they nabbed a terrific defensive forward and leader with burgeoning offensive ability. A checker at the very least, the young Swede could develop into a scoring second liner. At #36, they landed the consensus top goaltender in the draft in Fucale. TSN's Craig Button positively loves this kid, considering him a top-ten value and future Vezina candidate. With Lehkonen at #55, Montreal nabbed a rail-thin but enormously talented Finnish scorer with off-the-charts hockey sense, a player the ISS likened to Loui Eriksson.
In the third round, the Habs went for more role-player types with the pugilistic Crisp, and the undersized but fast and crafty Andrighetto. While the Crisp pick has been met with some criticism in the always-tough Montreal media, Andrighetto potted 98 points in just 53 QMJHL games last year and has a good deal of upside.
Canadiens Grade: A–
While the Habs did not get a can't-miss franchise superstar like new conference rivals Florida and Tampa in the 2013 draft, they stocked their prospect pool with much-needed size and skill on the wings. If McCarron develops a scoring-line offensive touch, his off-the-charts size and strength will make him a true difference maker in the NHL, while De La Rose and Lehkonen both offer top-line potential. Perhaps most notably, if Fucale develops as expected over the next few years, the Habs will have a huge trade chip on their hands in either him or current starter Carey Price, much as they did with Jaroslav Halak a few years back.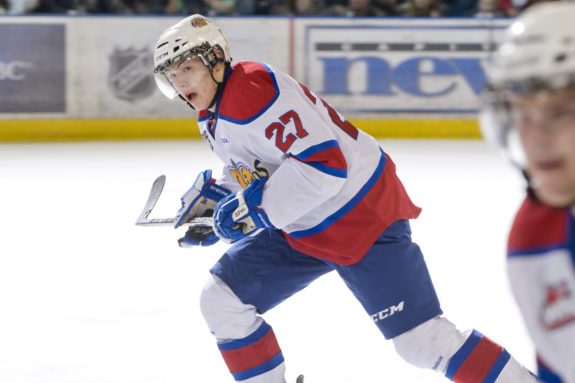 Ottawa Senators
1st Round: C Curtis Lazar (17)
3rd Round: G Marcus Hogberg (78)
Late Round Sleeper? C Vincent Dunn (138)
Two years ago, the Senators were a bit thin at center behind Jason Spezza. with the recent draft addition of Mika Zibanejad and now Curtis Lazar, they boast great depth at the crucial position. Lazar is a remarkable skater with a lethal shot, a two-way player with the ability to take over a game at both ends of the rink. Though some critics doubt his offensive upside and ability to be much more than a third-liner, after watching a great deal of Edmonton Oil Kings hockey, I am inclined to strongly disagree. Lazar plays a fearless game, his terrific speed enables him to open up room on the ice, and his wicked shot enables him to take advantage of that room. This kid is going to be terrific.
In the third round the Sens tabbed Hogberg, considered the top amateur netminder in Sweden. Gifted with a large (6'3″, 195) frame and quick reflexes, Hogberg has developed the reputation of being something of a big-game goalie. Two rounds later, Ottawa snatched up the ultimate lunch-pail player in Vincent Dunn, a checking-line center with the fearlessness necessary to block shots, crash the crease, and play the agitator's game against much larger opposing players.
Senators Grade: B
Lazar was a great pick and is certain to be a fixture on future Senators' rosters. As with all young goalies, Hogberg will take a great deal of time and development before his potential NHL debut. With only two picks in the top three rounds, Ottawa did a fine job with what they had, but it is dicey to compare them against some of the jackpot hauls some of their competitors made, but certainly a solid B.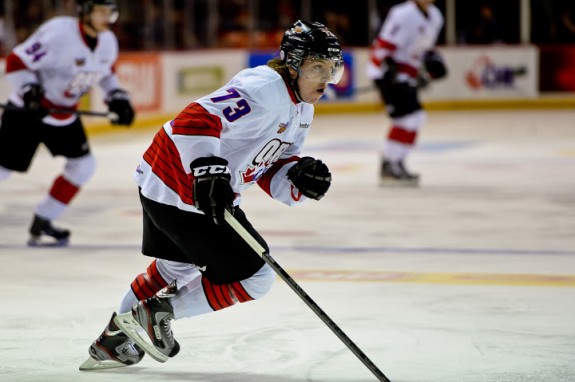 Tampa Bay Lightning
1st Round: LW Jonathan Drouin (3)
2nd Round: LW Adam Erne (33)
Late Round Sleeper? LW Henri Ikonen (154)
In an absolutely talent-laden 2013 draft, the consensus top offensive talent was Jonathan Drouin, otherwise known as The Human Hockey Highlight Film. Simply a magician with the puck; Drouin possesses seemingly supernatural passing ability, stickhandling and on-ice vision. GM Steve Yzerman fell so in love with this kid's Patrick Kane-like abilities that he was willing to pass on a pair of franchise talents in Seth Jones and Valeri Nichushkin in order to take the Halifax Mooseheads' star. The question might not be so much whether Drouin was the right choice, but whether Steven Stamkos can one day score 70+ goals in a season with Drouin on his left flank.
Despite an organizational need for defense in the system, the Lightning  were surely surprised to see Erne on the board in the second round. Largely rated as a mid-to-late first-round talent, Erne is a two-way horse with NHL size and top-line scoring skills. As if Tampa did not stock up the left wing cupboard enough, they took a late-round flyer on flashy Finnish scorer Ikonen at #154. although undersized, Ikonen plays without fear and has terrific hands and hockey sense, perhaps making him comparable to former Lightning draftee Cory Conacher.
Lightning Grade: A
Well, one thing is for certain — the Lightning system is pretty well stocked at left wing. Seriously though, any time a team gets a franchise player in a draft it must be considered a raving success, and Drouin is indeed a franchise player. A unique talent with the ability to make his entire team look better while making the opposition look simply foolish, Drouin will be a staple on the NHL scoring leaderboards for many years to come. The fact that Tampa also picked the perfect second-line left wing in Erne makes me ignore the fact that their organization is still starved for blueliners and give them a grade of A.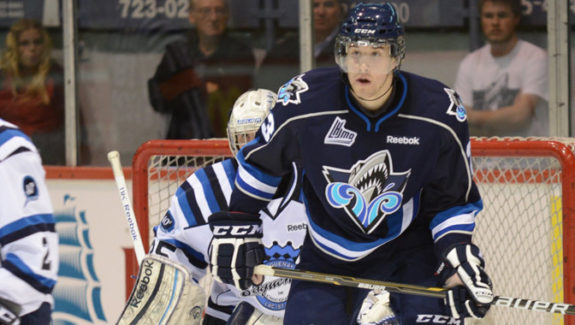 Toronto Maple Leafs
1st Round: C Frederik Gauthier (21)
3rd Round: C Carter Verhaeghe (82)
Late Round Sleeper? G Antoine Bibeau (172)
The Leafs have long sought size up the middle, quickly answering that bell with the 21st overall selection of the immense Gauthier (6'5″, 210). Gauthier is a smart kid with a terrific personality and an advanced defensive game for his age. Though he will never lead the NHL in scoring or perhaps even center a top line, he is a slam-dunk as a top defensive center who can contribute on the scoresheet. With his terrific skating ability for his size and willingness to pay and dish out a physical price, he is comparable to Jordan Staal at the same age.
Toronto stayed up the middle with their next pick, taking Verhaeghe 82nd overall. Another smart player with an advanced defensive acumen, Verhaeghe offers great potential as a future third-line center who can pop in a few points here and there.
Despite having recently shrewdly traded for the Kings' young goaltending stud Jonathan Bernier, the Leafs realize a team can never have too much goaltending depth and drafted Bibeau, a kid with ideal NHL size (6'2″, 200) who finished second in the QMJHL in save percentage over the past season.
Maple Leafs Grade: B
The Leafs did a good job addressing their deficiencies up the middle and drafted a nice sleeper between the pipes. It was a solid draft which will certainly help the club improve in coming seasons, though far from the spectacular drafts of Florida, Tampa Bay and Buffalo. Still, Gauthier and Verhaeghe are the types of players an NHL team needs to succeed in the post-season, and for that Leafs fans have something to celebrate.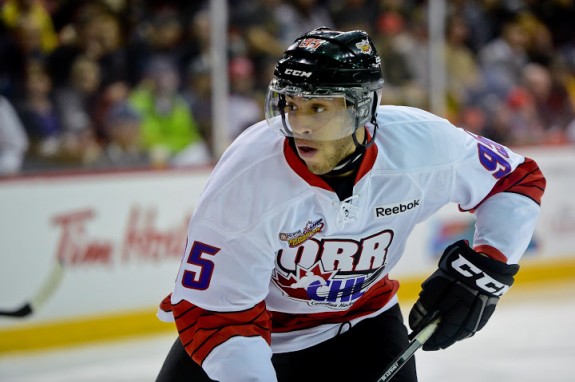 Division C Awards:
Best Forward: Jonathan Drouin, Tampa Bay
Best Defenseman: Nikita Zadorov, Buffalo
Best Mid-Round Pick: Justin Bailey, Buffalo
Head-Scratcher Pick: Tyler Bertuzzi, Detroit
Best Late-Round Sleeper: Anthony Florentino, Buffalo
Most Likely To Hang Out With Babe The Blue Ox: Michael McCarron, Montreal
My Draft Grades for Division A can be found here.
My Draft Grades for Division B can be found here.
Agree? Disagree? Dislike Buffalo so much that my article brought you to tears? Feel free to use the comments section below, or hit me up on Twitter: @StIves72
Writer/lunatic, hockey columnist, mlb.com, aspiring cryptozoologist, estrogen addict, patron saint of vertigo, unintentional ghost hunter. Brooklyn, New York