For the first time in a while, free agency  lived up to it's title. It was a frenzy indeed, a lot of it centered around the Ottawa Senators. Edmonton made a few moves as well, though not quite the one they wanted the most. The Oilers were going hard after rugged New Jersey Devils winger David Clarkson. His size, skating ability and offensive upside made him a perfect fit in the Oilers top six. The Oilers put a rather lucrative offer on the table for Clarkson, but ultimately the Toronto native elected to go home and play for his childhood team, the Maple Leafs.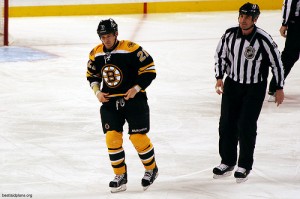 It might have been a blessing in disguise, however, because despite a 30 goal season the year before last, Clarkson isn't exactly known for his production, and the Oilers would have had a lot of money invested in a guy that may not end up as good as advertised. But missing out on Clarkson didn't stop Craig MacTavish for making some other moves.
MacTavish has been determined to add some toughness to his team, in particular on the back-end, so they signed free agent defenseman Andrew Ference to a four-year contract. The Edmonton native recently won the Cup with the Boston Bruins in 2011, and is excited to come back to his hometown.
"Obviously, I've got the nostalgia, but I'm just excited about the situation they have now with the talent, a new coach, a new attitude," Ference told TSN. "Definitely Edmonton jumps off the page for us. My wife grew up there, I was born there, we have family there. It's one thing to have all that, but they have a situation with a ton of talent, a lot of young guys, a team that just needs a little nudge over that hump and it could be a pretty neat time. I've seen that before. I've been fortunate to play in cities that care and love hockey and I wanted to continue to do that." (NHL.com)
MacTavish had been looking at Ference for a while, feeling he was the right kind of guy to add to his team.
"I've liked him for a long time. I've had my eye on him all year thinking he'd be a perfect fit for our group". (Twitter)
The Oilers also added face-off specialist Boyd Gordon and back-up goaltender Jason LaBarbara, both from the Phoenix Coyotes organization. LaBarbara isn't a lock to be Devan Dubnyk's back-up, however, as the team also signed former Dallas Stars goalie Richard Bachman. New head coach Dallas Eakins likely had a hand in bringing former Toronto Marlies players Ryan Hamilton and Will Acton to the team.
The Oilers may not be done, in particular when it comes to goaltending. MacTavish is working hard to improve his team, and considering all the recent moves he's made, including the Horcoff trade, the Oilers definitely get a passing grade for free agent frenzy 2013.
Marcy, a former hockey player, is a hockey correspondent on CTV News and TSN radio. She began her career as a Sports Journalist in 2009 and has been part of The Hockey Writers since 2010, where she is currently a senior writer and editor.