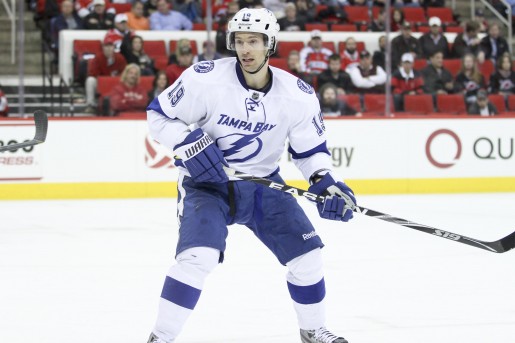 A Change in Philosophy
The Rangers, for the third time in four years, have managed to avoid making a big splash in the UFA market. Instead, they have opted to focus on signing quality depth players on the cheap.
Both Benoit Pouliot and Dominic Moore have signed on with the Rangers for one year at a discounted price (Moore at $1M, Pouliot at $1.3M). These signings bolster the depth of the Rangers' bottom-6, which has been exposed over the past few years for it's lack of depth, especially in the last two playoff runs. Both times, the fourth line ended up a line of, essentially, players who contribute nothing. Steve Eminger played wing at one point. Kris Newbury got in two games at the end of this year's playoffs, along with Michael Haley. No team that plans to contend will be able to do so with players like that occupying the fourth line. This isn't the 80s, where a fourth line could consist of three enforcers — in today's NHL, depth is key, and players like Dom Moore and Pouliot provide the depth that legitimate contenders need to win in the playoffs.
A New Face, and a Familiar One
Moore, a former Rangers of 89 games, is returning from a year long NHL break. He had discussed coming back to New York with management prior to the start of the lockout shortened season, but Moore reportedly felt he wasn't ready to step back onto the ice after he tragically lost his wife to a rare form of liver cancer. He played through the end of the 2011-2012 season with this weighing on his mind, and it showed in his production — he had only six assists in 23 games as a Shark after getting traded there from the Tampa Bay Lightning. However, prior to that, he had put together a string of effective runs, scoring 19 points in 56 games with the Lightning prior to the aforementioned trade, had 32 points in 72 games with Tampa Bay in 2010-2011 (including a run in the playoffs where he had 11 points in 18 games), produced 28 points in 69 games in 2009-2010 with Florida (17 points in 48 games) and Montreal (11 points in 21 games after being acquired at the deadline), and managed an impressive 45 point season in 2008-2009 with the Leafs (41 points in 63 games) and Sabres (four points in 18 games). In addition to being a decent offensive player, Moore is also a valuable penalty killer, a responsible defensive player, and a prickly, pest-like player. His agitation skills are an underrated asset of his. Considering what other fourth line players got (BOYD GORDON got $3M per), this looks like a steal, especially if he can regain his 30 point form.
It's a bit of a controversial signing for Rangers fans, as Moore had made comments several years back regarding the Rangers lack of developmental skills, lambasting management for hurting his game and not giving him, and other players in the system, an opportunity to make an impact, instead opting to overpay free agents on the UFA market. You know what — he was right, and I'm sure that he and management have patched things up. Otherwise, he wouldn't have signed here, would he?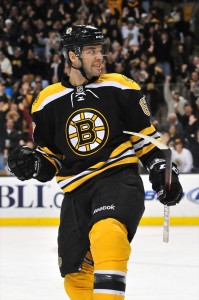 Pouliot is coming off a relatively productive season with the Tampa Bay Lightning, amassing 20 points in 34 games. Now, you may be asking yourself, if he had a solid season, why wouldn't the Lightning qualify him rather than let him walk? Well, it's a bit complicated.
Pouliot's qualifying offer dictated that he would be given a raise on his $1.8M salary, along with being eligible for arbitration. Had they qualified him, he could've filed for arbitration, and the arbitrator more than likely would have awarded him a raise on his $1.8M salary considering his productive season. Arbitration rules dictate that if the salary award is under $3.5M, the team does not have the option to walk away. So, rather than risk having to overpay him, the Lightning decided not to qualify him and try to sign him with other teams in the mix. Obviously, it didn't work, and it's to the benefit of the Rangers. Pouliot is a solid third line player who can play spot duty in the top-6 should there be an injury or a player is slumping. He never lived up to his 4th overall draft status, but over the last four years he has scored 20 points in 34 games with Tampa Bay, 32 points in 74 games with Boston, 30 points in 79 games with Montreal, and 28 points in 53 games (four in 14 with Minnesota, 24 in 39 after being traded to Montreal).
It will be interesting to see where Pouliot fits into the Rangers lineup — depending on how Kreider performs, I could see him getting top-6 duty next to Nash and Stepan, and perhaps he'll be able to find his offensive groove with two ultra talented players that have the chemistry these two possess. Pouliot has always been a skilled player, but he never seemed to be able to grasp consistency at the NHL level. He's still only 26 years of age — not "young", but not too old to find his game and become a contributing top-6 forward. Not expecting it, and, in general, I expect him to play third line minutes, but it's an interesting possibility. Sather loves himself some reclamation projects, and Pouliot is just that, and he has the potential to be a successful one. Sather's most recent reclamation project, prior to this? Anton Stralman. That turned out fantastically well. Hopefully, the same can occur here.
With Moves to Bolster Depth and Cap Space Dwindling, Could Brian Boyle Be Moved?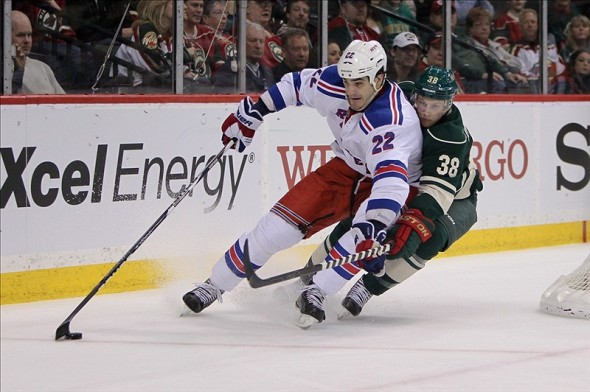 Now, here's the tricky part. The Rangers could be looking to move some salary out of town with their new acquisitions. In my opinion, and much of a fan I am of his, I think that Brian Boyle will or could end up being the cap casualty, here. With several young players looking to be potentially ready to make the jump to the NHL level, Boyle and his $1.7M salary block their way. He is a valuable player, and a very strong locker room presence, but he IS expendable, especially with additions of Moore and Pouliot to the roster. He is also relatively valuable, unlike recently waived black aces Arron Asham (actually think he can still contribute, just not on this current roster) and Darrol Powe (also think he can be a contributor, he's a fantastic PKer); but, apparently, they were of interest to no one, as they both cleared waivers earlier today.
If Boyle is traded, expect a decent draft pick in return (a second round pick is most likely), and perhaps a decent prospect as well (maybe make the draft pick a third rounder if the prospect has NHL upside). The Rangers won't be taking on any salary, as the only reason Boyle would be available is to clear his cap hit.
Another player who could be on the move is Taylor Pyatt, who makes $1.5M. I expect him to be kept around as the 13th forward, however — he had a solid playoff run and made some big contributions down the stretch while the team was fighting for a playoff spot. Pyatt is also good injury insurance, as he can play spot duty in the top-6 and not look completely out of place. He could be moved in favor of Boyle, however. Depends on the market. I think the trade market fot a center who can PK , is responsible in his own zone, and chip in a decent amount of goals would be larger than the trade market for a bottom-6 winger who doesn't really PK and is extremely inconsistent in his overall play.
The Rangers still have to re-sign their restricted free agents (Stepan, McDonagh, Hagelin, Zuccarello, and the newly added Justin Falk) and have around ~11M to do so (using the season cap figure, the Rangers can currently spend up to $17M and stay under the summer cap, I believe). The Rangers are apparently close to re-sign Ryan McDonagh, and apparently have held promising talks with Carl Hagelin and Mats Zuccarello. Not much has been said about Stepan, though. For the record, he isn't able to apply for arbitration; only the team can elect arbitration, which would protect him and the others from offer sheets.
It'll certainly be interesting to see what the Rangers do after this, if anything. Perhaps Sather has a big trade up his sleeve, but my belief is that this is, more or less, the roster the Rangers will be heading into training camp with, and I think it's been a good summer for Sather. There was no need to overpay David Clarkson, Stephen Weiss, Valterri Filppula, etc for the sake of making a splash. Instead, the Rangers added depth and will allow their young players to grow and develop chemistry under a new coach. I like that approach, much more than the "throw money at players who will ultimately fail" approach. The Rangers, and Glen Sather, have come quite a long way.