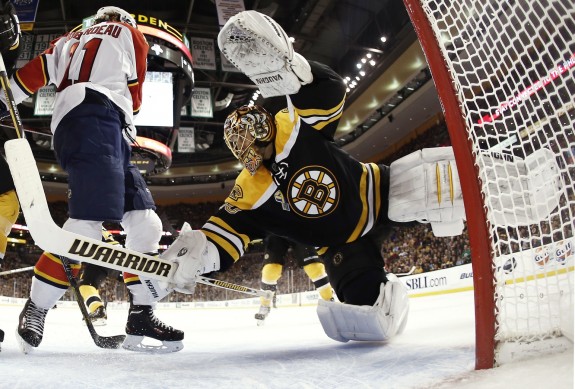 The Boston Bruins are on a roll as of late, winning six of their last seven, and it's no secret that the stellar play of Tuukka Rask in net is a huge reason why. On Tuesday night against the Rangers, Rask stopped 43 shots as the Bruins, much like Snake Plissken, escaped New York with a 2-1 victory.
The Boston Bruins face off against the St. Louis Blues tonight and Rask will again get the start, his third start in four nights, this is putting the Bruins at risk of burning out their star goaltender before the season ends.
Let's just take a look at the facts here, Rask has never played more than 45 games in a season and the Bruins need much more out of him. However, look at when Rask did play in those 45 games in the 2009-2010 season, Rask went 5-4 in March while splitting time with Tim Thomas and faltered in the playoffs against the Philadelphia Flyers, blowing a 3-0 series lead.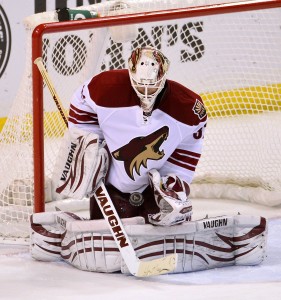 The Boston Bruins have too much talent and high expectations to have the same result this season that they had in 2010, but the Bruins don't have Tim Thomas as Rask's backup this season, instead they have the much less experienced Chad Johnson.
Johnson has only played in three games this season with a record of 2-1 and a GAA of 2.3. Solid stats, but he is a definite downgrade from Anton Khudobin. Khudobin proved that he could be a reliable backup for Rask, something Johnson has yet to do. Khudobin went 9-4-1 last season and he turned that into a new contract with the Carolina Hurricanes where he is now a very good backup to Cam Ward.
If the Bruins defense continues to have games like they did on Tuesday night against the Rangers, it's only going to burn Rask out further. The Bruins allowed 44 shots on goal to the Rangers in a surprisingly less than stellar defensive night for Boston. Luckily for the Bruins, Rask was Superman in net and stopped all but one, a power play goal to Derick Brassard in the second.
The Bruins got lucky that night with a couple of missed chances by the Rangers, but there are many more teams that won't miss those chances. So, the defense needs to tighten up and allow less shots on goal, a simple way to not overload Rask.
The success of the Boston Bruins' falls squarely on Rask's shoulders and the team needs to give Rask more rest and give Johnson more playing time. We don't know enough about Johnson yet because he really hasn't played all that much. Rask is second in the NHL with 18 games started in goal, second only to Marc-Andre Fleury, Mike Smith, and Roberto Luongo. Rask does have a sparkling GAA of 1.61, but it's only a matter of time before that dam bursts and that GAA inflates, if the Bruins don't decide to give him more rest.
One thing might be out of the Bruins' hands and that is the upcoming Winter Olympics in Sochi, Russia. Rask will more than likely at least make the Finnish squad and looks like the favorite to be the starting goaltender for Team Finland. All those games against such talented squads in two weeks will definitely take a toll on Rask, but Claude Julien has no say in how Finland sets their roster and the Bruins will just have to grin and bear it and hope nothing bad happens in Russia.
The Bruins are only as strong as its goalie and this goalie needs some more rest or else, it's a wasted season in the Hub.
Do you think Rask is going to be burned out? Comment below or send me a Tweet, @MarkWGraham