There has to be a word – any word – worse than 'disappointment.' Even then, that term wouldn't describe the way the Detroit Red Wings' players and management have felt over the past couple weeks. Even harsher, are the reactions of fans in Hockeytown. Their response can only be compared to that of a disapproving parent – quiet, heads lowered, and overly disheartened.
It's been too long for the Red Wings and their fans since they last saw a win. The team hasn't won in seven consecutive games and have lost eight straight at Joe Louis Arena. Now, it's not as bad as it could be. During their losing streak, the Wings still notched points in five of the seven games – which is good enough for fourth in the Atlantic Division and only four points back of the first-place Boston Bruins.
Red Wings Below Average by Hockeytown Standards
There's no question that coming into the season, fans in Detroit expected yet another playoff season from the boys in red and white. And even through this losing streak, there's still an expectation that the team will find its footing and get back in the win column. But on Tuesday, against Nashville, the Wings hit a season low by being shut out for only the second time this season – and by a rookie goaltender nonetheless. So where has the Detroit offence disappeared to?
Well, it's not hard to come up short when opponents only have to focus on one line. For the Wings, most of their scoring this year has developed from only their top line of Todd Bertuzzi, Pavel Datsyuk, and Henrik Zetterberg.
Head coach Mike Babcock – to this point – has refused to break up Datsyuk and Zetterberg. Of course – why mess with the one thing that's clicking on your team? But what the Detroit lineup needs is some balance. They need every player to be a threat around the net and inside the attacking zone. That alone will be the only way they can begin to salvage what started as just another good season for the team in Hockeytown.
And it seems that Babcock has come to the same conclusion. As Detroit Free Press writer, Helene St. James reported, lines looked a little different for the team's game-day skate.
Datsyuk with Bertuzzi and Cleary, Zetterberg with Nyquist and Franzen. #redwings

— Helene St. James (@HeleneStJames) November 21, 2013
But under-performing hasn't been the team's only problem. It's no secret that the team has battled injuries all season long.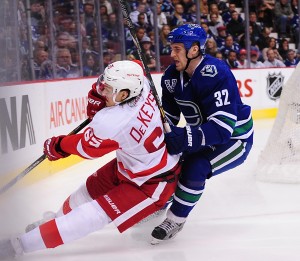 No Cure for Injury Bug in Hockeytown
It's amazing the injuries that have plagued some of the game's top players thus far this season. The NHL's seen Alexander Ovechkin, Taylor Hall, and most recently Steven Stamkos all sit with some kind of injury – minor or more significant.
Detroit's been no different. While Zetterberg and Datsyuk both find ways to maintain good health – at least thus far – players like Daniel Alfredsson, Niklas Kronwall, and Johan Franzen have all been out of the lineup at some point this season.
Jimmy Howard missed a few game early on, but the team was lucky enough to seen Jonas Gustavsson play at the top of his game in his absence. What's hurt the team has been the injuries to some of their role players.
Both of their bigger offseason acquisitions – Stephen Weiss and Alfredsson – have been injured of late. Weiss was expected to bring the same sort of physical and offensive game to Hockeytown that he provided Florida with during his years with the Panthers. That has yet to be seen. Alfredsson just seemed to be getting comfortable with his Wings teammates when he suffered his injury which has kept him out for a little over a week.
But hold on, there's more. With the team's blue line seemingly a constant shuffle, it hurt even more when second-year defenceman Danny DeKeyser was taken from Tuesday's game with a separated shoulder – an injury that could see him miss four to six weeks.
UPDATE: The #RedWings have placed Danny DeKeyser on long-term injured reserve. He will miss a minimum of 10 games and 24 days.

— Detroit Red Wings (@DetroitRedWings) November 20, 2013
Danny DeKeyser is sad. No playing for 4-6 weeks while recovering from separated shoulder. #redwings pic.twitter.com/FbSDQPnXiB

— Helene St. James (@HeleneStJames) November 21, 2013
But the team knows it can't use excuses. In fact, with DeKeyser out and the team placing him on long-term injury reserve, the fans in Hockeytown will see a face that many have been calling for in the lineup on Thursday night against Carolina.
DeKeyser to LTIR will allow for enough cap space to recall Nyquist tomorrow, opposed to around Jan. 15 if no injuries had struck.

— CapGeek (@capgeek) November 20, 2013
The Goose is Back
That's right Hockeytown – Gustav Nyquist was recalled and is expected to be in the lineup tonight against Carolina. Nyquist was a spark plug for the team late last season and into the playoffs and it's been his name that fans in Detroit have wanted to see all season long.
Every time they show Gustav Nyquist on that "young guys" promo, my blood pressure goes up 800psi

— Winging It In Motown (@wingingitmotown) October 31, 2013
So excited Nyquist is back up!! #wings

— Lesley (@LesleyisMore) November 21, 2013
Nyquist led the Grand Rapids Griffins with seven goals and 14 assists before getting called up yesterday and hopes he can continue his success in helping the big club.
"He's quick, generates offence, gives us another skilled player to play on our top six," said Babcock in an article by Red Wings Front. "We knew all along that we were going to try to get him here we just financially had no way to do that."
So with Nyquist back in and the Zetterberg-Datsyuk combination broken up, could Thursday night be just what Detroit and the Red Wings' organization need to get back on track? It seems as though the excitement is there and even though players and the coaching staff won't mention it, this game could be the earliest do-or-die contest for a team that isn't used to long losing streaks.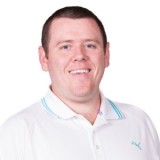 Andrew is in his 8th year reporting for The Hockey Writers covering the Toronto Maple Leafs. He began his broadcasting with CBC's Hockey Night in Canada team as well as being part of their coverage of the 2014 Winter Olympic Games in Sochi. He's the former play-by-play voice of the London Jr. Knights for Rogers TV and currently hosts the Sticks in the 6ix podcast. You can follow him on Twitter at @AndrewGForbes.