By Mike Miccoli, Boston Bruins correspondent
It didn't take long for the Boston Bruins to call upon their seventh defenseman to enter their starting lineup. On Monday's 2-1 shootout win over the Winnipeg Jets, the Bruins were forced to dress newly-acquired defenseman Aaron Johnson in place of Dennis Seidenberg, who was ruled out of the second game of the year with a lower-body injury.
Paired with Johhny Boychuk, Johnson made his presence felt early in the first period after connecting with a flattening hit on Dustin Byfuglien against the boards in Boston's own zone. Johnson saw 15:14 minutes of ice time in his first game as a Bruin while spending time on the penalty-kill.
"I found out once I got here today," said Johnson who addressed the media after the win. "They gave me the heads up that there was potential yesterday."
Johnson, who is playing with his 6th team since being drafted by the Columbus Blue Jackets in the third round in 2001, looked composed on the ice, fitting in quite well on the back line. The issue now becomes how long Dennis Seidenberg would be out for. Bruins' head coach Claude Julien is hopeful that Seidenberg is back in the lineup for the next game in New York.
"This is a situation, early in the season you want to sacrifice one game so that it doesn't become a two-week situation," said Julien. "We're just getting going here, it's such a condensed schedule that sometimes if you take those chances, you'll make it worse than better. We took a precaution and we were willing to live without him today. Hopefully, that's all it's going to be."
Previous to Boston, Johnson spent his 2011-12 season in his second stint with Columbus where he tallied three goals and 13 assists for 16 points in 56 games. He's played in two games with Boston's AHL-affiliate Providence Bruins this season since being assigned on a conditioning stint, tallying an assist.
"Looking back (playing in Providence) was probably the best thing for me," said Johnson. "I got to play a couple of games, get a lot of minutes and just get in there physically and mentally. It's better to be down (in Providence) playing then to just be sitting watching."
The other newest addition on the Bruins' blue-line, Dougie Hamilton, had a solid game, too.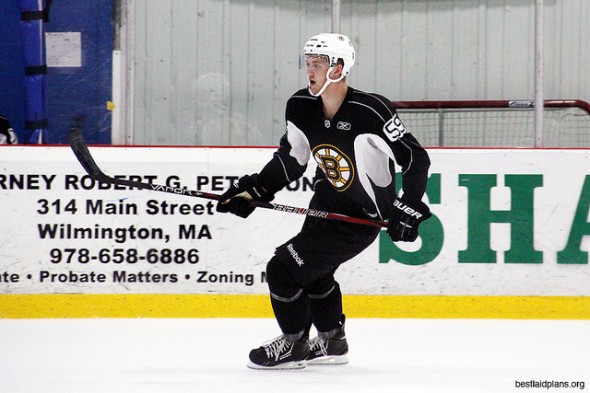 You won't see it on the scoresheet, but Hamilton's big play keeping the puck in the Winnipeg zone was crucial to the Bruins' first goal. The ninth overall pick in 2011 played the boards while closing any lane that Tobias Enstrom had to make a pass to break out of the zone. Tyler Seguin swooped in to take away the puck and found a wide open Brad Marchand who slammed the puck home on a backhand. Hamilton's heads-up hockey play was one of many, little things that the rookie did in the second game of his career.
"He was put in a tougher position today than he was in his first game, with [Dennis] Seidenberg out and Aaron [Johnson] coming in and playing his first game," said Julien. 'He had a bigger role to play, and I thought even in the second half, noticed that he was making better plays with the puck than he had so far. I think that's confidence coming around and experience, and he's starting to feel his way through these games, and that's pretty impressive for a young player.
Hamilton picked up 23:27 minutes of ice time, over ten minutes more than he did against the New York Rangers, and was second only to Zdeno Chara's log. Being paired with the Bruins' captain, one of Hamilton's idols growing up, definitely helped.
"It's just really cool for me," said Hamilton after the win. "I think before I got drafted, maybe after I got drafted too, just kind of looking for that opportunity. (In training camp) I had been skating with him, so just to be able to come in here today was pretty cool just to see that and just wanted to play good for him."
The 2-0 Bruins head to Madison Square Garden to face-off against the 0-2 Rangers on Wednesday.
Follow Mike on Twitter for more Bruins updates, news and commentary