The Boston Bruins are pretty loaded with young talent. At the NHL-level, the B's have several talented young players, including Torey Krug and Malcolm Subban. However, some Boston fans are unaware of the pool of talent that the Bruins have that are still developing, including recent draft picks Jakub Zboril, Jake DeBrusk, and Zachary Senyshyn, UND goaltender (and back-up Bruins' goalie hopeful) Zane McIntyre, and last but not least, Miami's (Ohio) Sean Kuraly.
For those of you who have never heard of Kuraly, I'll give you a quick run-down. Kuraly is a two-way centerman entering his senior year at Miami of Ohio, where he will captain the RedHawks next season. The 6-foot 2-inch center has received a lot of praise from hockey experts, who believe that the 22-year-old will make an impact as a third or fourth liner in the NHL next season.
At 209 pounds, Kuraly has the potential to play a Bruins-style of hockey at an NHL-level, which is just the reason that Boston traded for him earlier this offseason.
For those of you who don't remember, the Bruins acquired Kuraly from the San Jose Sharks (along with a 2016 first-round pick) in exchange for former Kings backup goalie Martin Jones (who Boston received as a return in the Milan Lucic trade).
Now that Kuraly's a member of the Bruins, the team thinks that there's a lot to be excited about.
"He plays hard. He fits the mold for a Bruin and that's what we like about him," said Boston's development coach Jay Pandolfo, according to ESPN.
Miami University coach Rico Blasi had similar ideas.
"He plays hard all the time. His skating is probably one of his bigger strengths, but he's got that aggressiveness, that strength that Bruins fans are accustomed to having on their teams," Blasi said.

"Initially, you're wondering how he's going to react and you make sure he's OK. But when you analyze it, it's a good fit, for not only Sean, but for the Bruins as well. I was really excited for him,"
As a college kid, Kuraly wasn't expecting his name to mentioned in any trades following draft weekend.Despite being caught off-guard when hearing the news, Kuraly was excited to hear that he had been traded to Boston.
"Oh, it's been crazy," Kuraly said. "You never really expect as a college kid to get traded. I had development camp all set to go in San Jose, and then I get a call and I'm a Boston Bruin. It was really weird at first, but after I got my head around it I was just really excited."
https://twitter.com/bruins_fanly/status/623675448694718464
However, regardless of how excited he is, Kuraly has decided to take the smarter road, and opted to finish his senior at Miami. Many players may, and do leave school before finishing their degree. However Kuraly decided that it was best to finish the last year, develop as both a player and a person, and then move on to professional hockey.
"I got in by the skin of my teeth," Kuraly said. "So I've got to take advantage of that while I can,"

"To leave just doesn't feel right, it doesn't fit with what we stand for and how I felt, I've worked this hard to get this far with [school] and it's something I feel more comfortable finishing now. I'm close enough that it will take me one more solid year and then I'll have it for the rest of my life, and I'll feel better about pursuing my dreams of playing hockey knowing that there is another plan if it doesn't all work out. That will help me be a better hockey player."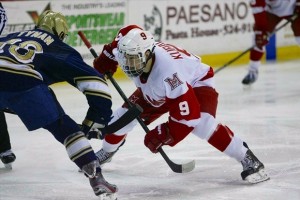 Personally, I think Kuraly's decision to play his final year with Miami is something to be admired. Some people would say that it's a risk to play one more year, since an injury could occur. However, it's an equally large risk, in my opinion, to leave before getting your degree. That same injury could happen at an NHL or AHL level, and the player could be knocked out of the game, with no college degree to fall back on. On top of that, playing the final year with Miami will further develop him in an extremely strong college hockey system, both as a player, and as a person.
Rico Blasi agrees.
"He's very unselfish," Blasi said. "As good as a player he is on the ice, he's a much better person off the ice. He's just a tremendous teammate, a good communicator and understands relationships. The biggest thing, I think, as a leader you have to be able to influence in a positive way and Sean certainly has those abilities.

"He shares the vision of what we're trying to do at Miami and that's to be the best we can be every day, and not only hold himself to a standard, but to hold his teammates to that standard as well."

"He understands process," Blasi said. "He understands the commitment level that it takes to play at the National Hockey League level, and the commitment it takes to get your degree, and the commitment level it takes to be a captain, to be a good teammate, and do the best you can on a daily basis."
While Boston fans may have to wait another year to see Kuraly make an impact for their organization, they certainly have something to be excited about.
Cam is a Broadcast Journalism student at the University of Maryland. He's the Boston Bruins Beat Writer at The Hockey Writers, and is an avid college hockey fan. Find him on Twitter @CamHasbrouck!