Buffalo has struggled at a record level offensively as a group over the past two seasons.  Tyler Ennis has been the Sabres most dynamic offensive player over the last few years.  Last season in particular, Ennis excelled in the role of a top line forward, on a nightly basis the Canadian born forward was the Sabres best offensive player.
Ennis scored 20 goals last season for the third time in five full NHL seasons.  The 25-year-old only fell short of 20 goals during the lockout shortened season and when he missed 34 games due to injury.  During that injury shortened season Ennis had 15 goals before he went down, he was on pace for a career high 25 goals.  The former first round pick has been an under the radar consistent player throughout his career.
During his NHL career, Ennis has never really played with a dynamic playmaking center or winger.  The top talent Ennis has had as a line mates include players like Derek Roy and Drew Stafford.  This upcoming season however will be a lot different for the speedy forward.  Ennis will have the opportunity to play with a playmaking center in Ryan O'Reilly.  O'Reilly averaged 37 assists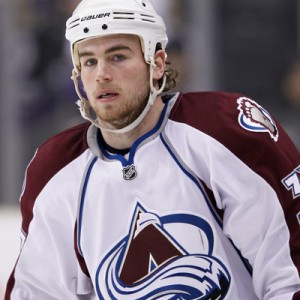 in last three full seasons in Colorado, which is great news for Ennis.  While playing for Team Canada at the World Championships this past summer, O'Reilly and Ennis played together.  Ennis spoke highly of his time as a line mate of the 24-year-old O'Reilly.  The two started to build a chemistry, that they'll be able to pick up on this upcoming season.  Along with O'Reilly, Ennis will find himself playing alongside either Evander Kane or Matt Moulson.  It'll be the most talented line mates has played with in his entire career.
Looking back on Ennis career numbers it's easy to make an argument why it's likely he has a career season ahead of him.  In his first two full NHL seasons, Ennis averaged 2.3 points per 60 minutes in even strength situations with a more talented team around him.  Once the Sabres began their rebuild Ennis was still productive, but his P60 in 5v5 over the last three years has dropped to an average of 1.5.  The Sabres on paper look to have a far better club than they've had over the past two years.  I would expect Ennis to return to at least 2.0 P60 in even strength situations next season.  Playing with an excellent two-way center like O'Reilly, Ennis will be able to focus more on his offense and spend less time in the defensive zone. My expectations for next season for Ennis is to be around 25 goals and eclipse 50 points, which would be career highs in his 7th NHL season.
At only 25-years-old I feel like Ennis is overlooked for what he brings to the Sabres.  The dynamic speed and playmaking ability make him a threat every time he steps on the ice.  Buffalo has him locked up to a long-term deal for the next five seasons at a very affordable cap hit of 4.5 million dollars per season.  Ennis will again play an important role for the Sabres next season and could be in line for a break out season as Buffalo begins the next chapter of their rebuild.