It's pretty crowded in Boston when it comes to the Bruins' goaltender situation. With one of the strongest goaltenders in the league in Tuukka Rask, and a couple of strong candidates for the backup spot (Jeremy Smith and Malcolm Subban), there's very little room for goaltenders that are trying to make a name for themselves with the Bruins. That hasn't stopped Zane McIntyre.
The 6-foot 1-inch goaltender had a tremendous junior year with the University of North Dakota last season. He was the best goaltender in all of college hockey last season, with a 2.05 goals against average, and a .929 save percentage en route to a 29-10-3 record with UND. He was given the Mike Richter Award as the best goaltender in college hockey, and was even a finalist for the Hobey Baker Award.
Camp vets Zane McIntyre & Rob O'Gara reflect on lessons learned after another summer in BOS: http://t.co/QGowztzVRG pic.twitter.com/uyRLk8frrf

— Boston Bruins (@NHLBruins) July 20, 2015
With a crowded Bruins roster as far as goaltenders go, it would've been perfectly reasonable for McIntyre, who was drafted by the Bruins back in 2010, to use his rights in the collective bargaining agreement that would allow him to become a free agent this summer. Instead, he opted to sign with the Bruins.
"Deep down I knew I wanted to be a Bruin. … There's a lot of similarities where I've kind of grown up with kind of a hard-nosed mentality; you earn everything you get," McIntyre said, according to NHL.com. "I don't know if it's the city or the culture. I don't know. It's something pretty special, and I felt really comfortable with the organization here as well in my position.

"I spent my past three years in Grand Forks (N.D.), where it's just a small town. Everybody really enjoys hockey. … But in this area, it's a sport market. Everyone loves being a Bruins fan. There's a lot of history, a lot of passion here. That's something that really spoke to me, and I think I kind of felt comfortable in a sense in that aspect."
McIntyre's passion to play in Boston goes beyond his words. The 22-year-old goaltender has big plans with the Bruins, and even hopes to make a run at the backup position this fall.
McIntyre told NESN that he "absolutely" wanted a shot at the B's backup role this season.
"As a hockey player, you're super competitive in any position." he told NESN. "We're going to try our best to be the best, whether it's on ice working, off the ice doing stuff as well. I'm going to put by best foot forward in every situation I can to maybe get that spot that's ahead of me."
McIntyre has been praised by the hockey community. His athletic body is matched by a hybrid technique that allows him to utilize a mixed butterfly/scramble style.
Hockey's Future says this of McIntyre: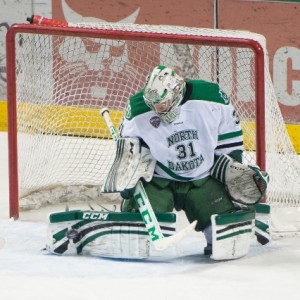 McIntyre is a dexterous and athletic goalie with strong puck handling skills. His style is a bit of a throw-back, combining elements of the butterfly technique with an ability to improvise and scramble, not unlike that of one-time Blackhawk's netminder Marty Turco. Competitive to the point where he hates to give up on a play he uses his height and long limbs to make stops that look out of reach. McIntyre's hybrid style and reliance on reflexes sometimes make him prone to poor rebound control; an area he has worked to improve while at North Dakota. McIntyre displays some uncanny natural instincts, reads the play well, and has the poise and patience to wait out shooters in one-on-one situations.
Despite the high level of competition, the Bruins admit that they'll certainly give a look to McIntyre.
"I'm sure they're going to give him a good look in training camp," said Bruins development coach Jay Pandolfo, according to NHL.com. "I'm sure he'll be in rookie camp, and they'll get a quicker look at him before the other guys get there. So I'm sure he'll get a good opportunity."
While it will certainly be difficult for McIntyre to earn the spot, he'll be bringing his best game when the team takes the ice for camp this fall. Whether the standout goalie sees time in the NHL or AHL this fall, he'll be working to make a name for himself in the Bruins world, Boston, or Providence.
"I just got to learn to control what I can control and put my best foot forward, whether that's in the situation at the big-club level or whether that's in the AHL," he said. "Wherever you go there's going to be competition. So I know that and understand that and I've just got to go forward."
What do you think? Does McIntyre deserve a spot on the roster this fall? Will he get a good look?
Let us know what you think, and contact us on Twitter @CamHasbrouck and @TheHockeyWriter and we can talk!