The dominos are starting to fall. When the Boston Bruins traded Rob O'Gara and a 2018 third-round draft pick to the New York Rangers for veteran defender Nick Holden, they made it clear that depth will be important for a long postseason run. It wasn't the big swing many expected with the team being reportedly interested in Ryan McDonagh and with a trade for the elite defender making sense, but it was a move that solidified the Bruins depth beyond their top-seven defense options.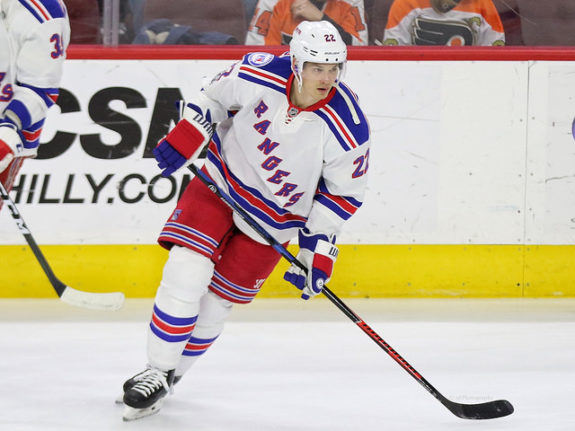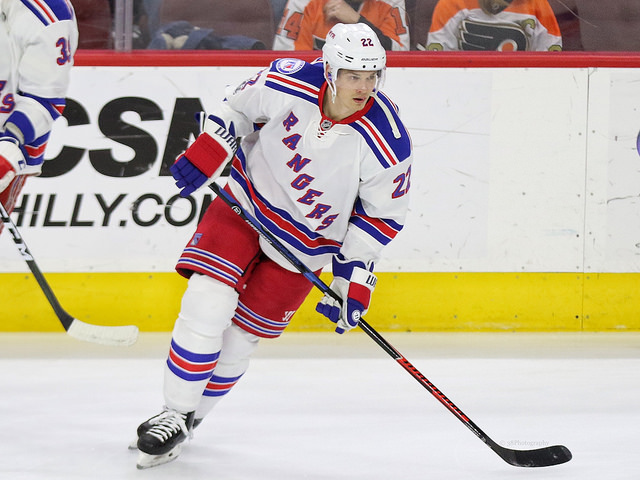 The cost was as expected as well, even before Michal Kempny set the market when he was traded from the Chicago Blackhawks to the Washington Capitals. Beyond this trade, however, the Bruins will undoubtedly have more decisions to make.
The obvious next step would be to address the fact that the team has nine defenders on their NHL roster. Between Zdeno Chara, Charlie McAvoy, Brandon Carlo, Torey Krug, Matt Grzelcyk, Kevan Miller, Adam McQuaid, Paul Postma and the newly acquired Holden, something has to give.
It's for that reason that the Bruins will have to make a decision on what their next plan of action is sooner than later. While the team could try and send Postma to the AHL, he'd be subjected to the waiver-wire which he would almost certainly be claimed from. Another option could be the Bruins making a trade involving Postma, though that would come with obvious risks as well.
Trading Postma Means Less Depth
The Bruins are in a weird situation where each of their 12 regular forwards of seven defensemen can make a legitimate case for why they should be in the lineup every night. With that, swinging a deal to acquire a player to bolster the team seemed like a likely course of action, but it led to many questions about who would be taken out of the equation in the process.
By trading for Holden, the Bruins effectively lowered Postma on their depth chart and didn't affect their winning formula.
Still, the fact that the Bruins then made Postma expendable in terms of a roster spot may have ultimately cost them the services of the 28-year-old altogether. If a trade involving Postma comes about in the next few days, it will be clear that the Bruins wanted a more dependable and experienced blueliner in Holden to fill in for their depth defense position over Postma.
What that means, however, is that the Bruins would then be without a proven ninth defender in the postseason in the event that a string of injuries occurs.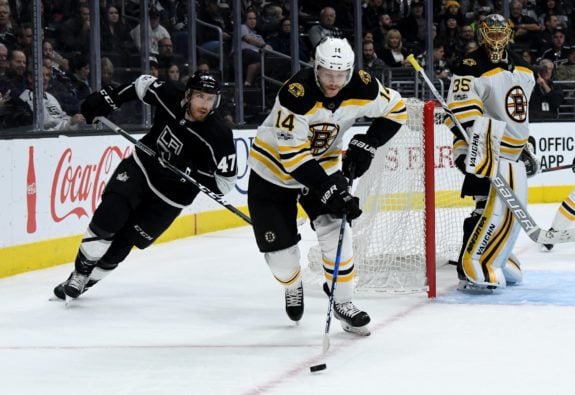 Planning ahead for a ninth and 10th defenseman in the playoffs may seem like a stretch, but let's not forget that Tommy Cross was forced to play in a postseason game last year after playing in only three NHL games to date in his career – none of which came in the 2016-17 season. Cross has proven to be a good AHL defender with strong leadership traits that have made him invaluable in Providence. His ability at the NHL level, however, is a totally different story.
It isn't a slight at the Hartford, Connecticut-native either. It's simply the way things are at the professional level. At 28 years old, Cross knows his services are best suited as the Providence captain and while it's a heartwarming story that the career-AHL defender got a chance to play in the playoffs, it should have never come to that in the first place.
If the Bruins make a move involving Postma, they run the risk of having to play another inexperienced defender in the postseason if the team succumbs to injury. Given their track record this season, it isn't that big of a stretch to imagine more than two defenders being hurt at the same time. That would then leave the Bruins in a tough spot given the lack of known NHL-capable defenders beyond Holden. It could, however, lead to an opportunity for a young player to get their shot.
Lauzon or Zboril Could Debut
If push comes to shove, the Bruins could ultimately look to call-up one of Jeremy Lauzon or Jakub Zboril. While Lauzon has dealt with injuries this season, he's looked good since returning to the Providence lineup a few weeks ago. Playing the left-side on a pairing with Zboril as of late, it wouldn't be out of the question to see Lauzon called up if the Bruins find themselves with no other choice.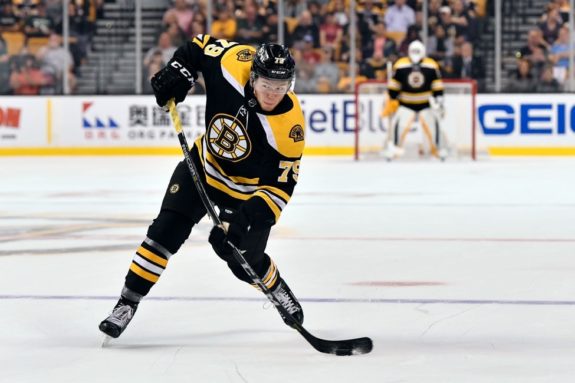 With only three assists in 28 AHL games this season, Lauzon hasn't been the offensive juggernaut that he was in Rouyn-Noranda of the QMJHL. Still, his two-way ability is undeniable and he proved as much in the preseason with Boston prior to the 2017-18 season. If he gets called up, the 6-foot-3, 202-pound blueliner should have a chance to prove he can hold his own.
Zboril, the left-shot defender, has been tested on the right side in recent games. It's caught the attention of fans and media as well and could be a sign that the Bruins are looking to make use of their over-abundance of left-shot blueliners. It could also mean the Bruins are grooming him in case a call-up truly is necessary at some point.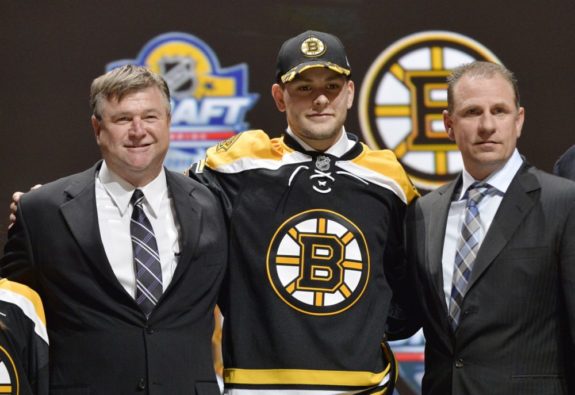 It's been a roller coaster year for Zboril, but he's shown confidence as of late that has led to good decision-making and good performances all around. If everything goes perfectly, the Bruins wouldn't need to put their fate in the hands of either Zboril or Lauzon, especially with McAvoy, Carlo and Grzelcyk already figuring into the team's plans right now as young blueliners. If its necessary and the Bruins deem either Lauzon or Zboril ready to go, it wouldn't be they'd be relying on a young defender in a postseason run.
Krug and McAvoy Making Impacts Early
after having a successful career at Michigan State University, the undrafted Krug would go on to play in two games with the Bruins in 2011-12, scoring an assist in that time. He played in another NHL game the following season – a game that saw him record another assist for the Bruins.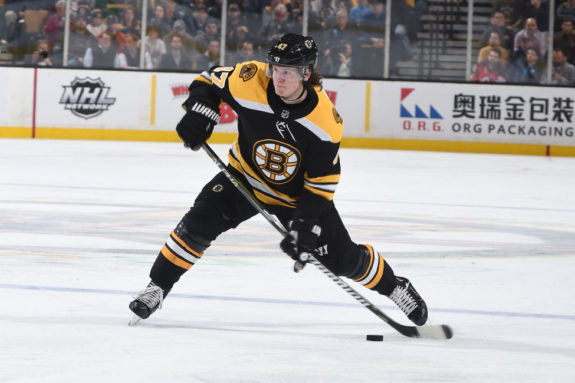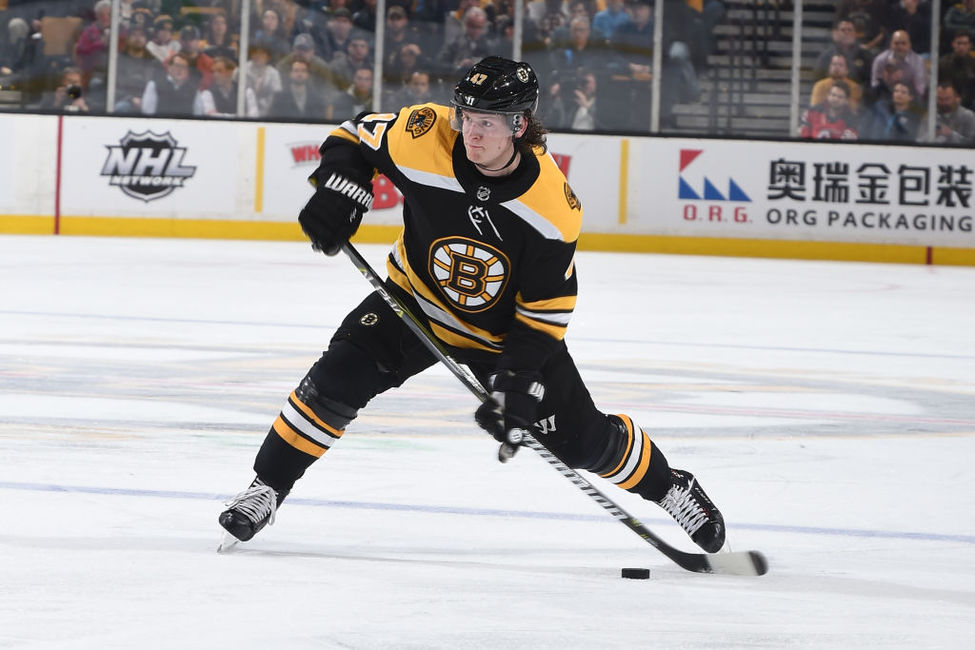 For the most part, however, the 5-foot-9 blueliner was tasked with playing in the AHL. He performed well too with 13 goals and 45 points in 63 games as a defender, and it earned him a call-up in the 2013 postseason when the Bruins saw themselves losing defenders to injury by the game.
One of the most memorable debuts the Bruins have had in a while, Krug scored four goals in five games in the five-game series against the New York Rangers (a game in each game but Game 4).
He finished his postseason run with four goals and six points in 15 games but was too valuable to keep out of the lineup from that point on. He would go on to become an NHL regular the following season and has been a mainstay with the Bruins ever since.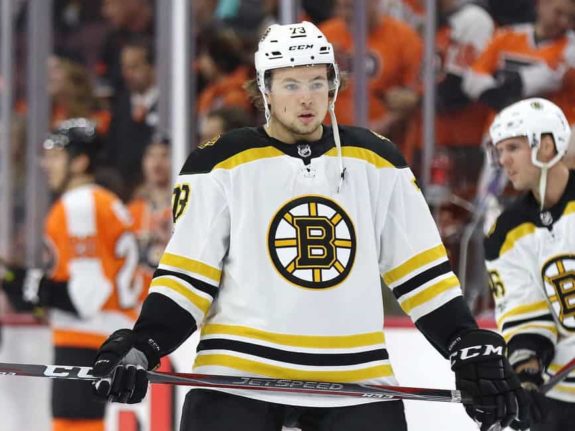 Last season, the Bruins dealt with a number of injuries on their backend again heading into the postseason. With Krug, Carlo and McQuaid dealing with injuries, the Bruins were forced to rely on the 19-year-old McAvoy who had yet to make his NHL regular season debut at that point.
While it wouldn't be reasonable to expect Lauzon or Zboril to perform at the same level as McAvoy from their first game in the league, the Bruins have proven that young defenders with high-upside can be called upon if they're groomed the right way.
Finding a way to retain Postma would be ideal for the Bruins. Trading him away would come with risks. Despite that, however, the Bruins still have some options for their ninth and 10th defenders beyond Postma and could find themselves in a successful position regardless of their next move.
Brandon Share-Cohen has covered the NHL and various professional sports for seven years. Working with The Hockey Writers, Brandon works extensively on covering the Boston Bruins in addition to his role as the News Team Lead.