Trade speculation continues to swirl around Montreal Canadiens Captain Max Pacioretty. Pacioretty is the Canadiens' best and most moveable asset as the Habs move inexorably toward a reset. What's a reset you ask? Something less than a rebuild and more than a re-tool apparently. Call it what you want. It is past time to start remaking this team. Brendan Gallagher will be a key member of this team for years to come. He is Captain material.
Trading Pacioretty now gives the receiving team two bites at the playoff apple before having to negotiate a pay raise for him. Max will thrive on a team with a defense that can make a first quick pass. He should return to form when he plays with a legitimate top line center. He is also likely to do better with the weight of the captaincy in Montreal off his shoulders.
Related: Trade Max Pacioretty to the Blues
The Case for a Gallagher Captaincy
If Pacioretty is indeed traded, the Canadiens need to make a choice about who should be the next Captain. While Shea Weber has to be in the conversation, Brendan Gallagher should be considered Habs captain in waiting. He is a 5-year veteran of the team, he brings an effort in every game and during every shift, and most importantly he is a leader on the ice and off.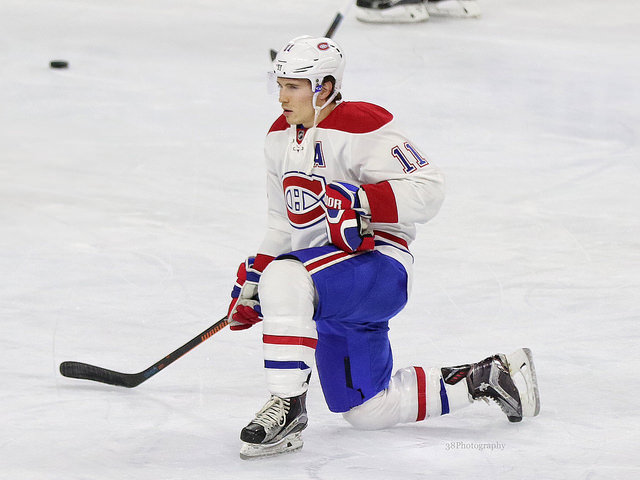 Habs Veteran at 25
It is strange to call Gallagher a veteran. Yet he is just one a just a few Habs that have not been traded or otherwise released since 2015. He has seen the team at its recent best and this season, its worst. Naming Gallagher Alternate Captain in 2015 reflected the respect he has earned not only in the Canadiens room but also around the league. It means he has experience interacting with referees game-in, game-out. It means playing hard while finding ways to stay within the letter of NHL rules. For example, No. 6.1 establishes the limits of such interactions.
Any Captain, Alternate Captain or any player who comes off the bench and makes any protest or intervention with the officials for any purpose shall be assessed a minor penalty for unsportsmanlike conduct…. A complaint about a penalty is NOT a matter 'relating to the interpretation of the rules.
Effort Night in and Night Out
A consistent complaint about Max Pacioretty is his inconsistent effort. Fans often suggest that there are games where he seems to glide around totally unengaged and games where he has another gear. Especially this year, fans want to see the Captain of the Montreal Canadiens playing hard every single shift. No one doubts Gallagher's effort. Gallagher has 21 goals and 34 points this year. Earlier this year he stated:
I think I'm just going to go out and do my job and go about my business. I don't think I need to be coddled or anything like that. I think I understand what I need to do, and if I'm not playing well, I understand that and I'm the first to tell myself that I need to be better.
Leader On and Off the Ice
Writing about Gallagher as the heart and soul of the Canadiens, Stu Cowan wrote this year that even in a lost season, Habs can count on three things:
Brendan Gallagher will give 100-percent effort on every shift; Gallagher will get whacked like a piñata in front of the opposing net and get up smiling, ready for more; and Gallagher will be in the locker room after the game to face the media — win or lose.
This was brought to the fore when Gallagher's comments after a tough loss about P.K. Subban made headlines. The comments suggested P.K. was selfish and "all about him." they were taken by many to be an unusual emotional outburst, and by some to be a sign of what is wrong with hockey culture. It may have been something more than either of those things. The fact that he said anything at all was newsworthy. His comments had the effect of suggesting the problems during Subban's time in Montreal were not limited to one player. It earned him some criticism. This is the trade that continues to haunt Montreal. It was messy and most fans haven't moved on yet. But say what you will about the comments. He took one for the team.
Related: P.K. Subban and the Wound that Won't Heal
Gallagher: Captain in Waiting
If Pacioretty is indeed traded this week or at the end of the season, the Canadiens need to make a choice about who should be the next Captain of the team. Shea Weber is an obvious choice in some ways. Weber is an 11-year NHL veteran served as Captain of the Nashville Predators for six years. In 2016 he won the Mark Messier Leadership Award. At the time of the now infamous Subban/Weber trade, then Coach Michel Therrien stated: "He's got some maturity, he's got some experience. He's a true leader," Therrien said. "And we've got some young kids who are going to learn to become pros because this guy is all business."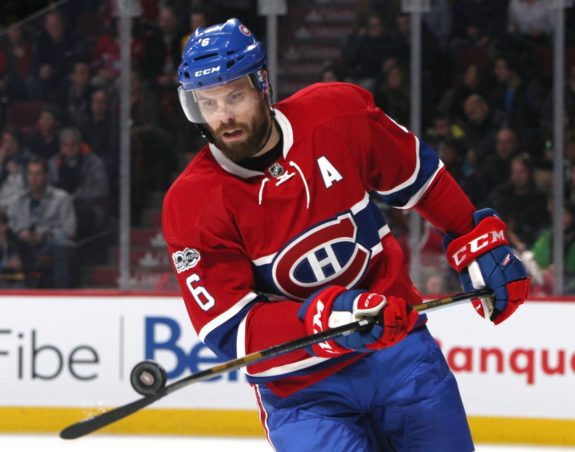 No one will be surprised if Shea Weber is named Captain of the Canadiens. It would be a mistake. It is not going to be pretty for the next few years in Montreal. All fans can hope is that this team puts forth effort each and every night. Gallagher has proven his worth to this team. He is the heart and soul of the Montreal Canadiens. Stu Cowan recently concluded: "Gallagher should be the Canadiens' next captain, and not just because he speaks with the media. He leads by example and as a result, his voice is respected in the locker room."
It is hard to disagree.