By Mike Miccoli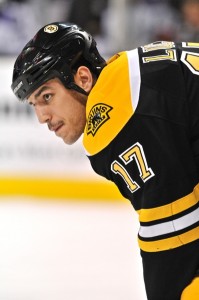 Maybe it was just what the Bruins needed: five games at home to find their collective energy and accumulate some movement in the standings.
After their first lengthy home-stand of the season, the Bruins leave the TD Garden on Thursday night collecting nine of ten possible points, capped off with a 3-2 overtime win against the Columbus Blue Jackets. For a team that was a bit inconsistent to start the season, it was a step in the right direction even if the full-60 minute effort still isn't there.
"At the end of the night, we won a game," said Bruins' coach Claude Julien. "We had more scoring chances than them. We weren't perfect, we aren't a perfect team; but we are a good team. It's one of those things, there's breakdowns. I'm not standing here saying I'm happy, but the guys worked hard."
During the five-game homestand, every Bruin with the exception of Adam McQuaid and Johnny Boychuk registered a point. Torey Krug led the team with two goals and three assists, registering a point in every home game, the longest active streak on the Bruins. Not to be outdone, Milan Lucic scored two goals and had an assist during the homestand, including Thursday night's game-winner in overtime with less than a minute left.
"I think we just got back to supporting one another and moving the puck better," said Lucic.  "Our transition game has been better and we're coming up the ice again as a five-man unit. I think when we got into that skid and that funk, the main thing that got away from us is that we were trying to play too much as individuals instead of a team game. I think there's still room for improvement to where we want to be and we have to stay on ourselves and stay on each other to keep getting better."
The OT goal was Lucic's team-leading eighth of the season and his first ever score in the extra frame.
"I was able to block a shot, lucky bounce, and was able to go out on a breakaway," said Lucic. "It's my first overtime goal that I ever scored and it ends up being a big one with the last game on this homestand which ended up being a successful one."
The Bruins head on the road against Ottawa on Friday where they have won their last 11 straight games in the Senators' home barn. They go in there with riding their own four-game winning streak, too.
"I think when you look at the record it's what you wanted; to have a good homestand, and we did," said Julien. "Nine out of 10 points is something certainly to be happy with, and now we have to bring our game on the road and we have three tough games coming up."
Mike Miccoli covers the Boston Bruins for The Hockey Writers and has been a credentialed member of the media for all Bruins' home games for the past five years. As a former player, coach and official, Miccoli has been around the game of hockey since the age of three. Along with his work on THW, Miccoli has also been published in the New England Hockey Journal, Improper Bostonian magazine and on BostInno.