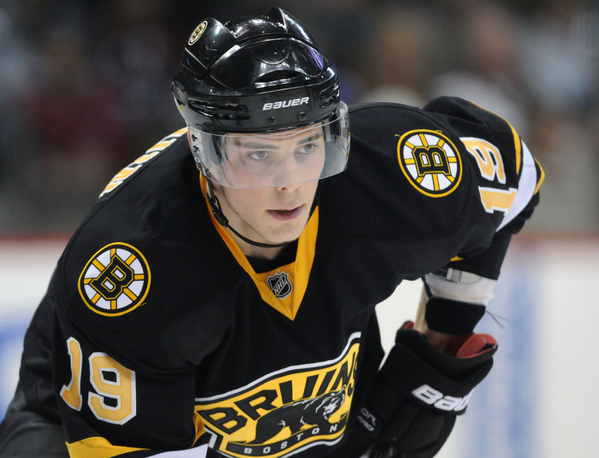 Tied 2-2 on the road in the third period, Boston Bruins followers were already preparing themselves for a potential eulogy for the defending Stanley Cup Champs. Down three games to two in their Eastern Conference Quarterfinal series with the Washington Capitals, the Bruins were on the precipice of their earliest exit in five seasons.
Twitter was already filled with the angst and derision of Bruins' fans, much of it directed at Tyler Seguin – the B's 20 year-old leading scorer – whose point-free postseason was the subject of much discussion.
But suddenly, not so much…
Seguin got off the schneid with his first two points of the 2012 playoffs. The first, an assist, gave the Bruins a lead with just over eight minutes to go. The second, an overtime goal, sent Caps fans home unhappy as the series shifts back to Boston for game seven.
The tiebreaking tally, a quintessential "goal-scorer's goal", was a brilliant play. David Krejci intercepted a Nick Backstrom aerial pass in the neutral zone and dished the puck to Milan Lucic. Lucic entered the Capitals' zone, drawing Roman Hamrlik and pulling Dennis Wideman out of position. Seguin was near top-speed crossing into the attacking zone and received the Lucic feed, outpacing both Wideman and the back-checking Backstrom. Delaying in the slot, he drew Braden Holtby out of his crease; faked one way then stepped to the right before firing the puck into the vacant net.
The marker earned some vindication for the youngster whose failure to accrue a point through the first 320+ minutes of the postseason earned him more than his share of criticisms. Yes, teams' leading scorers are expected to put up numbers but if you're looking to a 20 year old to carry your offense, things are going to get tricky.
Indeed, while his postseason performance has been inconsistent in 2012, he has very arguably been one of the Bruins better forwards in the last few games (perhaps even in the series as a whole).
He has more shots and created more dangerous chances than any other member of the Black and Gold through six games against Washington. He remains the only Bruin who hasn't been on the ice for a goal against in the series.
His problem has been finishing. He's failed to bury several golden opportunities (notably a doorstep chance denied by an incredible kick-save in game five by Holtby). Additionally, while he's created some excellent scoring chances, he's disappeared for large chunks of game; becoming a non-factor in crunch-time.
Seguin was frustrated by those missed opportunities: "[I've] had a lot of chances and opportunities and I haven't been bearing down and finishing them off," he said, "It's just really nice to get that feeling off your back."
However, it's not as if any of the B's other top scorers (most of them proven playoff performers with years of age and experience on #19) were lighting up the stat-sheets with Boston on the edge of elimination.
Before today's action Lucic, Krejci and Patrice Bergeron (all 60+ point scorers during the regular season, like Seguin) each had only a lone assist to their names. Brad Marchand was scoreless until a similar (if less dramatic) breakout in game five. All four have enviable playoff resumes to go with equivalent regular-season production.
The quartet all heard some modest criticism for their lack of offense, more (Krejci) or less (Bergeron). However, Seguin's detractors were perhaps more vociferous and severe in their judgments.
Without a doubt, there were many valid assessments of Seguin's postseason difficulties, but there were many fans (and some in the media) whose negative analyses bordered on the excessive.
Part of that stems from his successes this season, which were so sudden that some voices who delighted in tearing him down during his struggles in '10-'11 have been denied that pleasure for much of '11-'12.
In addition, he hasn't endeared himself to B's traditionalists by failing to adhere to a traditional Bruins' style with his minimal physicality. Furthermore, the legions of so-called 'Pinkhat' followers who pledge him their eternal love on a nightly basis earn him plenty of contempt by osmosis.
Of course none of that matters now. Seguin's overtime tally means there will be at least one more night of hockey in Boston. The dramatic goal has undoubtedly bought his way back into the hearts of all but his most venomous denigrators, until Wednesday at least.
Bob is a Boston Bruins Correspondent for The Hockey Writers. He lives in the Boston Metro Area with his wife, Amanda and their five-year-old son, Cormac.