The regular season isn't worth much once you get into the playoffs. Home ice advantage in these playoffs is the almighty reward at the end of a long 82-game season, but based on this year it seems the NHL might want to devise a new reward system.
So far home ice advantage has been more of a handicap than anything. There have been more playoff wins coming on the road than at home, about 63% of them. Of all the playoff teams 70% have more goals against than goals for when playing at home. There have been more power play goals for teams on the road than for those at home. And so on.
It's even worse when you're the Detroit Red Wings, who were the most dominant team at home not just this season but in league history, winning an NHL record-setting 23 straight at Joe Louis Arena. But when the playoffs rolled around the Wings dropped games three and four at home and now find themselves out of the playoffs, getting no magic from the hometown crowd when it mattered most.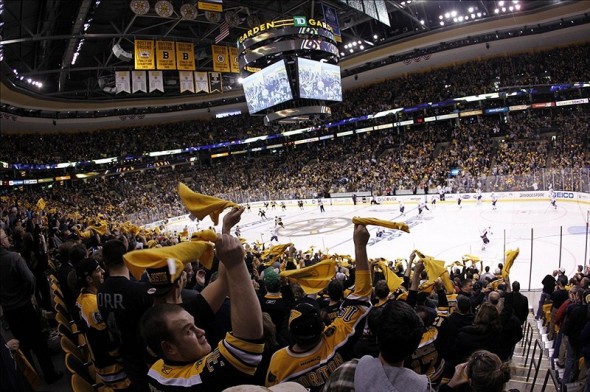 The best home team in the east is the Pittsburgh Penguins but even they blew their home ice advantage early, losing games one and two at home before being eliminated in game six. The runners up in home-ice dominance are the Rangers and Capitals, who are also having playoff struggles at home. Washington, who finished the season in seventh place, sit in third in home wins, but so far in the playoffs haven't shown off their Verizon Center Charm. The Caps have won a third of their home games, fumbling an opportunity to eliminate the Bruins at home in game six. Similarly, the Rangers lost an opportunity to go up 3-2 in their first-round series when they lost to the eighth seeded Ottawa Senators at home on Saturday.
And how strange these playoffs have been for the Vancouver Canucks. A week and a half into the playoffs and no one's laughing at the LA Kings, who have knocked off the top-seeded Vancouver Canucks to advance to round two.The Presidents' Trophy winning Canucks lost their home ice advantage and then some by not only losing their first two games at home, but then being eliminated at home in front of their own fans. This is a team that made it to the cup finals by winning 10 of 14 playoff games at home last year. The Canucks, Rangers and Bruins were all presumed shoo-ins for the next round who've failed to rally the hometown advantage and are paying the price for it.
For hockey fans who love an underdog and relish seeing home fans 'eat it', these playoffs are for you.