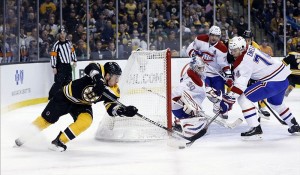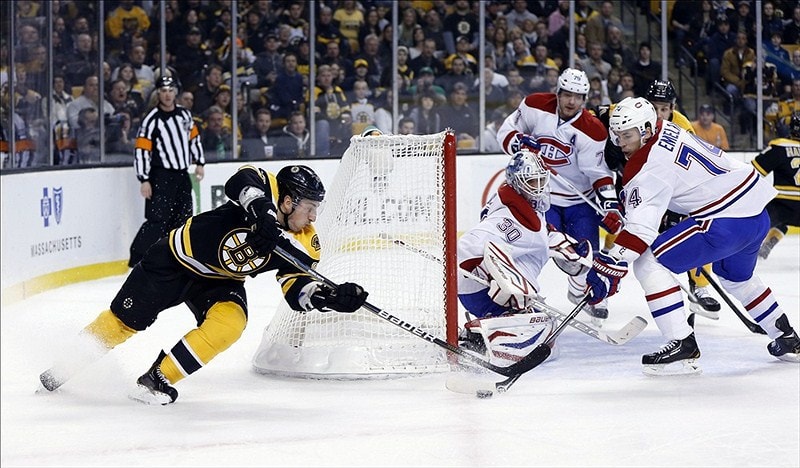 A simple, extended fall from Dale Weise after stick contact from Matt Bartkowski was enough to draw Montreal's first power play of the game in the first period. Just as opportune as the Canadiens were with drawing the penalty, they were able to capitalize on the man advantage after P.K. Subban fired a shot from the point to put Montreal on the board first.
That was how it started. It ended sort of like that, too.
Bartkowski held Weise down in front of the net in the second overtime, giving the Canadiens their second power play in extra frames. This time, it only took Subban seven seconds to put the game winner past Tuukka Rask.
Just like that, almost four hours after the puck dropped, the Canadiens defeated the Bruins 4-3 in an epic Game 1 battle. In fact, if Game 1 is any indication as to what this playoff series will be like between the two historic rivals, fans of both organizations are certainly in for a treat.
For the most part, it was a back and forth game with the Canadiens taking a two-goal lead into the third period before the Bruins scored twice to tie the game. Reilly Smith was the first to beat Carey Price, who put on a goaltending clinic at the TD Garden on Thursday night. Though allowing three goals, the other two from Torey Krug, who tied the game at two, and then Johnny Boychuk, whose shot from the point tied the game at three, sending it to overtime, Price finished with 48 saves and was the difference maker for the Canadiens.
"I feel good," Price said after the game. "That's what we train for all year. We haven't been sitting on the couch all season for nothing or practicing all year for nothing. It's just gut check time and that's really what it comes down to."
And the Canadiens needed Price–badly. Despite getting the win, the Canadiens were outshot 51-33, out-hit 56-45, and beaten 51-37 on the face-off dot. So what went wrong for the Bruins? Not enough to be concerned about in a Game 1 loss.
"Some nights it just doesn't go your way," said Jarome Iginla. "Honestly, part of it is we've got to give credit they kept it out of their net. Price played a great game, but at the same time, some nights instead of hitting the posts they hit the posts and then go in. And instead of just missing by two inches you find a way to put it in or you elevate it. So no, we give them credit. He played a great game. But at the same time we feel that if we get those chances we'll keep finding ways to – we did get a few by him. And if we can get a few more early there maybe it's a different result"
The Bruins had numerous chances but some poor puck luck paired with a phenomenal performance in net by Price kept the game out of sight.
"You don't get frustrated after one game," said Bruins head coach Claude Julien. "I didn't mind the way our team played tonight. We had lots of chances. Sure, we fell behind 2-0, but we showed some resiliency and came back and I thought we carried play for the most part, and obviously in that first OT period. Probably the only thing is, we got to find a way to bury those great opportunities that we had. That's probably where there's some regrets there, and burying those chances."
It took a fifth period for a winner to be decided and it's almost perfect that the hero for the Canadiens was the one player that Bruins' fans booed every time he touched the puck.
"I think he's comfortable playing in hostile environments and I think that's a very good character trait to have," Price commented on Subban's ability to react under pressure.
For a Bruins vs Canadiens rivalry that felt dormant as of late, Game 1 felt like more of an ellipses of past series rather than a continuation of recent games. And that's a very good thing for both teams and hockey fans alike.