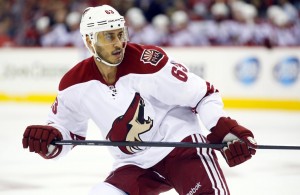 Much has been made of the perceived flop that was Mike Ribeiro's first season with the Phoenix Coyotes. After signing a four year $22 million dollar free agent contract, with an annual salary cap hit of $5.5 million, Mike Ribeiro was expected to be the answer for the Phoenix Coyotes as their first line center.
However his first season was a relative disappointment when he contributed only 16 goals and 31 assists in 80 games played. This disappointment came after six seasons of being a nearly point per game player in Dallas and Washington. Granted that streak began when he was 27 years old, now at the age of 33 he is likely past his prime and some regression can be expected.
Difference between his time with the Coyotes and the rest of his career
| | | | |
| --- | --- | --- | --- |
| Year | G/GP | A/GP | SH/GP |
| Career | 0.23 | 0.52 | 1.6 |
| 2013-14 | 0.20 | 0.39 | 1.4 |
| Difference | -0.03 | -0.13 | -1.2 |
Mike Ribeiro spent the first six seasons of his NHL career with the Montreal Canadiens. There he was perceived by some as a good offensive player, but not having the commitment to be a dependable player at the NHL level. Subsequently Montreal traded him to the Dallas Stars prior to the 2006-07 NHL season along with a sixth round draft pick for defenseman Janne Niinimaa and a fifth round draft pick.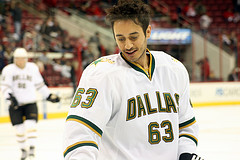 His arrival in Dallas at the age of 26 is when his career began to take off. He developed a reputation quietly in Dallas as a gifted playmaker capable of making other players around him better. Many Dallas Stars players enjoyed very good offensive seasons while skating alongside Mike Ribeiro.
This reputation is one of the reasons the Washington Capitals decided to trade prospect Cody Eakin and a second round 2012 draft pick during the 2012 NHL Entry Draft for Ribeiro. He would spend the lockout shortened NHL season with the Capitals riding shotgun for Alex Ovechkin. That is a very desirable place to be for any playmaking center in the NHL.
When comparing Mike Ribeiro's wingers and their career averages to their averages during the season they skated with him, it is clear he makes players better.
Ribeiro makes other players better
Year
Team
Winger
Ice Time
G/GP
A/GP
SH/GP
2011-12
Dallas Stars
Michael Ryder
50.0%
0.43
0.33
2.6
Career
0.30
0.31
2.4
2011-12
Dallas Stars
Loui Eriksson
47.2%
0.32
0.55
2.3
Career
0.28
0.42
2.1
2012-13
Washington Capitals
Troy Brouwer
45.9%
0.40
0.30
2.4
Career
0.25
0.22
1.7
2012-13
Washington Capitals
Alex Ovechkin
41.1%
0.67
0.50
4.6
Career
0.62
0.58
5.1
2013-14
Phoenix Coyotes
Shane Doan
48.8%
0.33
0.35
2.4
Career
0.27
0.39
2.6
2013-14
Phoenix Coyotes
David Moss
41.1%
0.10
0.18
1.9
Career
0.17
0.21
2.0
2013-14
Phoenix Coyotes
Mikkel Boedker
20.0%
0.23
0.39
2.0
Career
0.16
0.28
1.5
Average Increase With Mike Ribeiro
0.06
0.03
0.1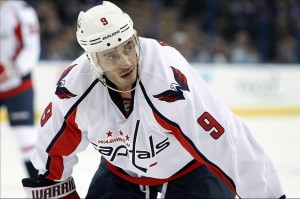 It is clear that Ribeiro is the type of playmaker that can flourish and increase production of goal scoring wingers. In both his stops in Dallas and Washington he was provided with solid goal scoring wingers to feed the puck to.
However upon his arrival in Phoenix, with all due respect to the Coyotes players, the offensive talent of his line mates was clearly diminished. Some of this is attributed to the fact that Ribeiro's intended top winger in Shane Doan had a difficult season in terms of staying healthy.
Difference between top two line mates career numbers over his last three teams
Year
Team
G/GP
A/GP
SH/GP
2011-12
Dallas Stars
0.58
0.73
4.5
2012-13
Washington Capitals
0.87
0.80
6.8
2013-14
Phoenix Coyotes
0.44
0.60
4.6
Phoenix compared to others
-0.29
-0.17
-1.1
However even without the luxury of a true top line winger through 82 games this does not absolve him from his performance this season. Through December Ribeiro was doing fairly well with 29 points in 39 games, on pace for a 61 point season. This would be just below his career average of 62 points per season. Certainly a point level that the Coyotes would be relatively happy with.
From January to April is when the wheels fell off for Ribeiro and he contributed only 18 points in the final 41 games. Over the course of an 82 game season his second half pace would have netted him only 36 points. During this time the Coyotes were battling for the final playoff spot in the east and in April he had only two points in seven games.
Was his physical conditioning not up to standards?
In a recent article by Sarah McLellan of AZCentral Sports, Ribeiro indicates that his goal this off season is to get into better physical shape. A red flag quote from this article by Mike Ribeiro was
"If I work out maybe once in my career, maybe I can have a good season next year."
As well as Head Coach Dave Tippett adding,
"Before we get to the wingers, we gotta look in the mirror first."
This is not a good sign for a player approaching his mid-thirty's on a contract that will take him through to age 37. Both Don Maloney and Dave Tippett will be very much hoping that Ribeiro can commit himself to the gym this summer and come into training camp in good shape and motivated.
What should be expected of Mike Ribeiro next season?
If he commits to returning next fall in better shape and he can get a full season with Captain Shane Doan on his wing I believe we will see a return to his career average level of a 60 point season. Is this ideal from a number one center, not really, but it would be valuable production in the Coyotes current lineup.
The Phoenix Coyotes are also likely in the market to target an upgrade in their offense through free agency and this will help Ribeiro return to being a valuable player for the club. Whether or not he will remain a valuable player through the duration of his contract is another question.
Although Mike Ribeiro is a veteran NHL player and will not doubt want to show that this past season is not the type of player he will be moving forward.